Gig Review:- 'Seann Walsh'
Review by Jo Forrest,
SEANN Walsh is an observational comedian, who has the brilliant ability to make the ordinary everyday things in life seem really funny. Playing his '1 For The Road' tour in Liverpool, on 16 November 2016, in the beautiful Concert Room of St Georges Hall, Seann played to a small and informal audience.

The show opened with his support the very funny Mark Simmons, who liked to point out the he was a one liner comedian, and every time someone came in late he jokingly complained and said he would have to start all over again, which he did to the amusement of everyone and eventually asking the audience to deliver the punchline.

After a brief 10 min interval, Seann, who is very animated in his performance, starts by discussing how having reached the age of 31 he has now reached adulthood and this means cutting down on everything that is good for you. He reminisces about how good it feels to stand in front of the fridge eating and how it is the only time in your life where you can eat a kit Kat and ham at the same time. Although this is not something he is able to do anymore as his girlfriend is vegan and the "in" thing is now juicing. His take on this is hilarious, and wonders why people don't just eat their broccoli as it is, because he has never had to juice a chicken nugget. We progressed onto a spiralizer which makes courgettes into courgetti, this, he found not only amusing but repulsive at the same time..

Eating out and having a "Nice Time" is something Seann does a lot of these days and his take on the etiquette in restaurants especially the novelty of booths was brilliant. His take on trying to get the waiters attention to get the bill was something we can all relate to, however watching him play it out on stage had the audience in an uproar. He packs a lot into 60 mins, from DVD binge watching to an Alan Partridge impression, an hysterical take on cheeseboards and the "cafe culture" as he likes to call it. Instead of coming back for an encore Seann stays on stage stating he wasn't sure if he left we would all still be here.

He ends the show on his post bed time anxieties that come back to haunt him as he tries to sleep. Seann Walsh may not be everyone's cup of tea, but he has proved without doubt that his relatable style of comedy is a huge hit with audiences.
Co-operative has opened a new store in Formby
Photographs by Patrick Trollope.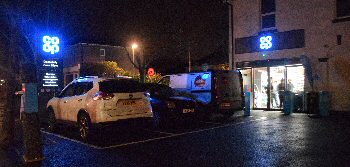 THE Co-operative Food is 1 of the largest food retailer that is a unique family of businesses owned by it's members. The Co-operative Group now expanding it membership once again, since the business had its worst crisis in 20 years. The group say that it is now well out of the slump, thanks to it becoming the best attractive to the massive, international supermarket chains. This is partly down to its great value food and ethical trading practices. The new Formby store is just 1 of many new stores opening on the back of this new wave of confidence. If you do not know where the new store is located, it can be found on the junction of Queen's Road and Froster Road, on the site of what was Kippax Newsagents.
The new store has everything you expect in a convenience store, plus parking. The layout inside is far bigger than it looks, with shelves packed full of everything from magazines and newspapers, to birthday cards, plus alcoholic drinks, plus lots of other essentials. But the main focus is on fresh, healthy foods, meal ideas including selling fresh fruit and vegetables! The store even includes an in store bakery! This local convenience store will be just that for many of the locals within the area.
Formby's, like so many other Co-Op stores will be supporting a wide range of It also delivers a lot to the local community groups. The chain is already supporting likes of the Southport Scorpions Display, a Gymnastics Club. On the stores preview night we met one of that very team who lives very close to the new Formby store. So supporting the group not only helps to keep jobs in the area, but also helps the local community!
For more information about the Co-Op please click on here.
These are a few photos we took at the pre-opening event on Wednesday, 16 November 2016. The new store is now open between 7am to 10pm daily.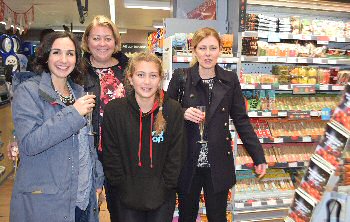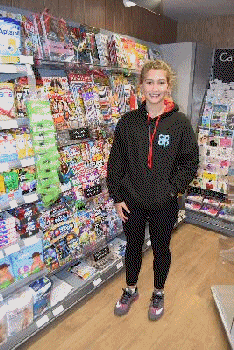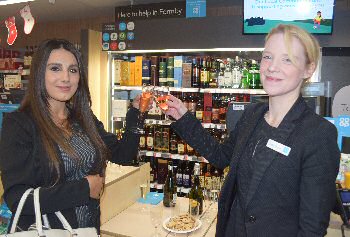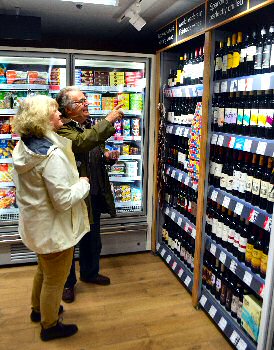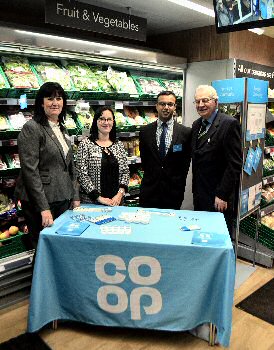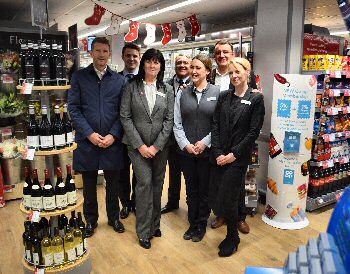 Remember you can order photographic prints from us. Help us keep this site online. Please don't brake our copyright by copying any of the text or images in this website, even if its only for 'personal use.'

Liverpool Arena has hosted a sell out "Simply Red" concert
Photos and review by Jo Forrest,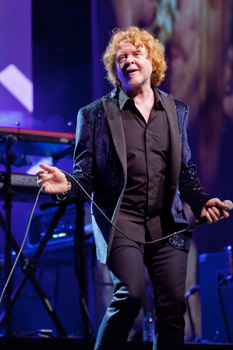 ON a cold and wintery evening the Liverpool Arena was unsurprisingly a sell out for the current Simply Red, Stars tour, proving that, even after 31 years they can still sell out arenas with ease.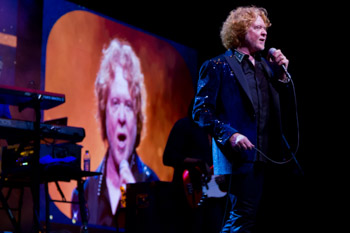 Formed in 1985 after the demise of Mick Hucknall's 1st band The Frantic Elevators they soon began to attract the attention of record producers. Simply Red's success peaked in 1991 with the release of the album Stars which produced 5 hit singles and became the bands best selling album for 2 years all over Europe, and shot the band to the top of the charts on a global scale, this album also became the basis of their current tour.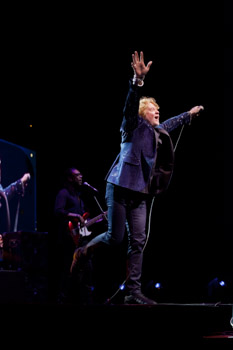 The show was structure differently to previous tours and didn't conform to the usual layout of a support band opening the show. The 1st ½ had Hucknall performing much slower, relaxed hits proving that at the age of 56 yrs his voice is as good and as powerful as it ever was. A cover by the Hollies "Air that I breathe" finally got the audience up on their feet dancing to what had otherwise been a relaxed and understated 1st ½ of the show.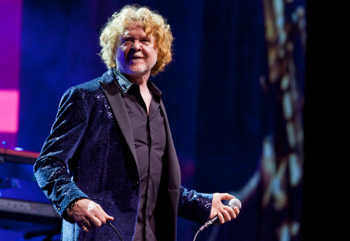 After a brief 15 min interval giving the audience chance to purchase the usual memorabilia, Mick was back on stage and kicked off with "Something Got Me Started" and the audience were up dancing and singing. We were then treated to the album in its entirety ending the evening on the soulful "Wonderland" with images depicted on 6 big screens of Margaret Thatcher and John Major. They came back on stage for the usual 3 song encore starting with Fairground, Lotta Love and finally ending with Overtime we say Goodbye.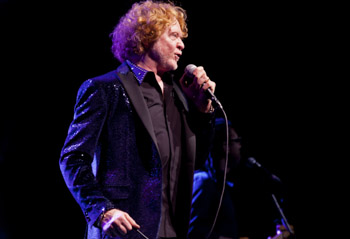 Having sold 50 million album worldwide, there are plenty of reasons for you to head out to see Simply Red perform.
Rod Stewart Gig
Photos and review by Jo Forrest,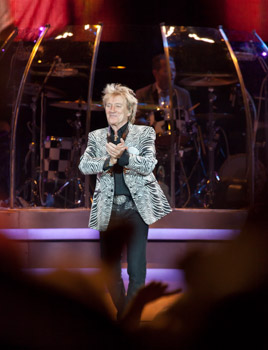 THE Liverpool Arena has played host to the legendary Sir Roderick David "Rod" Stewart, CBE. This amazing British rock singer songwriter took to the stage at what was the start of started his UK Arena Tour, on Saturday, 12 November 2016, in Liverpool. As a result of his sell out performance, he will be retuning to the venue on Sunday, 18 December 2016. Foe tickets for the extra date, in December 2016, click on here.