People 'don't trust' NHS with personal data
MORE than a 3rd of people do not trust the NHS with their personal information through fears it could be lost, stolen or handed to private companies, a poll has found.

A total of 56% of the 2,000 people surveyed in the inaugural National Personal Data in Research Survey would also stand in the way of advances in medical science by not allowing their data to be shared for research.

Experiences of sharing details with the health service and attitudes towards taking part in research have been laid bare in the survey commissioned by a European wide campaign called:- 'eTRIKS' to increase the sharing of patient data among studies, which is calling for a new "smarter approach" to the collection of research information.

The project is looking to improve the reuse of medical research data.

When asked if respondents trusted the NHS with their personal data, 64.35% said they did but 19.65% were unsure and 16% said they did not.

Only 43.70% would be happy to share their medical data in the pursuit of research, yet 26.25% said they would not hand over their details and 30.05% were not sure.

Also, a total of 21.6% said their personal data had been shared without their apparent consent, while 38.15% were unsure and 40.25% said that their details had not been taken.

The eTRIKS project; a collaboration between 17 partners, including leading pharmaceutical companies, research organisations and Universities; is now urging a new culture of greater willingness to support medical scientists.

It comes after a data sharing event which took place at the EU Parliament on 20 October 2016.

Research standards expert Paul Houston, co-lead for the eTRIKS standardisation initiatives and Head of Operations for CDISC Europe Foundation, a not-for-profit organisation campaigning for standards in research data, said:- "Medical research continues to provide more and more breakthroughs, resulting in improvements to the lives of millions of people across the world. However, in 2012 there were an estimated 8.2 million deaths from cancer in the world, but with more research further medical breakthroughs, including cures to cancers and other long-term conditions, could be possible. We want to create a new culture of openness in research, making the sharing of data much easier and opening up more opportunities to pursue medical advances. But to support our new smarter approach to research, we also need a new culture where research participants and the general public understand and are part of the solution."

As part of the eTRIKS, a patient engagement event on the value of data will be staged on October 20 at the EU parliament to help assure the value of medical research data.

The project is supporting researchers to make the most out of the medical research data they generate by making it easier to combine and use data collected from different studies with new ones.

This is being done through the provision of open source software, services and guidelines. The eTRIKS team is also working to preserve data that has been generated.

Funded by the Innovative Medicines Initiative and the EU, eTRIKS stands for the European Translational Information and Knowledge Management Services. Pierre Meulien, Innovative Medicines Initiative (IMI) Executive Director, said:- "Medical researchers rely on data from patients to advance our understanding of diseases and develop new treatments. By bringing together different stakeholders in research, projects like eTRIKS are well placed to facilitate the use of this data to advance research while respecting patients' wishes and addressing wider ethical and legal issues."

Patient advocate Marije Kootstra, who has asthma and supports research projects and the Dutch Lung Foundation, believes more people should take responsibility in advancing medical science.

The 22 year old student, from Groningen, said:- "If you want something to change and you are unhappy with the way things are going in healthcare then get involved so your voice can be heard. Your involvement doesn't need to take that much effort; I meet with a group for 1 hour every month and there is also the opportunity to get involved online."
Ex-council worker jailed for fraud
AN ex-Council employee, who faked building works to steal almost £1 million, has been jailed for 7 1/2 years after an investigation by HM Revenue and Customs (HMRC). Stephen Crewdson, 46, from Manchester, was convicted of fraud and money laundering after charging Lancashire County Council for bogus construction work over 5 years

Sandra Smith, Assistant Director, Fraud Investigation Service, HMRC, said:- "As a council employee, Crewdson was in a privileged position approving supplier's invoices. He abused this position of trust and was well aware that he was breaking the law. He made a deliberate attack on council funds at the expense of UK taxpayers. HMRC is committed to tackling fraud and abuse of the Tax system wherever it occurs. If you know of anyone who is committing tax fraud you can report them by calling our 24 hour Hotline on:- 0800 59 5000."

Crewdson arranged for building suppliers to bill the council for work that never existed. Money paid to the builders was then laundered through various bank accounts back to Crewdson. In 2011, when HMRC investigators began to check suspicious transactions, Crewdson created his own fake business, BBM, registered it for VAT via an accountant and attempted to justify further fake invoices and fraudulent VAT returns to disguise his crimes. On 11 November 2016, at Preston Crown Court, Crewdson was jailed for 7 and a ½ years. His Honour Judge Knowles QC said as he jailed Crewdson:- "You have been convicted on most overwhelming evidence and your brazen lies. You were in breach of trust at LCC and of the public of Lancashire. You have used two local business, generated bogus invoices and tried to cover your tracks. The people of this county, taxpayers, are your victims and all to satisfy your greed."

A spokesperson for Lancashire County Council said:- "We are pleased with the verdict and that this matter has been resolved. The county council takes fraud extremely seriously and we have worked closely with the police and HMRC to help bring this successful prosecution."

Crewdson will now face legal action to recover the stolen money.

Patient celebrates 60 years of good health with diabetes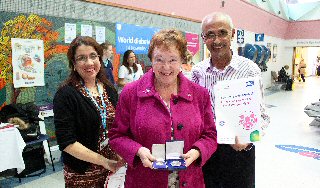 BARBARA Watkinson, 70 was diagnosed with Type 1 diabetes in 1955 when she was just 9 years old, and has continued to manage her condition for over 60 years. In 2006, Barbara was presented with the Alan Nabarro medal which marked 50 years of having and managing her diabetes, 10 years later she is now eligible for the highest accolade given by Diabetes UK, the Robert Lawrence medal which celebrates 60 years living with diabetes. The medal is named after Dr Robert Lawrence who co-founded the Diabetic Association, now known as Diabetes UK, with H.G. Wells in 1934. Barbara's story begins as a youngster, having spent a number of years in and out of hospital attending regular diabetes clinics at Alder Hey Children's Hospital NHS Trust. Barbara said:- "Being a patient at Alder Hey gave me the chance to meet others with Type 1 diabetes. I can remember that the nurse who that looked after me and the other children had a relative with diabetes. She would let us out to play and would even make special batches of ice cream for us all using diabetic friendly recipes. This made me realise that I too could enjoy certain things as long as I was aware of how to safely manage my blood sugar."

It was at Alder Hey Children's Hospital that Barbara was taught by health professionals how to safely manage her diabetes at home to enable her to enjoy a normal lifestyle. From a young age Barbara always wanted to pursue a career in the NHS, and so she took up a variety of different clerical positions in maternity hospitals, Alder Hey Children's Hospital and Sefton General which is now Mersey Care NHS Trust. Barbara said:- "During my time at Sefton General I wrote to Edwina Currie, Junior Health Minister at the time asking for an improved needle exchange for diabetic patients, this was later realised and as a result diabetics were issued with disposable syringes. I married in 1970 to my lovely husband Stan, almost a year after; I left work to have my first baby. At the time diabetic patients that were pregnant would have to be carefully monitored as there were increased health risks to both myself and my baby. I was carefully monitored by all the doctors and nurses and was delighted when I gave birth to my first healthy baby boy, Paul in 1971. Knowing I could safely deliver I went on to have my second son Ian in 1972."

In her adult life she attended regular clinics here at the Royal Liverpool University Hospital and with the support from clinicians and specialist nurses, Barbara has continued to maintain her health and has never been hospitalised due to a diabetic complication. She found the staff invaluable to help support her and give her advice, even attending a carb counting course which educates patients on how they can enjoy specific foods in moderation which were previously off limits. Barbara said:- "No one can look after you as good as yourself, but the team at the Royal have helped educate me about my condition so I am in control and can safely manage my diabetes. When I am not attending my appointments in the Royal, my local GP practice nurse is always very helpful and provides me with advice and support when I need it. My husband Stan was diagnosed with Type 2 diabetes in 2013 and through the knowledge I'd gained from the carb counting course I have been able to look after not only my own diabetes but his too!"

Now retired Barbara lives in West Derby, with her husband, she has 4 grandsons to keep her busy. Barbara's thirst for life, her positive attitude and awareness of her condition has allowed her to live her life to the fullest; nothing stops her doing what she wants to do, despite having diabetes.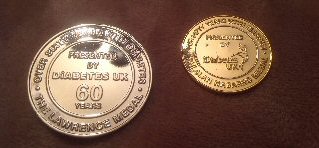 Barbara said:- "It's fantastic to have received this medal today, I am quite proud to be awarded with such a prestigious award. As for my diabetes, I think you have to be positive about your life, don't be negative and look after yourself. If you think you have diabetes or if you have already been diagnosed with the condition there is lots of help out there. The team at the Royal Liverpool Hospital have been fantastic and really supportive. They even invited me along to attend a carb counting course, which helps me understand my diet better and how eating certain things can impact on my health."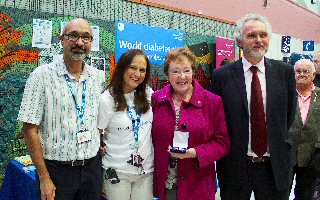 Julie Brake, diabetes specialist nurse at Royal Liverpool University Hospital said:- "We are really proud of Barbara, she is a fantastic example of how understanding your condition and how to manage it is really important to maintain good health. We have learned as much from her as she has from us."

Stuart Vaughan, Diabetes UK volunteer development manager, added:- "It's an honour to have presented Barbara with the Robert Lawrence medal today and to be celebrating this moment with her. It's testimony to both Barbara and the support she has received to help her manage her condition effectively and show that diabetes doesn't have to be a barrier."

Barbara was presented with the Robert Lawrence award by Stuart Vaughan from Diabetes UK, Dr Purewal a consultant at the Royal Liverpool University Hospital and clinical lead for diabetes on World Diabetes Day 2016.