Christmas Day parties for most vulnerable
FREE Christmas Day dinner parties are to be provided for more than 1,000 vulnerable people across Liverpool.
The inaugural:- 'Yummy Scouse Christmas' will see Neva 2 Latte, Liverpool Homeless Football Club, Voice in the City, the Whitechapel Centre and the City Council working together to provide a special day for people who would otherwise have nowhere to go on 25 December 2016.

Using the slogan 'No- one should have no one at Christmas', it aims to build on successful separate events held previously.

Locations such as Community Centres and Church Halls have been identified, and people who attend will get a 3 course meal along with entertainment.
More than 100 volunteers will be working on the project in the run up to Christmas.

Deputy Mayor, Councillor Ann O'Byrne, said:- "Most of us are fortunate to have our family and friends around us on Christmas Day, but for all sorts of reasons there are a sizeable number of people who aren't as lucky. There is already lots of good work going on from individual organisations, but it makes sense to bring them all together under the banner of Yummy Scouse Christmas in order to help reach as many people as possible and share expertise and resources."

The locations confirmed so far are:-
► The Joseph Lappin Centre, Mill Lane, Old Swan
► St Andrews Church Hall, Clubmoor
► Frontline Church: Lawrence Road, Wavertree, L15 3HA
► The Florrie, Mill Street, Dingle
► Whitechapel Centre, Langsdale Street, L3 8DT
► All Saints Liverpool, Sheil Road, Tuebrook
► Imagine If Trust, 147 Lawrence Road, L15 3HA
► 5 Children's Centre, Conleach Road, Speke, L24 0TW
People wanting to help out or nominate people to attend should visit the group's Facebook Page.

Businessman Simon Whitter from Neva 2 Latte; who spent time on the streets in Manchester as a teenager - said:- "We're looking at making it a really special day to remember for those who come along, with food and entertainment provided. Having been brought up in Manchester, I would like to say that the kindness, warmth and generosity shown by the people of Liverpool never ceases to amaze me. I relish the task ahead and love the thought of bringing this wonderful city even closer together. My aim is that nobody should feel alone this Christmas and I look forward to seeing this carried out with the help of both the businesses and people of Liverpool."

David Carter, Chief Executive of the Whitechapel Centre, said:- "Whitechapel will be open as usual throughout the Christmas and New Year period for people who are homeless or socially excluded. As well as serving festive food and providing entertainment, we'll be offering support and advice to help people remain in their homes or come indoors off the streets during what can be a very challenging time of the year. Coming together and working in partnership with other organisations and groups ensures we can provide so much more this year."

John Finnigan, Chief Executive of Liverpool Homeless Football Club, said:- "Christmas is supposed to be a joyous time for family's and friends. Unfortunately there are lots of people in our community who are isolated and lonely at this time of year. Yummy's Scouse Christmas hope to alleviate loneliness this year, working across the city we will be providing 1,000 Christmas dinners to the most vulnerable in our community's. If you are alone or know someone who would like to join us for a Christmas dinner an a good time contact us for your nearest venue - don't eat alone this Christmas day."

Liam Moore from Voice In The City said:- "Voice In The City is privileged and honoured to come alongside and partner with 'Yummy's Scouse Christmas'. What better way is there to spend Christmas Day than to serve and love the wonderful people of this City?"

Mayors' back flu jab campaign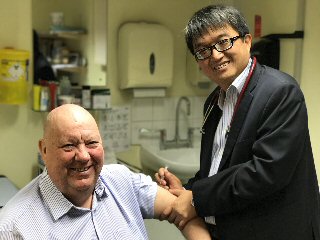 LIVERPOOL'S Mayor and Lord Mayor are backing the annual flu vaccination campaign. Joe Anderson and Councillor Roz Gladden have had their jabs - and are urging residents who are eligible to do the same. It is also available for all children aged 2, 3 and 4 as a nasal spray through GP practices.

All parents and guardians of children aged 2,3 and 4 are encouraged to contact their GP now to get the nasal spray for their children. The vaccination consists of a spray up each nostril and is quick, easy and effective way to protect children from flu and stop it spreading. The spray is available for children in school years 1, 2 and 3 through school.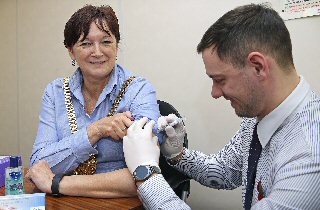 Mayor Anderson said:- "As well as making sure that people are fit and healthy this winter, we also want to reduce the impact on our A&E services and avoid them being packed with people with flu. I'm asking as many as possible to go and get their flu shot, like I have. If you're eligible for the free flu vaccine, don't put it off, get it now, before we get outbreaks of flu."

The Lord Mayor said:- "Flu can be very nasty and sadly can be a killer for some people. I got my flu jab because I want to stay fit and well and I would encourage everyone who is eligible for a free flu vaccine to get it now. It could well save your life."

Dr Sandra Davies, Liverpool's Director of Public Health, said:- "Flu can be serious and is unpredictable. If you have a long term health condition, the effects of flu can make it worse, even if the condition is well-managed and you normally feel well. We're particularly keen to get the message across to pregnant women that the flu vaccine is important to protect them and their baby, and is safe for pregnant women at any time in pregnancy. Pregnancy naturally weakens the body's immune system. The flu vaccine reduces the risk of complications of flu like premature birth and pneumonia, and helps to protect babies from flu right up to their first few months of life. We are pleased with the response to the flu vaccination campaign so far this year. People seem to be taking note of the message that it is important to get vaccinated before flu starts to circulate, and we have seen an increase in the numbers of people getting their vaccine early. I advise all pregnant women and anyone else eligible for a free flu vaccine; if you have not had the chance to get your vaccine yet, don't put it off any longer. Contact your GP now to get vaccinated. The free flu vaccine is also available through many pharmacies."

For further information on the flu vaccination, please contact your GP surgery. Alternatively visit:- NHS.UK/Flu.