33% of North West workers would choose money over ethics at work
A ⅓ of workers in the North West would turn a blind eye to a company's ethics as long as the salary was good, according to a new study.

A survey of 2,000 employed adults in the UK found that 33% of North West workers would rather work for a company that paid them more, over one whose morals they agreed with.

Despite this, 9 out of 10 people in the North West say they do uphold ethical standards in their workplace.

The study also found that 34% of North West workers have taken a sick day in the last 2 years when they weren't really ill, the same average as that across the UK as a whole.

Shockingly 1 in 8 North West respondents said that EVERY sick day they've taken in the last 24 months has been false.

Adam Harper, spokesman for AAT (Association of Accounting Technicians), who commissioned the report, said:- "Ethics is a grey area for many people, with Britons demonstrating a range of responses to what they consider 'ethical behaviour' in their professional lives. It's important for long-term success for businesses and their employees to be ethical; even small things like employees taking sick days when they're not ill can build up and waste time and money. Some of the results also show that many employees disagree with practises some businesses carry out. Managers need to be aware that getting a reputation for unethical behaviour could lead to demotivated staff, and have a negative impact on their business."

One respondent to the study said that their company made fantastic profits that could have been passed on as savings to the customer – but weren't. And one, who worked in food services, reported on their management removing sell-by-dates from food to extend its shelf life.

18% of people in the North West had worked somewhere with ethical practices they didn't agree with, although only 12% left a job because of it.

49% of North West workers in the study would continue to work for a company that avoided paying tax, and 14% said they currently work somewhere with managers or senior staff members that they believe are dishonest in their company's tax returns.

AAT has recently published updated guidance on the standards expected of tax advisers and agents, in relation to the facilitation and minimisation of tax avoidance, to ensure their members know of the ethical problems involved.

In other results, a fifth of people in the North West told us that they have applied for a new job while sitting at their desk in their current one. And 56% of North West workers think nothing of using company time to make personal phone calls or browse non work related websites while at work.

Adam Harper continued:- "60% of North West respondents said they don't think they were paid enough for the work they do, and so many could have used this as an excuse for carrying out some unethical behaviour. However, this doesn't justify some of the less ethical behaviours highlighted by the survey respondents. Regardless of how employees see their company's practises, they should be responsible for their own ethical behaviour."
Get the Dickens scared out of you at St George's Hall this Christmas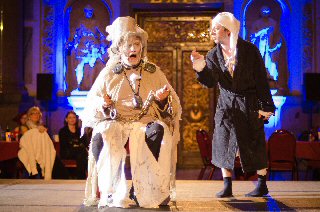 ST George's Hall Liverpool has announced a new tour of its catacombs that is sure to scare the Dickens out of you this Christmas.

Produced by LoveHistory, the team behind previous subterranean successes at the Grade-I listed attraction, this seasonal treat focuses on the darker, spookier parts of Charles Dickens' classic ghost story 'A Christmas Carol.'

Guests on:- 'The Ghosts of Christmas Past' promenade tour will be led through the hall's eerie underground cells and passageways by a team of professional actors who will bring the novelist's famous characters and stories to life.

Alan Smith, St George's Hall manager, said:- "This event looks like being a real festive favourite and what better place to celebrate perhaps Dickens' most famous work than in a building where he regularly came to read to the public. The latest work from the talented and creative team at LoveHistory promises to eclipse previous tours in terms of storytelling, scares and, of course, Christmas cheer."

Judy McLean from LoveHistory said:- "We're delighted to be returning to St George's Hall to entertain and spook visitors this Christmas. The Ghosts of Christmas Past' will be our most spectacular event yet as we follow Ebenezer Scrooge's haunted journey to meet the spectres of his life and heed the messages from the other side. This immersive theatrical experience promises a unique seasonal experience with some unforgettable surprises in store."

The Ghosts of Christmas Past will take place daily, from 12 December 2016 to 18 December 2016, with 4 performances each evening at 6pm, 6.45pm, 7.30pm and 8.15pm.

Tickets cost:- £15 (plus booking fee) and are available to purchase online from:- TicketQuarter.Co.UK.
For more information about the event and the venue, visit:- LiverpoolCityHalls.Co.UK/St-Georges-Hall.

Family debt takes toll on children in North West
MORE than 387,000 children in the North West are living in 224,000 families trapped in problem debt, new research by The Children's Society reveals. It means that 25% of families with children in the region have been failing to keep up with household bills and loan repayments in the past year (2016).

The evidence, based on a survey commissioned by the charity, also shows that families with children are more than twice as likely to have been trapped in problem debt as childless households.

The survey found that, across England and Wales, 20% of families with children have struggled with problem debt in the last year. By comparison, the proportion of households without children who have fallen into arrears with one or more creditors is just under 8%.

The families who have been behind on their debts; a total of 1.4m nationally; are home to 2.4m children, and The Children's Society is deeply concerned about the damaging impact of debt on their lives. In some cases children are going without basics such as food, clothing or heating, as well as suffering worry, anxiety and bullying.

The survey of 2,000 adults, carried out by Opinium, found that families in problem debt over the last year, are juggling an average of four different types of debt. Children in low income families with multiple debts are at far higher risk of experiencing mental health problems than those in families who owe money to a single type of creditor.

The most common source of problem debt is arrears on energy bills, followed by loans from:- friends and family, bank loans, and Council Tax.

While the size of family debt varies, overall 29% of parents who have been in problem debt in the last year currently have arrears of more than £5,000.

While household budgets up and down the country are under strain, families with dependent children face extra pressures as they are more likely to face unexpected bills and are less able to cope with sudden financial shocks, caused by things like redundancy, reductions in working hours or illness.

The Children's Society has found that problem debt is putting stress on family relationships, damaging children and trapping families in a downward spiral of borrowing.

As families begin to struggle financially, many feel that taking on credit is the only way to make ends meet. This often marks the beginning of the debt trap as credit repayments take up a larger proportion of income and families find themselves cutting back on essentials.

The Children's Society, as part of its Debt Trap campaign, is calling for changes to how creditors treat families with children who fall behind on bills and repayments. It is urging the Government to introduce a 12 month 'breathing space' scheme to give struggling families a period of protection from additional charges, mounting interest and enforcement action while they seek advice, put their finances in order, and get back on their feet.

Today the charity is publishing a draft of a parliamentary Bill to make this 'breathing space' a reality for hundreds of thousands of families. The Bill is being sponsored by Kelly Tolhurst MP and will be debated by MPs in the New Year.

Rob Jackson, North West Area Director at The Children's Society, said:- "Again and again we have raised the urgent problem of families who are trapped by debt, and whose children often pay the price with their mental and physical health. With unfair and unsustainable repayment plans, hidden charges, soaring interest, visits from intimidating bailiffs and the fear of eviction, the odds are stacked against parents who are desperate to find a way out of their debt. Meanwhile mums and dads are being forced to make impossible decisions between feeding and clothing their children, and paying the bills. It is now absolutely clear that this problem is not going away unless the Government takes action to give families the breathing space they need to get their finances back on track. Acting now could have a hugely beneficial impact, not just on family finances in the short term but on the futures of some of the country's most vulnerable children."
Estimated number of families and children living in problem debt in the North West of England.
Local authority area
Number of families in problem debt
Number of children in problem debt
Proportion of families with children in arrears
Blackburn with Darwen
4,400
7,600
N/A
Blackpool
6,500
11,300
N/A
Cheshire East
8,300
14,300
N/A
Cheshire West and Chester
12,600
21,900
N/A
Cumbria
13,700
23,700
N/A
Halton
4,600
8,000
N/A
Lancashire
37,000
64,000
N/A
Warrington
6,900
12,000
N/A
Bolton
7,500
13,100
N/A
Bury
5,700
9,900
N/A
Manchester
14,700
25,400
N/A
Oldham
5,600
9,800
N/A
Rochdale
5,800
10,100
N/A
Salford
7,000
12,100
N/A
Stockport
8,300
14,300
N/A
Tameside
7,900
13,600
N/A
Trafford
5,700
9,900
N/A
Wigan
10,600
18,400
N/A
Knowsley
4,600
8,000
N/A
Liverpool
15,500
26,800
N/A
Sefton
6,700
11,600
N/A
St. Helens
10,700
18,500
N/A
Wirral
13,600
23,500
N/A
North West TOTAL
224,000
387,700
25%
England and Wales
1,397,500
2,436,500
20%
Please note:- All figures have been rounded so the local authority area figures, when added together, may not match the regional total.