Clean up day sweeps through a Birkenhead street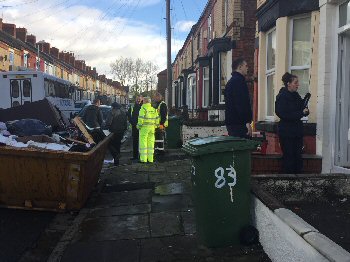 A community clean up day has swept through a Birkenhead street, with public sector partners tackling fly tipping and delivering advice on health issues and energy efficiency.

Harrowby Road, Birkenhead has been identified as a fly tipping hotspot, with high levels of litter and anti social behaviour.

The road also falls under the selective licensing scheme, which raises housing standards by requiring private landlords to sign up to stringent measures to improve the living standards of their properties.

The clean up day saw Wirral Council's licensing, public health, recycling and environmental health teams join forces with Merseyside Police, Merseyside Fire and Rescue to clear up fly tipping and discuss ways to increase community resilience.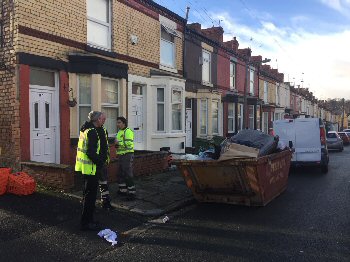 Birkenhead Constituency Team joined local councillors and Biffa in bringing 5 skips, clearing alleyways and speaking to householders about forming a residents' group.

Cllr George Davies, Chair of Birkenhead Constituency Committee said:- "Harrowby Road community day was a successful event involving police, healthy homes, fire service and environmental teams, amongst others. Residents got involved to get rid of litter and fly tipping in the alleyways. The road looked completely different afterwards and it's inspiring what can be done when we all work in partnership."

As well as tidying up the road, mini health checks were carried out with advice about managing blood pressure and smoking cessation.

Merseyside Police joined Wirral's anti social behaviour team to discuss residents' issues with low level crime and anti social behaviour, and Fire Service officers provided free smoke alarms and offered warm home packs.

Merseyside Police start 2 week crackdown on criminals growing cannabis
MERSEYSIDE Police have started a 2 week crackdown on criminals growing cannabis across Merseyside. It will see the Force, within all 5 areas (Liverpool, Knowsley, Wirral, Sefton and St Helens) taking part and using warrants at properties across the county. Officers on foot will be assisted by the Dog Section and the latest technology, while the National Police Air Service will provide aerial assistance, with the Police Helicopter, to spot suspect properties. Police will visit retailers such as DIY stores and garden centres to raise awareness of the types of purchases made by criminals looking to set up cannabis farms, such as large quantities of cannabis and other growing equipment. Outlets selling hydroponic equipment, commonly used for cannabis cultivation, will also be targeted. Officers will speak with letting agencies and landlords, as many cannabis growers take advantage of short term tenancy agreements to grow the drug. Unoccupied properties could be subject to utilities being disconnected and other partner agencies will be educated on the signs a cannabis factory is in a property.

Detective Chief Inspector Steve Richardson said:- "Criminal groups involved in the cultivation of cannabis are usually involved in other serious organised crime and use violence, intimidation and exploitation of vulnerable people to keep their illicit businesses going. We know that disputes over the supply of cannabis have been responsible for violent assaults and even shootings so we are determined to take these farms out of action. They will often rent residential and industrial properties in the heart of our communities, so our focus over the next 2 weeks and beyond will be on those properties being used to grow cannabis around Merseyside. We will have Officers on the ground and use the latest technology available to us to find cannabis farms and execute warrants. During the next fortnight, we will aim to disrupt the activity of criminal gangs who are intent on bringing these highly dangerous farms into our communities. In 2015, our Cannabis Dismantling Team seized more than 25,000 plants from in excess of 330 cannabis farms, so on average our Officers are attending around one farm every single day. Each seizure represents money being taken from the pockets of criminals. The growing of cannabis brings dangers to neighbouring properties because cannabis farms pose a very serious fire risk. The people who set up these farms often risk their own safety and that of their neighbours to tamper with the electricity meters to steal electricity. There will generally be a number of hot lamps hooked up to dangerously overloaded electricity sockets as well as an extensive watering system. Clearly, electricity and water are never a good combination, and the fire service have seen an increase in the number of fires they have been called to as a result of fires caused by the crude systems put in place by the people who set up these farms. These groups are only interested in making money, and have no regard for the communities in which they operate. The public can help us stop them from turning houses and flats into potential death traps. Nobody wants to live next door to these houses and we would ask that if you believe someone is using a property for this purpose, please tell us so we can take positive action and find those responsible for setting them up."

Some of the signs that cannabis is being grown are:-

► Strange smells and sounds.
► Frequent and varied visitors to a property, often at unusual times.
► Gardening equipment being taken into a property, such as plant pots, fertiliser, fans and industrial lighting.
► Windows are sealed and covered or the curtains are permanently closed.
► Heat from an adjoining property.
► Birds gathering on a roof in cold weather.
► Individually these activities may seem commonplace, however, together may indicate something more sinister.

Anyone with any information can call Police on:- 101, or Crimestoppers, anonymously, on:- 0800 555 111.