Number of plastic bags on UK beaches drops by almost ½ in just 1 year
THE number of plastic carrier bags found on UK beaches in surveys carried out by the Marine Conservation Society (MCS) has dropped by almost half between 2015 and 2016. This is the lowest number reported in over a decade, and fantastic news for marine wildlife. The figures are published in the MCS Great British Beach Clean 2016 report, based on surveys carried out in September 2016. In 2015 there were, on average, 11 plastic bags per 100 metres of coastline cleaned but in 2016 there were just under 7; that's a decrease of almost 40% and the lowest number in the last 10 years.

The charity began calling for action on single use carrier bags in shops back in 2008 and was instrumental in getting a levy introduced in Wales in 2011, Northern Ireland in 2013, Scotland in 2014 and England in October 2015. "In the last decade, our Great British Beach Clean volunteers have found an average of ten single use carrier bags for every 100 metres of coastline cleaned. This year, for the first time since the charges were introduced, we've seen a significant drop in the number and that can only be as a result of the 5p charge which is now in place in all the home nations. It vindicates the charge, which we predicted would be good news for the marine environment. Thanks to our thousands of fantastic volunteers who collect beach litter data, we can now see the impact these charges have had." says Lauren Eyles, MCS Beachwatch Manager.

Beaches in England and Northern Ireland saw the biggest drop in the number of plastic bags found during the September clean up; over ½ compared with 2015. In Wales, where the charge has been in place for 5 years, the number; just under 4 bags for every 100 metres cleaned; is significantly lower than any other year since 2011. In Scotland, volunteers found, on average, one bag fewer over the same distance this year compared with last year. MCS says overall the trend is down and that can only be good news for visitors and wildlife.

MCS says there has been a drop of almost 4% in the number of litter items found on UK beaches between 2015 and 2016; but with 268,384 individual items of litter collected, at 364 events, by just under 6,000 volunteers, there's very little to be cheerful about when it comes to the sheer quantity of litter on our beaches.

Beaches in Scotland saw a decrease of 18% in overall litter levels, rubbish in the North East dropped by 14% and in the Channel Islands by 10%. But there were increases in the amount of beach litter in the North West (24%), Wales and the South West (15%) and in Northern Ireland (9%).

Data collected by Great British Beach Clean volunteers also showed a rise of over 4% in the quantity of drinks containers found on the UK's beaches; including plastic bottles, bottle tops and aluminium cans. And there was an astonishing rise in the amount of balloon related litter found on UK beaches; a 53.5% increase on 2015. The charity says it's taking its:- 'Don't Let Go' campaign to a local level to persuade more Councils to ban the release of both balloons and sky lanterns on their land.

Turtles mistake plastic bags and balloons for their jellyfish prey, and the items can block their digestive systems leading to death from starvation. It has recently been shown that some species of seabirds are particularly attracted by the scent of this plastic junk 'food'. The charity says the England litter strategy, currently being drafted by Defra, and strategies elsewhere across the UK, must include specific actions to tackle the problems highlighted by the surveys.

MCS' beach cleaning work is supported by players of People's Postcode Lottery, enabling teams of volunteers to clean up huge swathes of our beaches.
Astles wins the Merseyrail Sound Station Prize 2016
ASTLES was crowned the winner of the coveted Merseyrail Sound Station Prize on Saturday after a hotly contested battle of the bands style competition at Moorfields Station. 10 bands played to a panel of music industry judges and a crowd of fans in the concourse of the City Centre train station in the culmination of a year long competition. After impressing with his set of ambient finger picked acoustic songs, Astles will now receive a year of mentoring, recording time in a studio and a year of free train travel. The winner of the competition was unveiled by head judge and editor of music magazine Bido Lito! Christopher Torpey at new Tithebarn Street venue HUS on Saturday evening.

Christopher Torpey:- "The final was, yet again, another fiercely competitive affair, and all of the judges remarked on how high the standard of performances was. Which, of course, made our job of choosing a clear winner all the more difficult. Overall, Astles impressed us all with a really accomplished set and the huge amount of potential he possesses. I'm looking forward to seeing what he/she/they achieve in the future!"

Merseyrail Sound Station is a new music platform which encompasses a monthly podcast, the prize and regular pop up performances at festivals. Previous winners include Katy Alex, Blue Saint and Soho Riots. Last years prize winner Katy Alex performed at HUS before the winner was announced. Katy; whose band Halem have performed at some of the region's top festivals and released a clutch of well received singles; was also on the judging panel along with representatives from Arts Council England, Merseyrail, Sentric Music, GetIntoThis and Tankfield Studio.

Jan Chaudry-Van der Velde, Merseyrail's Manageing Director, said:- "I listened to all the bands and I think Astles was the bravest performer. I think he's really going to really benefit from the music industry mentoring he will received as part of the prize. He captivated that audience at Moorfields today, which is difficult to do if you are only one person singing with a guitar. The way he did that was absolutely magical"

Also performing at the Merseyrail Sound Station Festival were Gazelle, The Jjohns, A Lovely War, Deliah, Fay Moore, Stillia, Jo Mary, Katie Mac and Cave Party. Now in it's 4th year, the Merseyrail Sound Station festival has proved to be a fantastic showcase of new musical talent from Merseyside and as well as an incubator for that talent. Astles will appear on the November edition of the Merseyrail Sound Station podcast set for release later very soon.

The winners of the Merseyside Running Community Awards 2016 have been announced.
THE top honours were revealed at a special celebratory awards dinner at The Richmond Hotel Liverpool in front of 130 guests and sponsors. This is the third year of the awards, which celebrate and thank individuals and groups who make a huge difference to Merseyside's growing running community. A total of 11 awards were presented and the evening was hosted by Radio City's Claire Simmo and Graeme White, with entertainment from Liverpool soul band, The A Team.

Kirkby Milers, a new running club still in its infancy and less than two years since it was established, were named Club of the Year for the 2nd consecutive year. While the Charity Fundraiser award was won by Gary Jones and young son, 10 year old, Ben, who Gary is often seen pushing round races in his specially adapted buggy raising thousands of pounds for a number of various charities.

The 2016 event also featured a surprise award to recognise Outstanding Contribution from leading independent race organisers and headline sponsor BTR Liverpool. The introduction of the new award was announced during the evening itself.

The 1st recipients of the special award were 44 year old James Hughes and his foster dad John Courtney, aged 78. They have become familiar faces on the running circuit since they began back in 1988.

The awards began in 2014 when the running community were keen to celebrate all that is special about the sport locally. Each year, members of the running community and public are encouraged to submit nominations. A total of three finalists are then announced for each category and the winners are chosen by an online vote which is open to all.

This year's awards achieved 2 personal bests of its own after generating the most nominations to date, as well as the most number of votes cast to choose the finalists which totalled 2,700 votes.
The winners of the Merseyside Running Community Awards 2016 are:-
Volunteer Team – Keith Peacock (Wigan)
Best Running Moment – Smiler Mile at the Tour Of Merseyside
Services to the Running Community – Paul Cope (Kirkby)
Newcomer of the Year – Steph Battersby (Prescot)
Running Image of the Year – Speedo Milers for Woodlands Hospice
Running Personality – Terence Forrest (Leeds)
Charity Fundraiser – Gary and Ben Jones (Aughton)
Inspirational Individual – Jo Moody (Croxteth)
Club of the Year – Kirkby Milers
Lifetime Achievement – Dave Edwards (Liverpool)
Special Award – Outstanding Contribution To Running
John Courtney and James Hughes (Liverpool)
Support for the awards came from:- Cestrian Loos, District House, The Goody Bag Company, Jef Group, Paramount Stewarding, The Richmond Hotel Liverpool, RunABC North, Running Imp, TDL Event Services, Wild Thang and headline sponsor BTR Liverpool, who also organised and delivered the Merseyside Running Community Awards. Category sponsors took to the stage to announce the winners and present them with their awards and certificates. All finalists also received a certificate.

BTR Liverpool is behind some of the biggest and most popular running events in the North West. Its portfolio includes the Vitality Liverpool Half Marathon; Tour Of Merseyside; Tunnel 10K; and Radio City Liverpool Santa Dash.

BTR Race Director Alan Rothwell commented:- "What a fantastic night for all involved. Congratulations to all the winners and finalists, and not forgetting everyone who was nominated. Over 2,700 votes were cast, that's a personal best for the awards so thank you to everyone who took the time to nominate and vote. BTR is delighted to introduce the special award for 2016, and John and James are very worthy winners. John guides visually impaired James through every race and no challenge is too small, they have even taken on the 52 mile Tour Of Merseyside for the past 3 years. Watching them run together is incredibly heart warming and they never fail to inspire others; their bond is unrivalled. Merseyside's running community continues to thrive and is home to some of the region's most inspiring stories; keep up the fantastic work everyone."

The evening also included a prize draw and auction, which raised £800 for the BTR Footsteps Fundraisers charities:- Radio City's Cash For Kids, Everton in the Community and Zoe's Place Baby Hospice.

Prizes were donated by Beatles Story; Bill Elms Associates; BTR Liverpool; Collins Chiropractic; District House; Everton Football Club; Isla Gladstone Conservatory; Liverpool Playhouse Theatre; Lotus Therapies; Radio City; Richmond Hotel Liverpool; Royal Court Liverpool; The Holistic Hub; Venture Studios; and Wirral Cryotherapy.

Next for BTR is the Radio City Liverpool Santa Dash on Sunday, 4 December 2016. Enter in person at Rapid Discount Outlet in Liverpool City Centre or the BTR office at 82 Market Street, Hoylake, or enter online.
Don't miss the Formby Nativity Play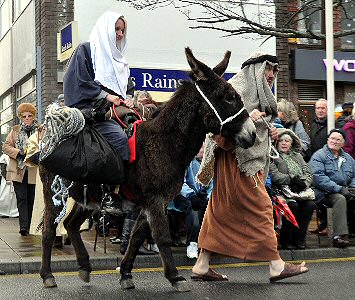 THE annual Churches Together in Formby, Altcar and Hightown's (CTIFAH) well established Christmas Nativity Play, is once again heading to the Village Center. This is a fantastic event for all the family and will be held on Saturday, 10 December 2016, on Chapel Lane, Formby, from 11am to 1pm. The event will have a huge cast of local community and from local primary schools in the area. This years cast started rehearsals at the start of October and will be doing them up to the performance day, every night, so this will be quite a show! Plus the event has live animals to add to the action, along with an interesting script, music and costumes. so head on over, as this event will definitely put you into the Christmas Sprit!