Council starts consultation on saving further £90 million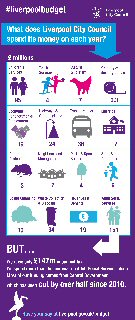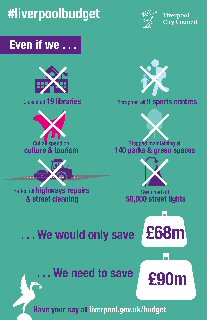 LIVERPOOL City Council has begun consultation on finding another £90 million of savings; in addition to £330 million of Government funding reductions since 2010. In total, it means the local authority will have lost nearly 70% of its Whitehall money between 2010 and 2020, more than any other City in the country. Liverpool is more dependent on funding from the Government than other places because almost 4 out of 5 properties are in Council Tax Bands A and B, greatly reducing the city's ability to raise its own money. Council Tax only contributes 11% to Liverpool's overall budget, leaving the City vulnerable to the Government's austerity programme as Whitehall provides 72% of the overall funding for services. Over the last 3 years, Council Departments have been asked to make savings of between 25% and 50%. Closing the budget gap from 2017 to 2020 could mean taking another 10% from adults and children's services which support the most vulnerable, and cutting all other departments by a further 50%.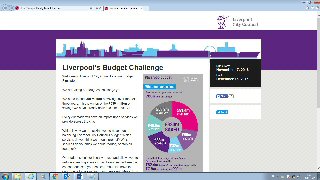 An online budget simulator has been set up for residents to suggest where they think savings should be made and also to give views on ways of raising additional income. Residents are also being asked if they would be willing to pay for an increase of up to 10% in Council Tax, which would be ring fenced to help protect children's and adults services for the most vulnerable. Government rules mean that an increase above 3.99% would only happen if residents were to vote in favour of it in a referendum.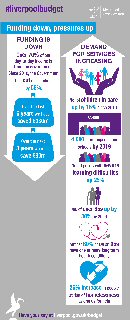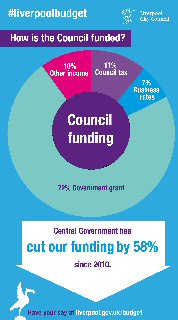 Mayor Joe Anderson said:- "The scale of the Government cuts that we have seen over the last 6 years mean that we have nowhere to go and are left with little option other than to cut into essential front line services. Our ability to meet the challenge without reducing services is virtually non existent. If we closed all of our 19 libraries, scrapped our 9 sports centres, cut all spend on culture, stopped maintaining the parks, halted all the highways repairs and street cleansing and switched off 50,000 lights that would only save £68 million; and we need to find £90 million to stand still. If people genuinely want us to protect services, we can only do that if the Government give us more money; which they haven't so far, or if residents give us more money. That is why we are asking people if they would support a 10% increase in council tax which we would use solely to protect some of the children's and adults social care services from the worst of the cuts. Our focus remains firmly on doing everything we can to attract more jobs and protect the most vulnerable. While we have very difficult decisions to make on services, we also have a duty to go on delivering major schemes that will bring major economic benefits, such as investment in roads and big regeneration projects like the cruise liner terminal and Paddington Village which are bringing more much needed businesses and jobs to the City. The Government's plan is that we will be largely dependent on income from Business Rates and Council Tax from 2020, it is vital that we do all we can to attract employers and help create jobs. We will continue lobbying the Government hard on the impact their cuts are having; and I would urge residents to do the same. The budget simulator is a serious attempt to engage Council Tax payers in not only understanding why we the city is in the financial state we're in but have a say in what we can do, or should do. I would urge people to go online, take the time to have a look at the budget simulator, tell us their priorities and have their say."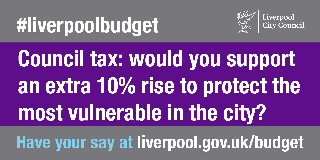 Deputy Mayor, Cllr Ann O'Byrne, added:- "We've been innovative in finding ways of keeping services going since 2010, such as transferring some Libraries and Youth Centres to partners and bringing in external funding for some services; but that makes making further savings even harder. We will need to do more of this entrepreneurial thinking, including looking at ways of bringing in extra income and extending our Invest to Earn programme, in order to bring in additional cash to help offset the cuts in Government funding. It's also important that we continue to do all we can to drive the city's economy. Contrary to popular belief, we don't make a penny out of the money spent by people attending our hugely popular events and festivals, but they are really valuable because they are crucial to supporting thousands of jobs in hotels, restaurants, bars and shops as well as raising the City's profile internationally. There's little doubt that even by doing things differently we are still going to have to cut into the bone of vital Council Services. It is going to be hard and it is going to be painful."

The budget simulator will be open until Friday, 16 December 2016. The Council will set its budget in March 2017.

Liverpool Town Hall in the frame
VISITING dignitaries are set to receive a brand new piece of art depicting Liverpool Town Hall. Liverpool Town Hall has worked in partnership with local art organisation dot art, to produce an exclusive new limited edition print which features the newly restored façade of the Town Hall.

The design was created for free by South Liverpool based artist Jane Adams who presented the print to the Lord Mayor Councillor Roz Gladden, on Monday, 21 November 2016. Prints will then be given as a gift to civic parties at future events hosted by the Lord Mayor.

dot art, who opened a new gallery in Queen Avenue, just off Castle Street in February, were approached by the Town Hall team earlier in 2016, with the aim to update the gifts presented to guests which haven't changed for more than a decade. The gallery recommended Jane due to her eye catching and unusual style. Jane's distinctive work has been popular with the public for many years and her range of architectural prints of many Liverpool landmarks can be seen online.

Councillor Roz Gladden, said:- "Liverpool Town Hall is one of the jewels in the City's Crown, and people are always overwhelmed by how beautiful it is, inside and out. Having seen Jane's existing body of work, I'm excited to see this new piece of art from such a talented local artist. Presenting visiting dignitaries from around the world with a token from the City is a hugely important mark of respect, and I am certain that this gift will be well received."

Managing Director of dot art, Lucy Byrne, said:- "We have worked with Jane for many years now and were delighted to facilitate this prestigious project, ensuring her work will reach a national and international audience. It is also a fantastic opportunity for us as an organisation to cement our relationship with Liverpool Town Hall, who have been incredibly supportive of our work since we opened our new gallery earlier in the year."

The original work will be on show at the dot art Gallery, from Friday, 25 November 2016, as part of their Christmas Exhibition:- "The Liverpool Collection." The print will also be on sale at Liverpool Town Hall for £35.
Survey finds people are 'put off shopping' because of Black Friday promotions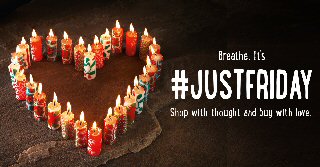 FAIR trade pioneer Traidcraft is calling on people to take a step back from the Black Friday frenzy as a recent survey found ½ of people in the North West (51%) are put off shopping because of it. After £2bn was spent on Black Friday 2015, retailers are gearing up for the biggest shopping day of the year, with discounts launching earlier than ever. Yet instead of getting caught up in the chaos, Traidcraft's 'Just Friday' initiative is offering an alternative for shoppers around the UK.

The independent survey commissioned by the organisation also found that 38% of respondents would like to see Black Friday stopped altogether. Meanwhile, 46% of people surveyed are also unlikely to be buying online this Cyber Monday, the event which follows Black Friday, although 6% will be keeping an eye on deals during the working day.

Now in its 3rd year, 'Just Friday' calls on people to take a moment to stop, breathe and buy their gifts mindfully and ethically. By buying from ethical organisations, consumers shopping on Black Friday can use their spending power to help people in developing countries.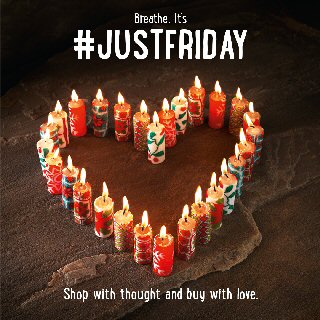 Traidcraft's Marketing Director, Larry Bush, commented:- "After the success of previous years, we're running our Just Friday initiative again to encourage people to take a step back from the chaos of Black Friday and put a bit more thought and enjoyment back into the shopping experience. Last year we saw over 1 million people engage with our Just Friday campaign and we also recorded our best ever weekend for online sales of ethical gifts and products which goes to show that there's growing support for a positive alternative to the mindless shopping frenzy of Black Friday. With recent reports suggesting Black Friday may not even provide the cheapest deals, it's no surprise that a significant proportion of people are put off shopping on that day. Even if just a tiny proportion of the £2bn spent last year, was spent with ethical, fair trade organisations, we could make a huge difference to people's lives around the world. We hope this year, we'll help even more people overcome some of the stress and negative emotions associated with shopping and think about buying more meaningful gifts for their loved ones."

Traidcraft's Just Friday is also being backed by ethical retailer People Tree. Bruce Steinberg, Managing Director of People Tree, said:- "Retailers such as People Tree and Traidcraft are constantly proving that brands can produce with respect for people and the planet. Thoughtless consumption is negatively affecting people on both ends; shoppers as well as artisans, producers and farmers. By shopping mindfully and spending with ethical and sustainable brands this Just Friday, we can empower, bring environmental and social change and step by step transform the economy."

'Just Friday' is part of Traidcraft's Show You Care campaign, which is running up until Christmas and encourages consumers to shop with thought and love, enabling the organisation to continue its life changing and pioneering work in developing countries.
Do you think Black Friday should be banned from the UK? Email your views on this controversial sales import from the USA and it's impact on UK Retail. News24@SouthportReporter.com
Recall to Prison notice issued for Carl Anthony Fury
A man who was jailed for manslaughter in 2008 has been arrested and recalled to Prison for breaching the terms of his licence. Carl Anthony Fury, 32 years, from Aigburth, is back behind bars after being arrested by Officers from Merseyside Police and Titan, the regional organised crime unit, in Halewood, on Friday, 18 November 2016. Fury was convicted of the manslaughter of Derek Stevens in January 2008 in Mackets Lane, Hunts Cross and sentenced to 12 and a half years in custody on 23 July 2008. He was released on licence on 18 July 2014.