Southport and Formby cancer recovery programme honoured for life changing work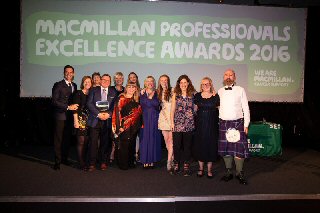 A Southport and Formby based cancer recovery programme launched by Macmillan and NHS Southport and Formby Clinical Commissioning Group (CCG) has been recognised for its inspirational work supporting people affected by cancer in the area.

Macmillan Cancer Support's President, Lady Camilla Halifax, presented the Southport and Formby Cancer Recovery Programme team with the award at the prestigious 2016 Macmillan Excellence Awards, held at The Hilton Metropole Hotel in Birmingham, on 17 November 2016.

The awards, which are now in their 5th year, were developed to celebrate the outstanding work carried out by Macmillan health and social care professionals across the country. The event recognised excellence in 3 areas: service improvement, innovation and integration.

The Southport and Formby Cancer Recovery Programme Team, based at the Macmillan Cancer Information and Support Centre in Southport, which was set up in partnership with NHS Southport and Formby CCG, was nominated for the Integration Excellence Award category. The programme was considered to have demonstrated creating an exciting new service, which has helped improve the quality and experience of care for people affected by cancer.

Their award winning work involves supporting people with cancer during their recovery. It aims to improve physical and mental health and alleviate the feelings of isolation that can often follow the end of treatment. The hub of the service is the Southport Macmillan Information and Support Centre in Stanley Street, but the team comprises members from various health and social care organisations such as Southport and Ormskirk Hospital NHS Trust and Sefton Council who work together seamlessly. Patients finishing treatment receive a specially designed information pack detailing the support they can access, such as Health and Wellbeing events, Move More sessions and a whole host of support groups. More than 300 Macmillan professionals as well as representatives from Macmillan and leading healthcare institutions attended the awards ceremony.

Helen Jones, Macmillan Cancer Information Centre Manager, said:- "We are very proud of our Cancer Recovery Programme and are delighted the initiative has been recognised with this prestigious award. The Integration Excellence Award reflects the hard work and dedication of a team committed to improve the lives of everyone touched by cancer in Southport and Formby. The programme has made it more routine for people with cancer to come to us. Macmillan is all about giving the best possible support to people affected by cancer and, as a team, that's where our hearts lie too."

No one should face cancer alone. For support, information or if you have any questions, call Macmillan Cancer Support free on:- 0808 808 00 00 (Monday to Friday, 9am to 8pm) or visit:- MacMillan.Org.UK.

Dobbies gets ready to host festive Ladies Night
AS December is officially the start of the party season, Dobbies Southport is hosting its annual Ladies Night to kick off the festivities. The much anticipated event will be taking place, on Thursday, 1 December 2016, and the fun filled night will have everything you need to get your Christmas preparations under way.

Dobbies will be ready to welcome event-goers with a glass of fizz and canapés, before enjoying an evening of live music, beauty treatments and demonstrations. From making Christmas cocktails and party food, to advice on caring for your real tree from plant experts, you will pick up all the tips and tricks you'll need for making the most of the festive season.

Teenage Cancer Trust, Dobbies National Christmas Charity Partner, will be benefitting from all fundraising activity on the night. Last year, Dobbies Southport raised £1985 in ticket sales alone, and this year they hope to raise even more.

Andy Tyas, General Manager at Dobbies Southport said:- "Ladies Night is always great fun; we have lots planned for the night including a radio DJ who I'm sure will be a big hit with our customers. In fact, tickets are already flying so we are very excited to welcome people on the night."

Linda Noon, Head of Fundraising at Teenage Cancer Trust said:- "The team at Dobbies have shown so much passion for Teenage Cancer Trust. We know it's going to be a really fantastic event, our volunteers, staff and customers have been so incredibly generous and supportive of us and we are so grateful. We would urge everyone to come along and indulge in some festive fun this Ladies Night."

Teenage Cancer Trust makes sure the seven young people aged 13 to 24 diagnosed with cancer every day, don't face it alone. They provide world-class cancer care and support in specialist units, local hospitals and in homes across the UK. The charity is there at every stage, from diagnosis through treatment and after treatment and they bring young people together so they can support each other.

The event will run from 5pm to 9pm and tickets are available to purchase in-store in advance or on the night. Tickets cost £1 and all proceeds will go to Teenage Cancer Trust.

Date:- 1 December 2016
Time:- 5pm to 9pm
Cost:- £1 donation to Teenage Cancer Trust
Location:- Dobbies Garden World, Birkdale, Southport, PR8 4HX
New Bins for Walton Hall Park
PEOPLE who use Walton Hall Park are being encouraged to make sure it is clean and litter free. The park will receive 20 new and replacement park bins, which will be installed in the New Year (2017). This is part of a scheme which will see hundreds of new bins and replacement bins located in parks and surrounding streets after the Mayor of Liverpool, Joe Anderson, approved a capital programme for the scheme which will see ugly or faulty bins being replaced as well as new bins installed. The new bins will be placed in locations throughout the park where they are needed most to help and address problems associated with cigarette stubs and dog fouling as well as litter. Deputy Mayor, Councillor Ann O'Byrne, said:- "There is never any excuse for litter in our parks but we are making it easier for users to deposit their rubbish. 1 of the things which deters people from using parks is when litter is strewn over the paths and grass or dog owners have not cleared up after their pets. We are playing our part in keeping Walton Hall Park tidy by providing extra bins and I would appeal to those people who use it to make sure they keep the park tidy and litter free."