New education hub in Croxteth set for go ahead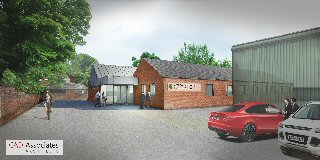 PLANS for a multi million pound redevelopment of Myerscough College's facilities at Croxteth Park in Liverpool are set to get the green light. Myerscough College provides a very specific, vocational and land use based education service, which is the only one of its kind on Merseyside.

A report to the Cabinet, on Friday, 25 November 2016, is recommending that the former Glendale Council Depot is transferred to the College, on a lease basis and redeveloped as new, expanded teaching facilities to replace their current outdated and inflexible accommodation.

The City Council is to contribute £500,000 to the scheme by way of a discounted rent on the site, over the next 10 years, in addition to £1 million from the College and £2 million from the Liverpool City Region Local Enterprise Partnership (LEP).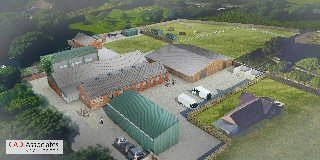 Councillor Malcolm Kennedy, Cabinet member for regeneration, said:- "The College does fantastic work but is working out of accommodation that is no longer suitable for modern teaching methods. It will enhance and improve their work and mean that students interested in studying for the qualifications that they offer can do so in the best quality surroundings. As well as delivering good quality education and training, it will also boost the local economy as local workers and apprentices will be employed during the construction phase."

When complete, the new-look Myerscough College Croxteth Centre; which was given planning permission in October 2016; will be made up of single storey buildings sited behind a wall opposite the Home Farm area of the site.

The new training facilities will include 3 animal studies blocks along with stabling, aviaries and pens for goats, alpacas and hens adjacent to the Grade II listed former Laundry House. 2 other buildings will be converted for animal housing and dog grooming, and a 3rd will be for reptiles, amphibians and tropical species as well as accommodation for staff and students.

Helen Eaton, Myerscough's Assistant Principal for Liverpool said:- "Myerscough Liverpool was first established in 1999 in partnership with the City Council and over time we have developed to provide a range of courses at Croxteth Park. We've worked closely with Glendale for a number of years and have been their sole training provider for almost a decade and so taking control of their depot is the next logical step of what will hopefully further enhance our education offer to the students of Merseyside. We carried out a review of our facilities at Croxteth Park before submitting our plans and developing this area of the park is the most viable and cost effective. We can't wait for work to begin."

Councillor Steve Munby, Cabinet member for neighbourhoods, added:- "This scheme complements our wider plans for Croxteth Park. The new arrangements with Myerscough will increase our income and free up space in Croxteth Hall and Farm. The previous transfer of the Farm to NSC, a local social enterprise, has bought new investment in the farm, increased visitor numbers, local jobs and saved the City Council around £250,000 a year. We will shortly be seeking a partner to run the Hall and Park so that they become self sustaining."

Myerscough Liverpool was first established to support the delivery of the college's Merseyside work based learning contract at Croxteth Hall. Over time the facility has developed to support the delivery of full time, part time and short courses in both land based and sports subjects including Animal Care, Arboriculture, Equine and Horticulture.

The Chancellor should use £356m in unallocated Business Rates to ease the social care funding crisis
THE UK Government could ease the social care crisis by handing back to Councils in the North West millions in surplus cash raised from Business Rates, according to new figures published by UNISON.

If local authorities in the North West were given back their share of Business Rates that have been collected by the UK Government, this would mean an extra £356m to spend on social care, says UNISON.

UNISON's calculations are based on the same funding formula for the UK Government's 'Better Care Fund,' which allocates resources to the NHS and local authorities.

If the UK Government were able hand back a proportion of Business Rates for North West local authorities to spend on social care, local Council Taxpayers would benefit too, says UNISON.

The extra Business Rates cash would remove the need for local authorities to raise Council Tax by 2% to spend on social care, saving North West residents £50m a year, says UNISON.

UNISON says many more people would be able to receive care in the region under its proposal. Lancashire County Council would get nearly £48m more to spend and Taxpayers would save £8m (because money from Business Rates would avoid the need for Council Taxes to rise). Similarly Cumbria County Council would get £21m, saving its Taxpayers £4m a year.

With Business Rates to spend on social care, Stockport Council would have another £10.5m to spend, saving its Council Taxpayers £2.6m. Warrington Council would gain £7.3m, saving £1.6m for local Taxpayers.

UNISON North West Regional secretary Kevan Nelson said:- "The social care system is in dire straits. There's simply not enough money to fund the care that's needed. The losers are the thousands of dedicated homecare workers, who work long hours, and whose already low wages are dragged below the legal minimum because of the non-payment of travel time. Those suffering the most are the elderly and the disabled, who rely on daily visits so they can stay in their own homes. Visits are often too short to administer the care needed, or care packages simply aren't available. Then people have to stay in hospital far longer than is good for them, in beds that are desperately needed for other patients. Investing £356m in social care would be money extremely well spent. Not only would it mean better care for the elderly, it would ease the pressure on homecare staff, and free up beds in the NHS."

Last week UNISON general secretary Dave Prentis wrote to Philip Hammond setting out where the autumn statement could make a real difference to public services. The Chancellor could:-

► End public service job cuts, where fewer staff are trying to do more with less resources.

► Fully fund student nurse bursaries, giving the NHS a better chance of recruiting the additional health professionals it needs.

► End the 1% public sector pay cap, which has caused money worries for many public servants.
Illegal goods seized outside concert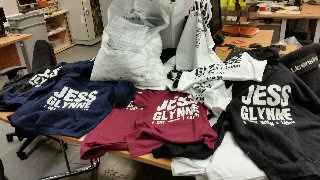 ILLEGAL merchandise has been seized from outside a Jess Glynne concert at ACC Liverpool at the weekend. City Council licensing officers and Merseyside Police carried out an operation which saw about £600 worth of t-shirts, and other goods taken from unlicensed traders. A vendor will be summonsed for street trading offences and a court order sought to dispose of the goods. Councillor Frank Hont, cabinet member, said:- "The seizure of these items sends out a message to unlicensed traders that their activities will not be tolerated. They hit at legitimate traders and people who buy from them should be aware that there are no guarantees about the quality of the goods and their rights are not protected." Click on here to see our report about the concert.