Parents seek advice from teachers to keep their kids safe online in Liverpool
3 in 10 teachers have given advice to parents about internet safety, as new research by BT and Unicef UK reveals that all teachers in Liverpool questioned in the survey said that:- "internet safety is an issue facing children in schools today."

Liverpool teachers' biggest concern for their pupils is cyber bullying (70%). This is also the most frequent popular internet safety discussion parents have with teachers (67%) in Liverpool.

The research found that whilst the majority of parents worry about their children accessing inappropriate content online (54 %), more than ˝ (56%) of parents in the Liverpool allow their children to play on their computers unsupervised. Most parents (86%) in the City have discussed internet safety with their children and of those that haven't, 50% say they haven't because they trust them, but a ⅓ (33%) say it's because their child knows more about the internet than they do.

BT and Unicef UK have partnered for a 3 year programme:- 'The Right Click: Internet Safety Matters,' where they host workshops on internet safety in schools. The programme is designed to help children, their families and teachers to use the internet safely and create a forum for open conversations about why and how.

Former JLS member, now farmer and The Right Click supporter, JB Gill, said:- "It's not surprising that teachers play a pivotal role for both parents and children when learning about staying safe online. Technology is changing every day, and teachers play a big part in educating children on the internet. It can be a scary place if children and parents don't know how to protect themselves, and I'm in full support of the Right Click workshops. As a parent myself, I'm glad to hear the results of the research show that teachers are already talking to parents and children about internet safety and, if we can encourage everyone to talk more and be even more open through these workshops, then the internet world will be a safer place for children."

Pete Oliver, commercial and marketing director, BT Consumer, said:- "The internet is a powerful tool, especially for children. The time children are spending online is continuing to grow, particularly with children aged 8 to 111. This can be daunting for parents that aren't necessarily digital savvy and most parents (94%) have worries about their children online. However, with the right knowledge, communication and parental controls in place, we can all ensure that the internet can be a safe place."

So far, 9,866 children, parents and teachers have taken part in the workshops at Unicef UK's Rights Respecting Schools, which put the UN Convention on the Rights of the Child (UNCRC) at the heart of their policies and practice. As a result, 9 out of 10 parents say they will talk to their child more about online safety. Almost all parents (96%) that attended the workshops now feel knowledgeable about the internet and 98% are now aware of the risks their children may face. 9 out of 10 parents are now also confident that their children are safer online.

The workshops are also valued by children, with 75% saying they would talk to a trusted adult about staying safe online and around 90% saying they would now tell an adult they trusted if something upset them online.

Catherine Cottrell, Unicef UK Deputy Executive Director, said:- "We're working with schools across the country to create safe and inspiring places to learn, where children are respected and their rights are protected. 'The Right Click - Internet Safety Matters Workshops' empower children to become confident and responsible digital citizens, enabling them to enjoy the enormous benefits that the internet has to offer, with the help of parents and teachers."

The workshops also work to equip teachers and parents with the skills needed to help children to use the internet safely.
They are encouraged to discuss online safety openly with children.

Since the launch of the BT and Unicef UK partnership in March 2014, 80 schools in disadvantaged areas have also been invited to join Unicef UK's Rights Respecting School programme, as a direct result of BT funding. These schools who have been selected from areas across the UK including:- Liverpool, Glasgow, East Kent and Merthyr Tydfil; are provided with training, support visits and teaching resources, to help them embed children's rights into their schools' ethos and culture.
All is ready for the 13th Liverpool Santa Dash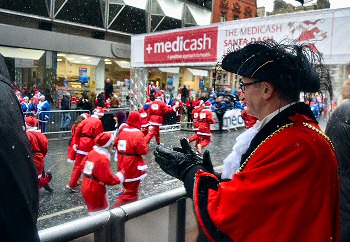 THE final countdown is now on to the UK's biggest festive fun run in Liverpool, that is due to be held on Sunday, 4 December 2016. Organisers, BTR Liverpool, are determined to make the 13th Annual Event a lucky 1, making it bigger and better than ever before. Highly regarded as the City's kick start to Christmas, the Radio City Liverpool Santa Dash in association with Blue Air is organised by leading independent race event organisers BTR Liverpool, who created the Liverpool Santa Dash in 2004. The public will be running alongside many familiar faces, as well as original Big Brother winner Craig Phillips who will also be taking part on the day. Also Santa will be on hand for both the main raise and the kid's race. If you have no idea what it is, this was our coverage of last years event - LINK.

Programme using emoji bingo and sport to tackle children's mental health problems wins top award
A programme combining emoji bingo and sport to tackle children's mental health across Merseyside won a prestigious award. Tackling the Blues (TtB), an early intervention programme for children in Merseyside's most disadvantaged areas has been recognised for its 'Outstanding Contribution to the Local Community' at the 'Times Higher Education Awards.'

The programme, launched by Edge Hill University in partnership with Everton in the Community, the official charity, of Everton Football Club, uses sport and education to help children aged 6 to 16 years old with, or at risk of mental health issues.

Emoji bingo, peer mentoring and physical activities are used to increase self-esteem and reduce anxiety in children whilst helping them build positive relationships with peers and external agencies.

The award judges said the programme:- "has been selected as a national case exemplar" and has "in the view of educational and health professionals, made a positive contribution in this challenging area."

They also said it was "remarkable" that more than 95% of participants have continued with the programme over 15 months.

Andy Smith, Professor of Sport and Physical Activity at Edge Hill University, said:- "We're delighted that over 2 years' research led work, supported by our students and longstanding partnership with Everton in the Community, has been recognised for its impact on and contribution to our local communities, especially children and young people with mental illness. Tackling the Blues is a strong partnership which has been recognised by our peers as demonstrating just what impact can be achieved if universities like Edge Hill, together with other educational institutions and the sport and health sector, work collaboratively to address issues which are of international concern."

Andy and his colleague Jonathan Jones collected their award at the ceremony in London, beating strong competition from universities across England and Wales.

Andy said:- "We launched TtB in response to the very significant mental health problems facing young people. 8 in 10 are not accessing mental health services, others have to wait nine months to access support. Inequality and deprivation are high in the North West and TtB operates in areas ranked amongst the 85% most disadvantaged areas of the country. Our early intervention programme tackles a variety of mental illness from depression and anxiety to eating disorders and anger management. Without TtB many young people would just slip through the net."

Volunteer students from Edge Hill's Department of Sport and Physical Activity and Faculty of Education are trained in internationally accredited mental health qualifications to deliver weekly sessions in schools, acting as mentors to the young people.

Jon Jones, Edge Hill Project Lead for TtB, said:- "Operating across nine secondary schools and two young carer groups, the sessions mix sport and physical activity with educational workshops on topics such as stigma, bullying and emotions where 'emoji bingo' is used to encourage children to talk about their feelings. Delivering activities that children can relate to has allowed us to start informal discussions around mental health whilst maintaining their engagement and enjoyment."

Conor, 13, a pupil at Hillside High School in Bootle, said:- "TtB helps me with my feelings and doing sport. If I felt down or upset or was angry in other lessons I knew I could talk about it and I don't really get angry anymore."

Fellow pupil, Nathan, 13, said:- "TtB teaches you how mental health affects people and how you can overcome it. Sometimes I felt upset but I spoke to people in school and my parents. Now if I feel angry I walk away from it. I'm also helping the Year 7s teaching them about mental health."

Chrissie Doran, Progress Leader for Years 7 and 8 at Hillside High School, added:- "TtB is really helping. We've see our students learn new skills, make new friends and they access support from different types of people making them feel more confident and better about themselves. Students on TtB are more likely to come to school, take part in school life and are generally more engaged and communicative."

The volunteers are assisted by mentors and coaches from Everton's official charity to maximise the impact of the brand of the Club which has helped recruit and retain young people.

Michael Salla, Director of Health and Sport at Everton in the Community, said:- "TtB is part of our wider work in the community promoting health and wellbeing. One of the key areas is mental health and we've found football is a highly effective engagement tool to reach people who wouldn't normally engage. Once they're involved in a programme we can start a conversation with them, help tackle the stigma and work alongside partners such as the NHS and other agencies where appropriate."

Charles Knight, a Senior Lecturer in Business and Management at Edge Hill University was shortlisted in the Most Innovative Teacher of the Year category.