Mini Police join National Road Safety Week campaign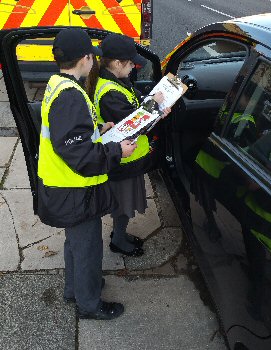 MERSEYSIDE Police, have taken out their Mini Police to carry out a campaign to warn speeding drivers in Bootle and Litherland, as part of National Road Safety Week.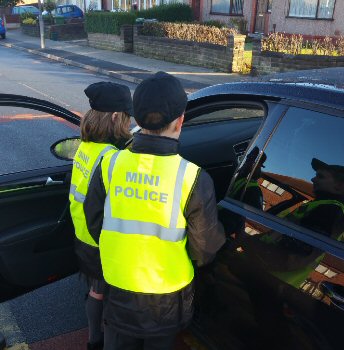 Members of Hatton Hill Primary School's Mini Police have stopped around 20 vehicles, on Hatton Hill Road, using the speed gun and issuing warning letters and posters to drivers, advising them to stick to the speed limit.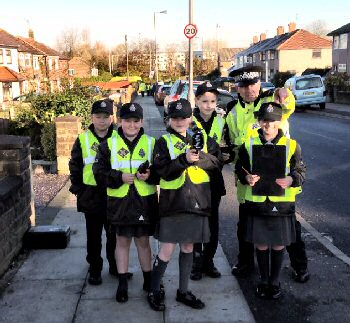 Later on, members of St Monica's Catholic Primary School, in Bootle, also carried out a campaign near to their school, stopping a further 10 vehicles to issue advice.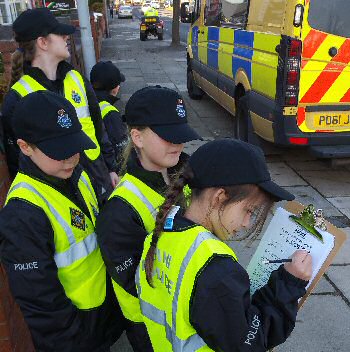 Neighbourhood Sergeant Jon Coote said:- "When our young Mini Police stop drivers, the dangers of speeding really hit home. We are so proud of the excellent work the Mini Police are doing with us since their introduction. If this makes people think twice about their driving, especially near to schools, the roads will be much safer for everyone."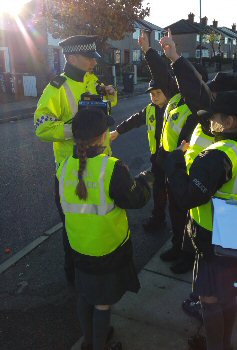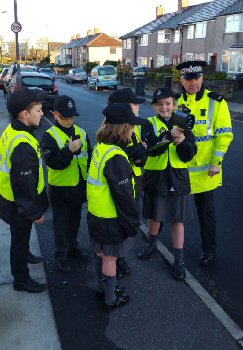 So what do you think about this idea? Do you think it is a good idea? Please email us your views to:- News24@SouthportReporter.com.

Road safety week – DROPS initiative
BIFFA, Merseyside Police and Wirral Council have joined forces to improve road safety on the roads of Merseyside. The DROPS initiative, Driving Recklessly On Pavements, has been operating in several areas in the UK and enables Biffa operatives to report examples of dangerous and careless driving to Police Forces who then investigate the cases and take appropriate action. Evidence is obtained by the CCTV systems fitted to Biffa vehicles and is provided to Police. It will now operate across the Merseyside area.

Every year, Biffa staff are placed in danger by drivers who drive onto pavements and grass verges instead of waiting whilst refuse bins are collected and emptied.

DROPS is part of the Merseyside Police strategy to reduce the number of casualties on the roads of Merseyside via partnership working and enforcement and is addition to the increased use of unmarked vehicles and dedicated operations to address those drivers who cause and contribute to casualty numbers.

Driving related incidents reported to MSOC Roads Policing under the DROPS initiative will be assessed, taking into account all available evidence. Outcomes may include:-

► Prosecution.

► National Driver Offender Rehabilitation Scheme (NDORS).

► Written letter to registered keeper of 'offending' vehicle.

Biffa business manager Gary Robinson underlined the importance of Police support for the DROPS campaign:- "Every day, my crews put their trust, and their lives, in the hands of other drivers. Sadly, a minority of impatient drivers abuse that trust by driving on pavements to get around our collection vehicles, so risking the lives of my crews and members of the public. The support and proactive involvement of Merseyside Police and Wirral Council's road safety team makes an enormous difference. Biffa staff know that the power of the police is there to back them up, helping to make their job safer on Wirral's streets and roads."

Sgt Paul Mountford from the Merseyside Police Matrix Roads Policing Unit said:- "DROPS enables us to better identify and deal with those drivers whose dangerous, impatient and thoughtless actions place Biffa operatives doing their jobs and the general public at risk. We will adopt a 0 tolerance approach to these individuals. They have no place on the roads of Merseyside, only those drivers who, by their actions place others at risk need to be concerned. They will include not only those who drive onto pavements, but also those who obstruct the pavements for pedestrians, forcing them to walk in the road. Pavements are for people, not cars."
KIND to be awarded Freedom of Liverpool
A local charity which has helped tens of thousands of families cope with disadvantage and poverty over the last 4 decades is being awarded the Freedom of Liverpool.

'KIND' – 'Kids in Need and Distress'; has been in existence since 1975 and carries out most of its work from a state of the art 'SEED Centre' in Toxteth which has classrooms, gardens, allotments, a kitchen and health and wellbeing space.

It offers a range of tailor made educational activities, projects and support for children and families to improve self confidence, develop their education and skills, re-engage with education, think creatively; live healthily and develop a sense of social responsibility as well as tackling bullying, racism, hate crime and anti social behaviour.

KIND also holds week long summer residential breaks for disadvantaged children aged 6 and 13 in Wales which includes outdoor activities to help them to learn both about themselves and the environment.

Their annual Christmas hamper appeal delivers food parcels and toys to up to 1,000 needy families, and the charity also provides year, round help with items such as household goods and clothing.

Lord Mayor of Liverpool, Councillor Roz Gladden, said:- "The City of Liverpool is extremely fortunate to have KIND providing help and support to disadvantaged families. In these difficult times, their excellent work and support in inspiring, empowering and supporting people is needed more than ever. I am delighted to be able to award KIND the Freedom of Liverpool, the City's highest civic honour, and an acknowledgement of the amazing work their trustees, staff and volunteers are doing every single day to improve the lives of vulnerable people."

Stephen Yip MBE, Chief Executive of KIND said:- "For a small organisation such as KIND, this achievement is not only an amazing honour but recognition of our work and principles which we have lived by for the last 4 decades. Like many things in Liverpool, we are different and that difference has enabled us to not only survive during many difficult economic times, but to also develop, improve and increase the range of children and families to whom we offer out services. KIND lives on the kindness of its friends and without that support we could achieve very little. Today we need that support more than ever so we can continue making a difference too many young lives."

More information about KIND can be found online.
72 year old male jailed for historical sexual offences
MERSEYSIDE Police, on Monday, 28 November 2016, welcomed the sentencing of a 72 year old man for historical sexual offences. Joseph Catton, of Sefton Moss Villas, Litherland, was found guilty after trial of 2 offences of rape and 8 offences of indecent assault and sentenced to 16 years in prison at Liverpool Crown Court. The offences took place during the 1970's and 1980's.

Detective Inspector Jacqueline Fitzpatrick said:- "Catton's victims have shown an immense amount of bravery coming forward. Time should never be a barrier to obtaining justice and I hope today's sentence gives his victims some sense of closure and vindicates their decision to come forward. Merseyside Police takes every report of sexual offences extremely seriously, whether or not they are recent, and has dedicated officers who are specially trained to both thoroughly investigate allegations and make sure that those reporting them are properly supported. I would like to take this opportunity to reassure anyone who has suffered a sexual offence that if you can find the courage to come forward and speak to us, we will deal with you sensitively and make sure that reports are properly and thoroughly investigated."

People can call Merseyside Police on:- 101. Information can also be passed to Crimestoppers, anonymously, on:- 0800 555 111.