Care and leadership at Mersey Hospital recognised at awards
4 teams at the Royal Liverpool and Broadgreen University Hospitals NHS Trust have been recognised for making a difference to both patients and staff in the North West. The Trust's Academic Palliative Care Unit, Roald Dahl Centre, nuclear medicine department and sepsis improvement team have been shortlisted across four separate categories in the 2016 NHS North West Leadership Academy Awards, recognising exceptional patient experience, great leadership, living the NHS values and outstanding teamwork. The awards celebrate the fantastic work that is going on across the North West and showcase its leaders' and teams' hard work, perseverance and the positive impact they have. Deborah Murphy, end of life lead, was nominated and shortlisted in the category of:- 'Excellence in Patient Experience.' Deborah, who recently helped to launch the Trust's unique Academic Palliative Care Unit, said:- "Being shortlisted for this award is a reflection of the high priority our Trust places on palliative and end of life care and the hard work and dedication of everyone in our team. It's also a reflection of the people who matter most to us; our patients and their families who helped us to design, shape and deliver our service."

Professor Cheng Toh, consultant haematologist, and his team at the Roald Dahl Centre were shortlisted in the category of 'Team Outstanding Achievement – Clinical.'

Professor Toh said:- "We are delighted to have been shortlisted. We have developed a very comprehensive care service for patients with blood disorders. Roald Dahl was a much loved character; it's important for us that our service is much loved by our patients."

Professor Sobhan Vinjamuri, lead consultant in Nuclear Medicine, was shortlisted in the category of 'NHS – Living the Values.' He said:- "We have a highly skilled team at the Royal who are able to provide treatments and procedures that no other Trust, in the country, has been able to provide. Shortlisting is a very clear of recognition of the contribution of my team."

Dr Emmanuel Nsutebu, consultant in infectious diseases, was shortlisted in the category of 'Emerging Leader' for his work in improving sepsis care. Dr Nsutebu added:- "It's a real honour and a surprise to be shortlisted for this award. It's down to the hard work of my team. I mainly acted as a facilitator, making it easier for the people I work with to do their work in improving sepsis care as best as they can."
Hours changing at West Lancashire NHS Walk In Centres.
THE opening hours of West Lancashire Health Centre and Skelmersdale Walk In Centre will change, from Monday, 5 December 2016. West Lancashire Health Centre, which is at Ormskirk Hospital, will continue to open at 8am every day, but the last booking to see a nurse will now be 7.30pm, instead of 9pm. Skelmersdale Walk In Centre, at The Concourse, will open an hour later, at 8am, with the last booking to see a nurse changing to 7.30pm, instead of 9pm, Monday to Friday. Weekend opening times of 9am to 5pm remain the same.
Location
Times from Mon 5 December
Times now
West Lancashire Health Centre
Ormskirk Hospital,
Wigan Road, Ormskirk, L39 2AZ
01695 588800
8am to 7.30pm (Mon-Sun)
8am to 9pm*
Skelmerdale Walk-in Centre
The Concourse
Skelmerdale, L39 2AZ
01695 588640
8am to 7.30pm (Mon-Fri)
9am to 5pm (Sat - Sun)
7am to 9pm*
Unchanged
* Note - closing times are last bookings to see a nurse
Interim Chief Executive Iain McInnes said:- "Through a combination of sickness and vacant posts we are unable to fill, the Trust has experienced a severe shortage of appropriate clinical staff at both Walk In Centres. We have had no alternative but to adapt the opening hours to fit the staff we have available and maintain a safe service for patients. We will, however, keep staffing under regular review. Only a very small number of patients choose to use these services in the late evening but I want to apologise to anyone who is inconvenienced."

Anyone who thinks they need medical help outside the walk In Centre opening hours should examine their options. When you need medical help or advice fast, but it is not a 999 emergency, call the NHS:- 111 service.
NHS:- 111 is available 24 hours a day, 365 days a year and calls are free from mobiles and landlines.

For more information please visit:- ExamineYourOptions.Info.

Animated star of Kung-Fu Panda opens DreamWorks Lights at St George's Hall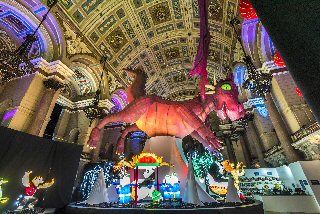 THE animated star of Kung-Fu Panda has officially opened Liverpool's seasonal spectacular DreamWorks Lights. Po the Panda was on hand to cut the ribbon and welcome people to the city's flagship Christmas event at St George's Hall.

Hundreds of ticketholders were waiting outside the hall to be amongst the first to experience the unforgettable lantern show, which includes the huge ruby coloured dragon from Shrek, 40ft long and suspended from the ceiling of the Great Hall.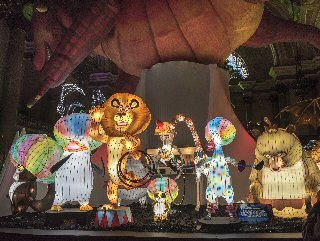 The event's centrepiece is 100 Chinese lantern versions of characters from the DreamWorks movies Shrek, Kung-Fu Panda and Madagascar and thousands are expected to visit over the next 2 months.

DreamWorks Lights is a first for the UK and part of 1 Magical City, a programme of festive activity which takes place right across Liverpool.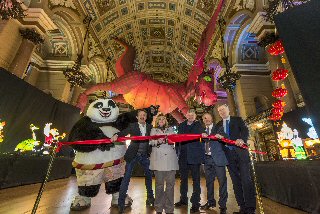 Joe Anderson, Mayor of Liverpool, said:- "Bringing this event to the cityC is a major coup for Liverpool and is sure to pave the way for more experiences of this stature."
Chris Brown, director of marketing, Marketing Liverpool said:- "DreamWorks Lights is a wonderful addition to this year's 1 Magical City offering and an unmissable experience for families to enjoy. We hope that this magnificent attraction will encourage tourists and day visitors alike to sample everything Liverpool has to offer during the festive season."

Alan Smith, St George's Hall manager, said:- "There's been huge excitement over recent weeks and it's wonderful to see the lantern scenes in place and lit. The attraction really is packed with breathtaking sights and the Grade I listed hall is the perfect setting for this unique seasonal family attraction. Visitors will also have the opportunity to get up close with their favourite characters through a special green screen photo experience."

DreamWorks Lights will be open daily, from 10am to 7pm, until 15 January 2017. Tickets can be booked online and cost £10 for adults and £8 for children. There are concessions available for group bookings and wheelchair users.