Festive Fire Warning for North West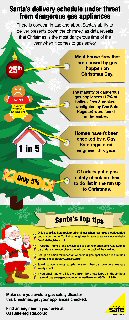 MORE gas related fires happen on Christmas Day than any other, but as 21% of households in the North West have not had their gas appliances legally checked over 2016, thousands of people in the region could be living with dangerous gas appliances.
According to 5 years worth of data from the Gas Safe Register and Fire and Rescue Service, Christmas is the most dangerous time of the year when it comes to gas safety in the UK. More fires in households with gas appliances take place on Christmas day than any other day of the year, and Gas Safe Register's investigation team find a higher proportion of dangerous gas appliances in December that any other month.
A total of 17% of UK boilers, fires and cookers investigated in December, over the last 5 years have been found to be unsafe. While the majority of festive revellers in the North West prioritise buying (69%) and wrapping (37%) presents, only 6% of adults in the region put gas appliance safety checks on their December to do list, in the run up to Christmas. In fact, almost 3 times as many people (14%) prioritise watching their favourite Christmas film over making sure that they and their families are gas safe at Christmas.
People in the North West were most concerned about getting flu (25%), when asked about their top seasonal concerns. 24% were worried about the boiler or gas fire breaking down; the 2nd highest concern for people in the region, while 21% were concerned about putting on weight.
Jonathan Samuel, chief executive at Gas Safe Register, said:- "Although Christmas is a very busy time of year, it is really important your gas appliances have been checked and are running safely. With our data showing that December can be dangerous for homeowners, Gas Safe Register is reminding people in the North West to get their annual gas safety checks in the diary so this Christmas is a safe and enjoyable time."

GAS SAFETY - FIRE PREVENTION TIPS

To stay gas safe this festive season, follow these top 5 Gas Safe Register's top tips:-

1. Only employ a legal Gas Safe registered engineer when having gas work carried out in your home. You can find a registered engineer in your area by calling Gas Safe Register on 0800 408 5500 or by visiting:- GasSafeRegister.Co.UK.

2. 'Trust the Triangle' and always ask to see your engineer's Gas Safe ID card. Make sure you check the back of the card, which will state which gas appliances they are qualified to work on.

3. Sign up for a reminder service to make sure your gas appliances are checked annually:- StayGasSafe.Co.UK.

4. Speak to your energy supplier to see if they can provide a free gas safety check.

5. If you smell gas or think there might be a gas leak, call the free 24 hour national gas emergency number, immediately on:- 0800 111 999.

To find out more about the dangers posed by unsafe gas appliances in your area visit the Stay Gas Safe website, and to find a Gas Safe registered engineer call:- 0800 408 5500 or visit:- GasSafeRegister.Co.UK.

Homeowners in the North West 76% more likely than landlords to be in arrears
HOMEOWNERS in the North West are 76% more likely than landlords to be in arrears, Computershare, the UK's largest 3rd party servicer of mortgages has said. The financial services company's mortgage servicing arm, Computershare Loan Services, which manages over half of all outsourced mortgages in the UK, has disclosed that 1 in every 110 buy to let mortgages (0.91%) in the North West is currently in arrears by at least a month compared to one in every 63 residential loans (1.6%). The arrears figures for the North West were also higher than averages for Great Britain as a whole, where 1 in every 73 (1.37%) or residential mortgages and one in every 167 (0.6%) buy to let mortgages are behind on their payments.
| | | |
| --- | --- | --- |
| Region | Proportion of mortgages in arrears | Buy To Let Residential |
| East Midlands | 0.15% | 1.23% |
| East Anglia | 0.20% | 1.36% |
| South East | 0.25% | 1.10% |
| South West | 0.28% | 0.89% |
| Yorkshire and Humberside | 0.55% | 1.27% |
| West Midlands | 0.69% | 1.25% |
| North | 0.82% | 1.23% |
| North West | 0.91% | 1.60% |
| Greater London | 0.94% | 1.96% |
| Scotland | 0.95% | 1.31% |
| Wales | 1.41% | 1.81% |
| Average for Great Britain | 0.60% | 1.37% |
Andrew Jones, Chief Executive Officer at Computershare Loan Services, said:- "When mortgages fall into arrears, problems can arise for borrowers, lenders and tenants, so loans must be administered in a way that takes into consideration the individual circumstances of every customer. Computershare Loan Services continues to lead the way in preventing and reducing arrears by using advanced analytical systems to predict problems and facilitating support for those who need it. For over a quarter of a century we've done everything we can on behalf of clients to work with borrowers, particularly those significantly behind on their payments, to find a solution that takes into consideration their circumstances."

In November 2016 Computershare Loan Services announced that it will provide both origination and post completion services for Sainsbury's Bank, and recently won a new 7 year contract providing a full 3rd party servicing model for all Vida Homeloans mortgages. Earlier this year, the company was appointed by the UK Government to service mortgages for UK Asset Resolution (UKAR). Computershare Loan Services currently services over £71 billion of mortgages and loans, which represents over half of the outsourced mortgages in the UK.
Next Trust Board meeting 21 December 2016
THE next meeting of the directors of Southport and Ormskirk Hospital NHS Trust will be Wednesday, 21 December 2016. The meeting will be held in the Clinical Education Centre at Southport and Formby District General Hospital from 9am. It was previously scheduled for Wednesday, 7 December 2016. Members of the public are welcome to observe the meeting. Anyone with a special requirement should contact the Trust in advance on:- 01704 704783. The agenda will be available on the Trust website in advance of the meeting. Supporting papers will be made available on the day. The 1st meeting of 2017 takes place on Wednesday, 1 February 2016.