Life on the margins - 6,300 without a home in the North West
A shocking new report reveals that 6,300 people are homeless in the North West. For the very 1st time, housing charity Shelter has revealed the true scale of homelessness in the area by analysing a combination of the most up-to-date government statistics, freedom of information requests, and other published homelessness data.

To mark Shelter's founding 50 years ago today, the research is inspired by the charity's original- 'Green Book' the report that launched the charity in 1966 and exposed the grim reality of life for homeless families at the time. Sadly, the modern day study also paints a bleak and desperate picture of a 21st century housing crisis affecting families across the nation.

The new Green Book also identified the North West's top 20 'homelessness hotspots' where people are most likely to lose the battle to stay in their homes. Manchester topped the list with 1 in 266 people living without a home. This was followed by Salford (1 in 765), Trafford (1 in 1156) and Rochdale (1 in 1369).

Shelter Manchester Hub manager, John Ryan, said:- "Shelter's founding shone a light on hidden homelessness in the 60s slums. But while those troubled times have faded into memory, 50 years on a modern day housing crisis is tightening its grip on our country. Thousands of people in the North West will face the trauma of waking up homeless this Christmas. Decades in the making, this is the tragic result of a nation struggling under the weight of sky high rents, a lack of affordable homes, and cuts to welfare support. We all face the consequences when so many grow up without a place to call home. It breaks up communities and wreaks havoc on family life. For the sake of future generations we must pull together to end this crisis, and refuse to rest until every child has a place to call home."

Shelter's co-founder Des Wilson said:- "It would be pleasing if Shelter were able to take time to celebrate its 50th year, but as this report shows, it is too aware of what still has to be done. I hope the country will respond to its urgent rallying call with the same combination of anger and compassion with which it supported our work all those years ago."

To support Shelter's urgent Christmas appeal and help homeless families please visit:- Shelter.Org.UK or text 'SHELTER' to 70555 to donate £3.
Light up a life at the Hospice Switch On
THIS year's Light up a Life service and Christmas light switch on take place, on Sunday, 11 December 2016, at St. Joseph's Hospice, in Thornton, Merseyside.

Hundreds of local people dedicate a light on the Hospice's Christmas tree every year to celebrate or remember the life of a friend, relative or colleague. Their names are also entered into the Hospice's special Light up a Life dedication book.

The remembrance service will begin at 3.45pm and will be led by Monsignor John Furnival. The St. Nicholas Singers, along with Danielle Thomas, will then lead families in some seasonal carols before the Christmas tree lights are switched on, at the Hospice, on Ince Road, Thornton, Merseyside.

Memory hearts will also be available at the service to write a personal tribute to hang on the tree.

Dedications for Light up a Life can be made right up to the day itself and over the Christmas period as a meaningful way to remember someone special, to celebrate life or to give thanks.

Joe Lee, from Bootle, has been a volunteer gardener at the Hospice for 2 years and has dedicated a light, this year, in memory of his wife Thelma, who sadly passed away at the Hospice, in October, and their son Stephen who died back in 2005.

Joe said:- "We were aware of Light up a Life in previous years but have never been before. After my wife passed away, we wanted to do something special to remember Thelma. Lots of our friends and family have donated money for the Hospice for the wonderful care she received and we have raised an amazing £1,000 in her memory. I have also arranged a memorial brick for Thelma in the hospice fountain. Christmas is a particularly difficult time of year though and so we felt that Light up a Life would be a lovely way to remember Thelma and Stephen and we're really looking forward to seeing the tree light up in memory of so many loved ones."

Mike Parr, Chief Executive of St. Joseph's Hospice, said:- "Light up a Life is a wonderful way to give thanks, to celebrate a special event or remember a loved 1 at Christmas time. It is a very festive occasion, not only for those who have a connection to the hospice but for is anyone who would like to make a dedication to someone they love or have loved."

Dedications can be made by downloading a form from:- Jospice.Org.UK. Forms are also available from Jospice shops and other locations around Merseyside.

Work begins on Prescot Fire and Police Station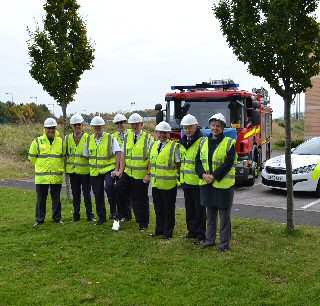 WORK on building a new Community Fire and Police Station in Prescot will begin shortly as partners gathered at the Manchester Road Site to celebrate a 'turf cutting' ceremony. Merseyside Fire and Rescue Authority, Merseyside Police, the Police and Crime Commissioner, and Knowsley MBC have worked together to make the joint station a reality. The innovative community project helps the organisations involved meet cuts in government funding whilst delivering a high quality community resource in Knowsley. In Knowsley, this means that Huyton and Whiston fire stations will close when the new Prescot station is operational and the site was chosen as it provides the best emergency response cover to the Huyton and Whiston areas. Merseyside Fire and Rescue Authority has secured the site from Knowsley Borough Council, and the Department of Communities and Local Government have assisted with the build costs by the provision of a capital grant. The building will be constructed by Wates Construction. Merseyside Police colleagues have been keen to collaborate on the project and will operate a Community Police Station from the building. Site preparation works will begin in November 2016, with the building work starting early in 2017. It is expected that the Station will be fully operational in February 2018. Merseyside's Police and Crime Commissioner Jane Kennedy said:- "I am pleased that we are now in a position to officially get work underway on this new Community Fire and Police Station for Prescot. This joint community station is a good example of our shared commitment to working together to provide the best possible service to people on Merseyside. Not only will this Centre reduce costs and increase efficiency, it will also enable officers and firefighters to work in closer partnership in facilities which are modern and fit for purpose. This sod turning ceremony is another step towards fulfilling my 10 year pledge to provide the officers and staff of Merseyside Police the stations they need to best serve the public, now and for years to come."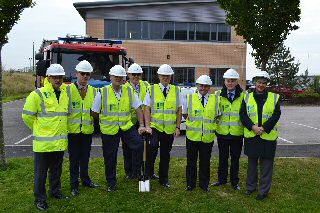 Wates was appointed to build the Prescot Community Fire and Police Station via the North West Construction Hub (NWCH), a procurement body designed to save time and money in the delivery of public sector building work in the region. Tony Shenton, Business Unit Director of Wates Construction North West, said:- "When investment is made to enhance and modernise the operations of vital front line services, the absolute priority is that best value for money is achieved. Our longstanding partnership with Merseyside Fire and Rescue Services, along with our local knowledge and reputation as a leading contractor in the region, will enable us to once again deliver an essential emergency services project efficiency and effectively."

For free fire safety advice or to request a home fire safety check, call:- 0800 731 5958. Merseyside Fire and Rescue Service also provides free smoke alarms for Merseyside residents, aged 65 or over.
Regent Road closed for emergency gas repairs
A major Northbound route out of Liverpool City Centre is closed until further notice for emergency gas repairs. National Grid have asked the City Council to shut the north bound carriageway of Waterloo Road / Regent Road, between Bath Street and Paisley Street with immediate effect due to a suspected leak. National Grid will be working 24 hours a day and 7 days a week to repair the leak. Drivers are being advised to allow extra time for journeys and consider alternative routes because the closure will lead to significant delays around the area, particularly at peak times. Diversions will be signed and are available via:- Leeds Street, Vauxhall Road, Commercial Road and Sandhills Lane or Paisley Street, Waterloo Road and Regent Road for non HGV traffic only. Motorists are being warned that the alternative routes are already extremely busy due to the closure of Great Howard Street for bridge replacement. The Southbound Carriageway heading into the City is not affected.