Licensees set to serve up a safe Christmas
WIRRAL Council and Merseyside Police are joining forces with licensed premises to ensure the safest possible Christmas for those out enjoying themselves over the festive period and the staff who will be serving them.

Through new and existing networks of licensed premises across the borough, key messages and valuable information and guidance is being shared that will help licensees identify and deal with potential problems, in some cases before they even happen.

Under the terms of their license to sell alcohol, retailers are required to serve responsibly and premises across Wirral are making a commitment to ensure their employees uphold this pledge, particularly in the run up to and during Christmas and New Year.

This includes not serving alcohol to anyone who is clearly already drunk. It also includes a commitment to challenge anyone who looks as though they are not old enough to drink alcohol and to not serve them if they can't provide proof of age.

Premises are being provided with details that will enable them to make a decision on preventing individuals coming onto their premises if they have a history of causing trouble.

Information on identity fraud and how to combat it is also being shared across licensed premises. Cllr Bernie Mooney, Wirral Council Cabinet member for Environment, said:- "Everyone has a right to be able to celebrate safely at this time of year and staff working in licensed premises should also not be put in any danger. We all have a responsibility to look out for one another and by sharing information across licensed premises and reminding them of the steps they can take to provide a secure environment for staff and customers, I hope everyone will have a safe and enjoyable festive period."

Wirral Superintendent Tracy Hayes from Merseyside Police added:- "We have been working in partnership with our licensees in the Birkenhead and the Heswall night time economy. Pubs and bars are now taking more responsibility in not serving people who are already drunk or believed to be underage and this is playing a part in keeping Wirral a safe place for visitors to enjoy. Licensees have been made fully aware of the law and their responsibilities under the Licensing Act and have educated bar staff after what to do if someone comes to the bar intoxicated demanding a drink. All staff and customers in licensed premises have the right to work and socialise at safe and enjoyable places. Police officers will be conducting multi agency visits to licensed premises at peak times across Wirral over the festive period and we will be there primarily to keep people safe while they are having a good time. People need take responsibility themselves and watch what they drink so that their behaviour does not let them down and ruin an otherwise great night out. My message to people over the festive period is this: enjoy yourselves, pace yourselves, take responsibility for your own behaviour and ensure you wake up the next morning with memories of a great night out with friends rather than regret and a sore head."

Award for Roald Dahl Centre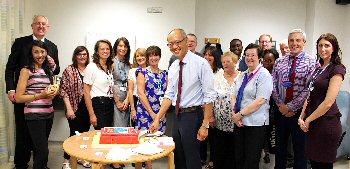 BLOOD disease specialists at the Royal Liverpool and Broadgreen University Hospitals NHS Trust have been recognised for making a difference to both patients and staff in the North West. Professor Cheng Toh, consultant haematologist, and his team at the Roald Dahl Centre were awarded the:- 'Team Outstanding Achievement – Clinical' award at the:- '2016 NHS North West Leadership Academy Awards.'

The awards celebrate the fantastic work that is going on across the North West and showcase its leaders' and teams' hard work, perseverance and the positive impact they have. The Trust's Academic Palliative Care Unit, Nuclear Medicine Department and sepsis improvement team were also shortlisted across three separate categories in the '2016 NHS North West Leadership Academy Awards', recognising exceptional patient experience, great leadership, living the NHS values and outstanding teamwork. The Roald Dahl Centre, located within the Royal Liverpool University Hospital, opened in 2001. It received funding from the Roald Dahl Foundation because of the vision to deliver "Marvellous Medicine" to patients with blood conditions. Its reputation has grown and is one of a few nationally accredited Haemophilia Comprehensive Care centres that has also achieved European accreditation. In addition, it is also accredited nationally for Haemoglobinopathy services, which includes sickle cell disease.

Professor Cheng Hock Toh, clinical lead for the Roald Dahl Centre, said:- "It is fantastic to receive this award as it reinforces the high standards of care that we provide to our patients on a daily basis. We have developed a very comprehensive care service for patients with blood disorders and regularly receive positive feedback about how welcoming our clinic is. Roald Dahl was a much loved character; it's important for us that our service is much loved by our patients."
Can you help find Ms Gillian Fox's next of kin
SEFTON Coroner's Office have issued an appeal to trace the family of Gillian Fox, from Litherland, Merseyside, who has died on Wednesday, 7 December 2016. She is reported to have been aged 64, when she died at at her home address, in Four Acre Drive. Anyone with information that could help the coroner trace Ms Fox's next of kin are being asked to contact Stephen Craig at Sefton Coroner's Office on:- 0151 777 3422.
Deceased estates notice - Lilian May Jackam
Pursuant to the Trustee Act 1925, any persons having a claim against or an interest in the Estate of Lilian May Jackam (also known as Lillian May) Jackam (Deceased), late of Birch Abbey Rest Home, 55 Alexandra Road, Southport, Merseyside, PR9 9HD, UK, who died on 04/10/2018, are required to send particulars thereof in writing, to the undersigned Solicitors, on or before 24/05/2019, after which date the Estate will be distributed having regard only to claims and interests of which they have had notice. Churches Solicitors, 12 High Street, Fareham, Hampshire, PO16 7BL, UK. Ref:- 'T553015.'
..Paid Advert..
Contact us:-
(+44) 08443 244 195
Calls will cost 7p per minute, plus your telephone company's access charge.
Calls to this number may be recorded for security, broadcast, training and record keeping.

News24@SouthportReporter.com
4a Post Office Ave, Southport, Merseyside, PR9 0US, UK


Our live Southport Webcam image above.
To see it live, please click on image.

Event Notices

More events that are taking place on Merseyside can be found on our Event Listings Calendar.

Click on here to see our event calendar.
Are you going to this event? If you are please let us know what you thought of it!

These are our other websites within the Southport & Mersey Reporter Network.

Mersey Reporter

Formby Reporter

Liverpool Reporter

Southport TV
| | |
| --- | --- |
| | © - Southport Reporter® is the Registered Trade Mark of Patrick Trollope |
..