Britain's Junior Miss - the search is on in Southport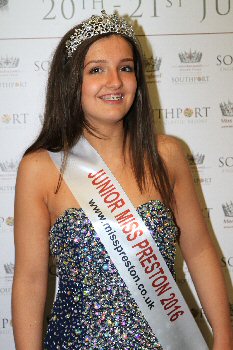 BRITAIN'S Junior Miss have launched their search in Southport for a girl aged 13 to 16 to represent their region in the national Britain's Junior Miss competition. This is the inaugural year for Britain's Junior Miss, and with regions such as Cumbria and Preston already having Junior Miss representatives in place, Southport hopefuls still have a chance to compete for the national title by becoming Junior Miss Southport. Organised by the team behind Miss England North West, the Southport winner will automatically be entered into the final of Britain's Junior Miss, taking place in Bolton in April 2017.

Junior Miss Southport will be expected to be an ambassador for her local area, organising charity events like bake sales and participating in local initiatives. The organisers of Britain's Junior Miss offer guidance and support in how regional representatives can become involved in their community. Current Junior Miss representatives are helping out with charities of personal interest to them, including homeless and cancer research charities, plus Variety the children's charity supported by Miss England.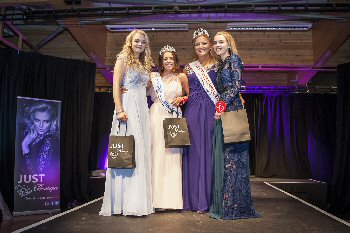 Junior Miss Cumbria Abbie Wilson said:- "Junior Miss is such an amazing experience, I've made so many friends, I would recommend it 100%," whilst Junior Miss Preston Elli Westwood said: "It's the best thing ever, and it changes your life forever. This November I had the chance to help switch on Preston's Christmas lights. I got to meet a Paralympic Gold Medallist, Heather Small, Dani Miller, the Mayor and many more people. I felt so privileged to be there."

The final in Bolton in April will consist of a professional catwalk show with all regional representatives competing for the title of Britain's Junior Miss.

Organiser of Britain's Junior Miss, Mark Jones:- "Our overarching aim at Britain's Junior Miss is in creating outstanding young ambassadors. The one thing I hear time and time again is how much confidence participation brings. It's about instilling a sense of achievement in becoming a valuable member of the community, self esteem from knowing that beauty is more than looks, and having a platform to make a real difference. If you know a kind, motivated, community spirited 13 to 16 year old girl, they could be our Junior Miss Southport and perhaps even Britain's Junior Miss 2017."

The post of Miss Junior Southport will be selected from online applications, entrants must be between 13 and 16 years of age at the time of the selection and hopefuls for Junior Miss Southport can find out more and apply at:- JuniorMiss.Co.UK.

Tennis Centre makes a racket at awards
LIVERPOOL Tennis Centre has done the double and scooped 2 top gongs at an industry award ceremony. The venue took gold for:- 'Disability Tennis Programme of the Year' and their head coach, Andy McGarry, took the title of:- 'Lancashire Tennis Coach of the Year' at the Lancashire in the '2016 British Tennis Awards', beating off competition from across the region.

Over the past 12 months the scheme has significantly increased the number of opportunities available for people with disabilities to enjoy tennis. This has included introducing new weekly wheelchair tennis and visually impaired sessions, supported by the Tennis Foundation, with players attending regularly from across Merseyside. The centre also runs a Downs Syndrome mini tennis activities each week as well as delivering taster sessions for local special schools.

In August the venue hosted the first ever Liverpool Wheelchair Tennis Tournament with 20 players competing from across the UK.

Added to this, as part of a commitment to the 'Active Me' programme (which aims to encourage people to take up exercise) tennis has been delivered in every Lifestyles centre giving many disabled adults the chance to enjoy tennis for the 1st time.

George Ferguson, who takes part in the visually impaired tennis sessions, said:- "I was a newcomer to tennis when I 1st tried it at the Liverpool Tennis Centre back in October. I wasn't sure what to expect when I first arrived, as I had never tried tennis before and thought it would be too difficult due to having a visual impairment. However, the coach who was assigned to deliver the visually impaired tennis sessions was fantastic with the group. He made us feel very welcome and comfortable during the session, which in turn helped us enjoy the session even more than we thought we would. Following a successful and enjoyable first attempt at tennis, I have been going every week since. It is a great feeling being able to play tennis, something I thought I would never do. I would never even have tried playing the game at any point if it was not for these sessions being hosted in Liverpool."

The double celebration continued as Andy McGarry, was named Lancashire 'Tennis Coach of the Year.' The accolade recognised Andy's success in increasing the number of children playing tennis, which has grown from 38 to more than 400 in just 18 months. He is also committed to developing a new team of coaches through a Tennis Leaders programme, with the aim to inspire the future generations of tennis players.

Councillor Tim Moore, Mayoral Lead for Sport, said:- "This is fantastic news for Liverpool Tennis Centre and I'm delighted that their hard work and dedication to getting people involved in tennis, regardless of age or ability, has been recognised across the region. The programme and the experienced team of coaches, give people the opportunity and confidence to try something new, which not only has physical benefits, but also introduces a social element; being part of an activity and making new friends can do wonders for a person's health and wellbeing. I'd like to congratulate everyone involved and l am sure the programme will continue to go from strength to strength."

Liverpool Tennis Centre and Andy McGarry now progress to the regional section of the 'Aegon British Tennis Awards' where they will compete against other winners from the North of England, in the New Year.
Are you running in the Santa Sprint
REMEMBER if you missed the Santa Dash or you would like to do another Santa event, on Sunday, 11 December 2016, the annual Santa Sprint takes place in Southport! This event is to raise funds for Queenscourt Hospice and it is suitable for all levels and ages. You can run or walk around the Pier and Promenade, (around 2km) dressed up as Santa. Hundreds are expected to go to this year's event, raising vital funds for the local charity. The event starts at 11am from outside the Silcock Leisure Group's Carousel on Southport Pier Forecourt, (PR8 1Q) and ends at the same location. It's worth noting that Silcock's are sponsoring the event. "We do still have a few places remaining so if you wish to join in the fun please turn up at Silcocks Pier Restaurant (just next to the Carousel) at the Pier Forecourt, Promenade, Southport between 10am and 10.30am and you will be able to pay and collect your Santa Suits then." said Queenscourt Hospice. Entry is £10 per adult, £7 for Under 16's or £30 per family (2 adults and 2 under 16's) with Santa Suits and a special 'Santa Sprint' medal included in the fee. Every penny you raise in sponsorship for taking part will go directly to support the work of Queenscourt.

At 12 (noon) the local Bikers from the Southport Cruisers will also be setting off from across the road, from Leo's Bar, with their Christmas Toy Appeal Bike Ride.. To see other Santa runs events and when the take place also go to:- SantaDash.Co.UK.