Travis has played live in the O2 Liverpool
Photos by Jo Forrest.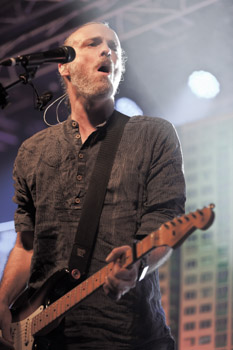 THE band famous for the sing:- "Why Does It Always Rain On Me" which in recent days is very appropriate... have been in Liverpool. The Scottish pop/rock band formed, in Glasgow, in 1990 and they have recently been out celebrating in style; another amazing year for this popular group. On 19 December 2016, the band dropped into Liverpool. This was a sell out show and it was 1 of only 3 performances within the UK. This ends an amazing year, for the band, finishing on a high. The band performed songs from its latest album called:- 'Everything at Once' and many others. Well, for all who attended, this show left them with a truly 'Good Feeling.' Keep an eye out for a surprise in 2017, on the band's website.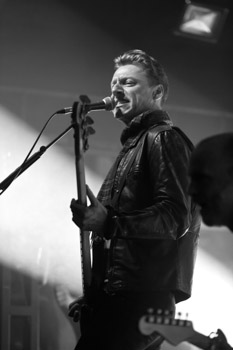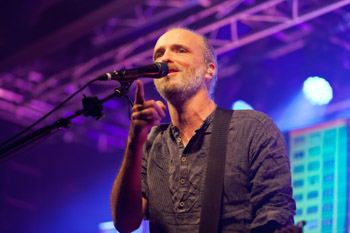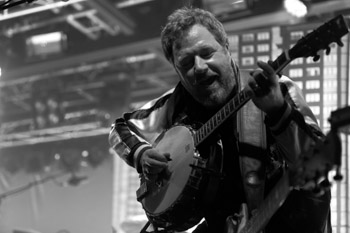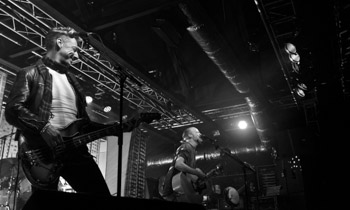 Government's broken promises putting public safety at risk
MERSEYSIDE'S Police Commissioner has warned that the Government's broken promises are putting public safety in the region at risk.
Now Jane Kennedy is urging Ministers to stop conning the public over claims it has protected Police funding after the release of the Home Office's financial settlement, which proposes a 1.4% cut to Merseyside's General Police Grant in the 2017/2018 budget.
If imposed, it will mean a grant reduction of £3.3m next year in comparison to 2016/17 budget, which flies in the face of the Chancellor's promise that he made in autumn 2015 to:- "Protect the Police."

Even if the Police Commissioner gets public support to make the maximum increase to the Police precept that the Policing element of the Council Tax bill, she can only raise £1.4m to offset these cuts, leaving a shortfall of nearly £1.9m compared to the 2015 to 2016 financial year's budget.

While the full implications are still being examined, it appears that Merseyside Police is among the Forces worst hit in the provisional report that has been released by the Home Secretary Amber Rudd.

Jane said:- "In the autumn statement last year, the Chancellor personally promised that Police Force budgets would be protected. Sadly, this provisional grant report highlights that this is not true. The Government need to stop conning the public and admit Police funding is being cut in real terms. Even if I ask local people to pay an increase in their Council Tax, I still won't make up the shortfall created by this reduction in the general grant. The Government is leaving Merseyside Police woefully underfunded; once again we are 1 of the worst hit areas. Merseyside Police has already been had its budget slashed by £84m over the last 6 years. Today, the Force is less than 6,000 strong, having lost more than 1,500 people from its workforce. The Chief Constable and his team are doing everything possible to mitigate the impact of these cuts; they have already reviewed and streamlined every function, invested in new technology to increase efficiency, and they are currently in the process of radically restructuring the entire organisation; but even doing all of this will not be enough to make the savings required by this Government. Crime is rising and these destructive cuts will put public safety at greater risk. Officers, PCSOs and staff are being expected to do more and more with less and less. Their magnificent efforts are to be applauded, but it is causing real strain. The Chief Constable and I made strong representations recently to the Police Minister, Brandon Lewis urging him to adequately fund Merseyside Police. These have clearly been ignored and now their broken promises are putting public safety at risk. I will be making Merseyside's MPs aware of the implication of these changes."
A tribute to Spanish Civil War has been unveiled
A plaque to mark the 80th Anniversary of the Spanish Civil War and act as a tribute to those from Merseyside who supported the anti fascist cause has been unveiled at Liverpool Town Hall, on Monday, 19 December 2016.

The Deputy Lord Mayor Councillor Malcolm Kennedy officially revealed the plaque, the installation of which received cross party support at a Full Council meeting in March 2016.

The new addition to the ground floor of the Town Hall acknowledges the role of the Liverpool activists including:-

► The Merseyside Spanish Aid Committee who took donations on the docks and factories.

► Merseyside Left Theatre who staged plays about Spain, organising counter demonstrations against Oswald Mosley's British Union of Fascists 'Madrid today, Merseyside tomorrow.'

► Local firms like Crawford's, Bibby's and Lever Brothers who donated and shipped significant amounts of money and food.

It also recognises the estimated 200 Merseysiders who voluntarily travelled to Spain to fight in the International Brigades, with at least 30 of them losing their lives. They were all working class men aged between 17 and 60.

The inscription will read:- "To mark the 80th Anniversary of the outbreak of the Spanish Civil War (Guerra Civil). Plaque instated on 19 December 2016, by Liverpool City Council, in recognition of the heroic Merseysiders who stood up to fascism through their part in the Spanish Civil War. Of particular note are those who, despite a ban by the British Government, took part in the International Brigades. Some of whom never returned. Their contribution and sacrifice will not be forgotten."

Councillor Kennedy said:- "The Spanish Civil War was an incredibly brutal chapter of history and it's overwhelming to think that ordinary, working class men from Merseyside wanted to make a stand against the fascist dictatorship of General Franco. For many of our local heroes it was a mission they had to undertake in secret, and it's sad to think that nearly a quarter of them lost their lives fighting for what they believe in. I'm am extremely proud to be unveiling this plaque on behalf of the City and it can be a constant reminder of the sacrifices made in the name of freedom."
Most improved award for A&E waiting time performance
THE outstanding progress staff made towards meeting waiting times in A&E has won Southport and Ormskirk Hospital NHS Trust an award for Most Improved Trust in the North of England. A&E at the Trust has been a consistent top performer in Cheshire and Merseyside since the summer. The award was made at a collaborative event in Leeds for NHS trusts earlier this month by NHS Improvement (NHSI), the national quality and financial regulator.

Ailsa Brotherton, from NHSI, said:- "The team at Southport and Ormskirk has delivered focused improvements and have won the award for the Most Improved Trust in terms of their A&E performance during the collaborative. This is impressive work against a backdrop of increasing challenges and increasing demand. Huge congratulations to the whole team."

Dr Dave Snow, Associate Medical Director for Urgent Care at the Trust, said:- "A&E is the most visible sign of a busy Hospital. We've shown how staff working together across the hospital from the front door, to discharge and out into the community can create great results for patients."

Lightning Seeds and Madness at the MEN
Photos by Jo Forrest.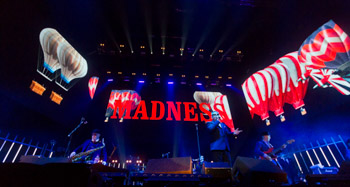 WHEN 1 of Britain's favourite pop band's Madness announced their major arena tour, it was always going to be big... Then, when we found out that Liverpool's Lightning Seeds were also going to be on the tour with them, it was the icing on the cake. This was an amazing thing to hear, so we had to go and see them, even if the nearest gig was in Manchester. Madness, which formed in 1976 and were 1 of the most prominent bands of the late 1970's and early 1980's, and still have not lost their attraction. On Friday, 16 December 2016, the band put on a very special festive show at Manchester Arena, supported by the Lighting Seeds... Fans of both bands flocked to the venue to see them as they neared the end of their 'Can't Touch Us Now 2016 UK Tour.' The nutty boys perform tracks from their latest album:- 'Can't Touch Us Now' alongside the massive hits:- 'House of Fun', 'Wings of a Dove', 'One Step Beyond' and 'It Must Be Love...' plus the biggest classic of the night 'Our House.' The Lightning Seeds also rocked the venue, with many of their hit songs... What a mad way to end 2016....! We can't wait to see what 2017 has in store for these 2 amazing bands!