Support for Wirral charity leads to a mountain of gift donations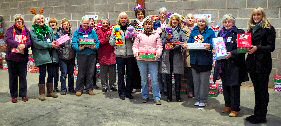 A Wirral business stepped in to support a Christmas charity project which received a record number of donations in 2016 and needed space to store and process them. Operation Christmas Child, run by Samaritan's Purse, collects shoeboxes donated by the general public which are filled with gifts, school supplies and toys and are sent to children in underdeveloped countries for Christmas. The campaign, which received more than 10,000 shoeboxes this year and last, had to seek space to store and process all the gifts from generous members of the public from across the Wirral. Peel Land and Property helped support the charity this year (2016) by donating the use of a warehouse in Birkenhead, with rent, rates and all running costs included in the donation. Patricia Hardman 1 of the volunteers from Samaritan's Purse commented:- "We can never complain about receiving too many donations. In November when we collected the boxes, we were in desperate need of enough space to ensure we could efficiently process and distribute them to those in need at this festive time of year. Without the help and support of Peel Land and Property, the management of all the kind donations from the public would have been impossible."

Robyn Walters, Property Manager, from Peel Land and Property said:- "We're delighted to support Samaritan's Purse with their shoebox appeal this year and are glad that the use of our warehouse allowed them to continue their amazing work. We're sure the shoeboxes will bring joy to many children this Christmas."

Shoeboxes are delivered wrapped in festive paper and carry an exciting assortment of items for boys and girls aged between 2 and 14. Over 120 volunteers worked hard in the run up to Christmas to ensure that all boxes were full, safe and packed up ready in time to be transported. Samaritan's Purse are extremely grateful to all the members of the public who donated items, wrapped shoeboxes and sent money to cover the transportation costs, as well as the many volunteers that made it possible to bring a little bit of joy to underprivileged people at this time of year. The lorry destined to carry all the shoeboxes, this year to Latvia, arrived on 1 December 2016, at the Birkenhead Warehouse and was so full that over 400 boxes had to be sent to the Liverpool warehouse to be included in 1 of their shipments. The lorry and its 9,862 shoeboxes will arrive in Latvia and be distributed in time for Christmas.
Rogue trader jailed
A rogue trader, described as "disgusting" by a judge has been sentenced to 2 years in jail after conning people in Warrington and across the North West out of thousands of pounds and also falsely claiming to be donating to charity. Warrington Borough Council and Wirral Council's trading standards departments took out the prosecution against Christopher James Morris, aged 39, and his company Eco Shield Energy Solutions Ltd. based in Neston; after 2 years of investigations.

Morris, from Springfield Avenue, West Kirby, carried out substandard painting work, lied about the quality of his materials in promotional materials and on his website, refused to return deposits, failed to give cancellation rights which in law consumers were entitled to and falsely claimed to be donating money to Claire House Children's Hospice. The company traded as a painting service, marketing themselves as using a paint product with properties it did not have. 1 of his victims, a woman from Great Sankey in her 80's, said:- "This experience at my age has been very stressful, making me very wary of engaging contractors to undertake any work on my property."

Malcolm Hope, prosecuting on behalf of Warrington and Wirral Borough Councils said:- "This is a case where, at best, profit was put before professionalism and, at worst, there was a deliberate and persistent exploitation of trusting consumers."

Morris pleaded guilty to 11 offences investigated by Warrington trading standards officers under The Consumer Protection Unfair Trading Regulations in relation to misleading actions, misleading omissions, and breaches of professional diligence in relation to failing to return deposits and honour request to cancel contracts. He also pleaded guilty to 24 offences on behalf of the company; he was owner, director and sole shareholder. Judge Stephen Everett said:- "This was a dishonest operation from beginning to end. It was a con trick and you didn't give two hoots about the victims. You and your employees targeted those who you believed were vulnerable. I have no doubt you knew what was going on."

He also specifically commented that the claims in respect of Claire House on the company flyers was "despicable" telling Morris that:- "People buying your product believed you were donating to the charity. You may well hang your head! This was as disgusting an operation as I have seen in a long, long time."

Morris was sentenced to 2 years in jail with 1 of those to be served on licence. He was disqualified from being a company director for 5 years and paid £100 victim surcharge. Cllr Judith Guthrie, executive board member for public protection, said:- "Once again this shows the sterling work being done by our trading standards officers and the joint operation with colleagues from Wirral Borough Council shows what can be achieved with cooperation between agencies. This man deliberately conned Warrington people and is quite rightly facing a jail sentence."

Cllr Bernie Mooney, Wirral Council cabinet member for environment, said:- "Thanks to the evidence provided by victims and the hard work of Trading Standards colleagues from Wirral and Warrington, we've been able to put a stop to Mr Morris' underhand business practices and I believe the custodial sentence shows just how seriously the justice system treats cases such as this."

Coping with the Festive Season
CHRISTMAS and New Year can be a difficult time for many of us, with people experiencing difficulties such as:- low mood, stress, sadness, loneliness and anxiety. Others may feel socially isolated or may have recently been bereaved and perhaps unable to tell people how they feel.

Access Sefton provides NHS talking therapies services to people experiencing a wide range of common mild to moderate mental health conditions. Services include face to face or telephone consultations and workshops to people aged 16+ who live in Sefton and are available from a number of accessible locations across the borough.

The service is delivered in partnership by Cheshire and Wirral Partnership NHS Foundation Trust (CWP) and Insight Healthcare on behalf of the borough's 2 clinical commissioning groups, NHS South Sefton CCG and NHS Southport and Formby CCG.

NHS South Sefton CCG clinical lead for mental health, Dr Sue Gough, said:- "Access Sefton supports people with conditions including anxiety, depression and stress, and treatments can help people develop strategies to cope better. Residents can be referred by their GP or they are able to self refer into the service if they'd prefer."

Ryan Forrest, Deputy Operations Manager of Access Sefton added:- "We are very pleased to enable people to seek help early on, allowing them continue their day to day lives without any negative impact. Having someone to talk to, that won't judge, tell you what to do or how to feel, can really help."

For more information about how talking to Access Sefton can help you, call us on:- (0151) 955 3200, you can also contact them online or ask your GP for more information about our services.

If you are experiencing suicidal thoughts or you know someone who is, seek immediate help or contact your GP or one of the support services that are organisations listed below:-

► Samaritans:- 08457 90 90 90 (24 hours)

► MIND:- 0300 123 3393 (9.00am to 6.00pm)

► CALM (Campaign Against Living Miserably):- 0800 58 58 58 or text:- 07537 404717 (5.00pm to Midnight)

► Papyrus HOPELineUK:- 0800 068 41 41 (young people under 35's)

► Cruse Helpline:- 0844 477 9400.
Professional Drivers on course to be aware of cyclists
PROFESSIONAL drivers are being given training to make them more aware of cyclists on the road.
Merseyside Road Safety Partnership has provided funding for the training which is aimed at making drivers more aware of the risks of vulnerable road users and help them avoid accidents.

The course aims to help drivers understand cycling, recognize hazards and give them guidance on how to avoid them, reinforce the Highway Code and emphasise the importance of the use of mirrors and the potential dangers of blind spots.

Drivers from Liverpool Street Scene services, which includes refuse collectors and street cleansers, are among those who have already benefited from the training which is provided by BikeRight, the cycle training organisation.

The course also offers the opportunity to gain practical experience of cycling on the roads accompanied by qualified National Standards cycling instructors.

Councilor Malcolm Kennedy, cabinet member for regeneration and transport, said:- "As cycling in the City increases in popularity and more journeys are made by bike it is important that all drivers are aware of cyclists. This training was specially tailored for those who drive for a living and Streetscene employees have taken part to enable them to better assess situations involving cyclists and ultimately avoid accidents."

The course will take place in February and March next week and for more information and to sign up online.

Liz Clarke, managing director of BikeRight!, said:- "Courses aimed at LGV drivers have a positive impact on road safety. Getting drivers out of their vehicles and on to bicycles on busy roads is a real eye opener. After just a few minutes sharing the road with heavy traffic the penny really drops about how challenging it is for cyclists using city centre streets."

All of the courses are approved by the Freight Operators Recognition Scheme (FORS) and contribute to drivers Certificate of Professional Competence, or DriverCPC as it is known in the industry. The course is also available for bus and coach drivers and has been incorporated in to new bus driver training by Merseytravel.

Matthew Chamberlain, Employment and Skills Officer for Merseytravel added:- "Working closely with BikeRight!, Merseytravel's employment and skills team successfully piloted the driver training course into new bus driver training programme. Road safety is of primary concern and adding this course gives Merseyside's new bus drivers the knowledge and understanding of cycle users before they start work behind the wheel of a bus. This course is now a necessity and we are seeing 1st hand the positive impact this has on our learners and for all road users, not just cyclists."
What do you think of this idea? Please let us know if your taking part or would like to take part in it and let us know your thoughts, via emailing us to:- News24@SouthportReporter.com.