Man sought in connection with Train surfing incident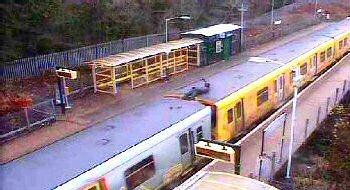 THE British Transport Police have issued the following message:- "We'd like to speak to a male in connection with an incident in which a man calling himself the 'Silver Shadow' was spotted on CCTV on top of a train traveling at up to 100mph."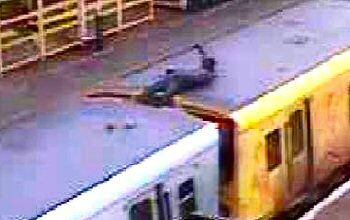 At about 1.30pm, on 11 December 2016, Police say that a man was seen boarding the exterior of a Merseyrail Train, in between 2 carriages and waiting for the doors to close, at Rock Ferry Station.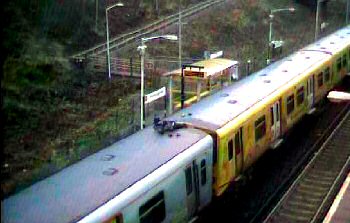 By 1.37pm, the same man can been seen on CCTV on top of the train at Bromborough Rake Station, waving at passengers as it passed through the Station. He then got off the train at Bromborough Station and at 1.39pm, was briefly spoken to by Booking Office Staff. He concealed his face and told staff he'd travelled from Birmingham and was called the:- "Silver Shadow."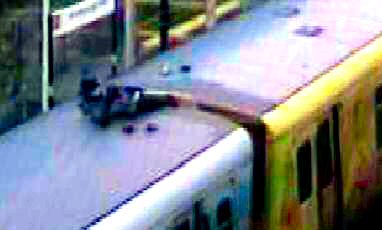 Investigating officer PC Andrew Richardson said:- "Even attempting to get on the top of a train is a nonsensical and idiotic thing to do. The man concealed himself between 2 carriages above electrified rails and so 1 slip could have easily killed him and endangered the lives of those on the train. This isn't cool, it isn't funny, it's dangerous and we will not stand for it. If you recognise the man in these pictures, please get in touch."

Anyone with information is asked to contact British Transport Police on:- 0800 40 50 40 or text:- 61016, quoting:- 141 of 21/12.
Auld Lang SING - Peter Hooton of British band The Farm to mark the start of 2017 in style on BBC Radio Merseyside
PETER Hooton, lead singer of Liverpool band The Farm, is set to present 2 shows on BBC Radio Merseyside on New Year 's Eve and New Year's Day. During the 2 programmes, both aired between 8pm to 10pm, Peter will be taking a trip down memory lane and playing his all time favourite songs, while also telling anecdotes from his 30 plus years in the music business. From Bob Marley to David Bowie, The Clash to The Beatles; Peter's mix of tunes will be sure to get local listeners into the party sprit just in time for 2017. The list of top tunes includes:- 'Lola by The Kinks' and 'A Change Is Gonna Come' by Sam Cooke. Peter also includes several hits that influenced The Beatles' early sound, such as:- 'What'd I Say by Ray Charles' and 'Watch Your Step by Bobby Parker,' putting to good use his experience as Chair of The Beatles Legacy Group; which aims to maximise the potential of the Beatles' legacy to Liverpool. Peter Hooton said:- "Being from Liverpool myself, it'll be great to return to my roots and share my favourite songs while having a good chat with the people of Merseyside. Every song I have selected has a story or a meaning behind it and I can't wait to hear what the local listeners think of my collection."

Sue Owen, editor of BBC Radio Merseyside, said:- "We're excited to have Peter come down to the studio and put together a show based entirely on his songs of choice. He's got over 30 years' experience in the music industry so not surprisingly he's chosen some fantastic and fascinating tracks."
Listen live on BBC Radio Merseyside online or tune into 98.5 FM, on the 31 December 2016 and 1 January 2017, between 8pm to 10pm.

Know that 'No' means
'No!'
WORKING with clubs, bars, pubs and universities across the county, Merseyside Police has launched its "KNOw that No means No campaign" to raise awareness around consent and reporting of sexual assault and rape.

Neon posters will be displayed in licensed premises in Liverpool, St Helens and Wirral with messages around consent, who you can report incidents to and where to get support if you're a victim of sexual assault or rape. Merseyside Police has also launched a micro site:- Know-Org.Co.UK with all the information and links you might need.

Detective Superintendent Dave Brunskill from the Protecting Vulnerable People team explained:- "Our bars, clubs and pubs are extra busy over the Christmas and New Year period and we're using this time, as an opportunity to get our message out to as many people as possible, that when it comes to rape and sexual assault; no really does mean no. The majority of people who commit rape know their victims and our message is simple; regardless of the circumstances, sexual activity or intercourse without consent is against the law and there are no excuses. If you report an incident to us, we will treat it very seriously and will thoroughly examine your allegations, no matter how the assault happened or when it took place. We have dedicated Officers who work within our Unity teams, who are specially trained to deal with these types of crimes and can offer the necessary help and support to victims. We know that reporting such an incident to Police may be daunting, not to mention difficult and upsetting, but you can report a sexual assault or rape without having to speak to an Officer. On Merseyside, Sexual Assault Referral Centres (SARCS) are available to offer advice and support. It's important to remember that if you've been a victim of such a crime, you are not to blame and don't have to suffer alone."

For more information around consent, dispelling the myths around rape and what to do if you've been a victim, visit:- Know-Org.Co.UK. You can also contact Merseyside Police via:- 101 or in an emergency always call:- 999.

► Rape is when somebody forces another person to have sex against their will.

► Sexual assault is being forced or pressured to take part in sexual activity now includes unwanted:- 'touching', 'sexting', being forces to watch or be involved in pornography or sexual bullying.
Landlords fined for breaching Selective Licensing rules
OVER the last few weeks of December 2016, Wirral Council, have successfully prosecuted a number of landlords and agents for failing to apply for a license to rent their property in one of Wirral's 4 Selective Licensing areas.

The latest landlord to go before the Courts was Nigel Russell of Duddon near Tarporley who was found guilty of 3 offences.

Mr Russell's companies own a large number of privately rented properties on the Wirral and Liverpool. Amongst his large residential and commercial property portfolio 1 of his companies own The Richmond Hotel and Spa, which is located in Liverpool City Centre.

On conclusion of a two day trial last week Mr Russell was found guilty by Liverpool Magistrates Court for being in control of an unlicensed property, providing false and misleading information and not producing certain documents. He was ordered to pay £37,120 in fines and costs.

The Selective Licensing Scheme was introduced in Wirral, on 1 July 2015 and so far 1,270 properties have been licensed, which represents over 99% of known licensable properties. It covers four areas; Egremont North, Egremont Promenade South, Seacombe Library and Birkenhead South.

Cllr George Davies, Wirral Council Cabinet member for Housing and Community Safety, said:- "The majority of landlords understand that the objectives of the scheme are to improve poor property conditions and management standards in the private rented sector. Licences holders are required to show basic safety checks have been carried out and that they have appropriate management arrangements in place. In return, the Council is investing significantly in these areas, including improving the energy efficiency of homes, bringing empty properties back into use in these areas and providing tenancy support for vulnerable tenants."

A very small number of landlords, however, are still prepared to flout the law. ADR Property Management Limited and its company director Mr Adrian Terry, were the first to be prosecuted for failing to obtain a number of licences for various properties in Birkenhead and Tranmere.

Mr Terry, who has appeared on the popular daytime television programme:- 'Homes Under The Hammer', pleaded guilty to a total of 12 licensing and Housing Act offences at Wirral Magistrates Court, on 23 November 2016.

On 8 December 2016 Andrews Estates and its director Mr Andrew Smith, who has offices throughout the Wirral, pleaded guilty to licensing and other Housing Act offences. Both Andrews Estates and its director were ordered to pay £8,650 in fines and costs by Wirral Magistrates Court. Earlier Mr Michael Hammon, of Neston also pleaded guilty to being in control of or managing an unlicensed privately rented house located within one of Wirral Council's designated licensing areas and to failing to produce certain documents. As a result, Mr Hammon was ordered by the Court to pay £3,920 in fines and costs.
Cllr Davies added:- "I am absolutely delighted with the outcome of the Court decisions in all of the cases the Council has recently took to Court. This reinforces the message that landlords must obtain a license for managing a rented property in these areas. Landlords have had a period of grace in which to make their applications and the overwhelming majority of landlords and agents operating in these areas have shown that they want to work with the Council to improve standards. A small minority, like Mr Russell, Mr Terry, Mr Smith and Mr Hammon have had to face the consequences of their actions. Despite these successful prosecutions the Selective Licensing Team will continue to investigate and prosecute owners and managing agents of privately rented accommodation who attempt to evade their responsibility in applying for the necessary licences and meet minimum letting standards. The Selective Licensing Scheme has enabled the Council to start undertaking compliance checks on these properties to ensure that they meet a reasonable standard and comply with license conditions in order that the health and safety of often vulnerable tenants are protected."