Southport all set for new Cinema for 2017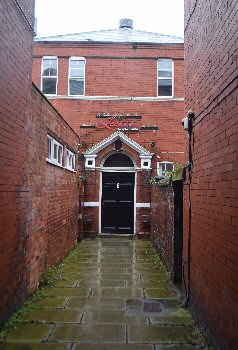 A brand new art's cinema will be opening at the back of our Office, on Post Office Ave, in mid 2017.
We have held back on some of the information so far at request of the Cinema, but we are now allowed to give you some more information.
The venue, if you do not know the history, has seen it used as restaurant in resent years, also a Taxi Licensing Office, Nightclub, Masonic Lodge and a host of other things. The group are not only trying to build a cinema, but also preserve a unique Southport property.
It is a hidden building, which is located at the back of our building and the side of Sainsbury's. At 1 stage it faced demolition when Sainsbury's wanted to expand, but this strange building dodged the bulldozers.
Inside it hides many interesting and strange features, making it 1 of the most quirky buildings in the Town.
We can now tell all our readers that it was this long history and unusual background, plus the layout, that lead to the Southport Bijou Cinema fell in love with it.
Sadly as with all old buildings, this building not only hides good things, it also hides many issues that will have to be sorted before it is ready for its newest role within the Town Centre.
The group hope to put in a lift in this building, to allow disabled access to the top floor. They are now looking at ways to do this that are not only cost effective, but fit in with planning laws and without destroying the look of the building.
The venue will host a café and bar, plus intimate air conditioned areas… This again is going to take quite a bit of work for them to sort out.
Once open they will be hosting showings of old classic films and new independent films. The venue will also put on film talks and other related events. We are already planning some for them, so watch this space!
This conversion and also project is no easy task, especially for a not for profit group, run by volunteers.
For more information on how you can get involved, by volunteering to sell tickets, run the bar and café, operate projection equipment or help to organise film showing times, amongst other things, please email them at:- SouthportCinema@GMail.com or call:-0752 888 9 549.
Both films and cinema can and does bring people together, strengthening communities along the way, so we look forward to seeing this fantastic project develop!
To hear our exclusive interview with a member of the CIC Directors and spokesperson for the group, simply click on the player below to listen to it…
Wanted drug supplier Stephen Bennett caught by 'Titan'
A Merseyside man wanted by the courts having been convicted of conspiring to supply heroin and cocaine, has now been caught and arrested by 'Titan', the North West regional organised crime unit with the assistance of Merseyside Police.

Stephen Bennett, aged 34, from Crompton Street, Vauxhall was arrested, on 2 January 2017, in the Vauxhall area by Titan detectives following an operation to catch him.

Bennett was convicted by a jury at Liverpool Crown Court in 2015 for his role in a multi million pound drugs conspiracy involving criminals from Merseyside and Cumbria. Bennett was found guilty of being involved in the supply of heroin and cocaine into the Workington area.

11 other members of the wider organised crime group investigated by Titan were jailed for a total of 90 years, on 21 December 2015, but Bennett failed to appear and a judge issued a bench warrant for his arrest.

Bennett was also wanted by Merseyside Police for breaching the conditions of his release from prison on licence following his conviction for an attempted murder in 2004 for which he received a 14 year sentence.

Following this arrest Bennett was kept in Police custody and will appear before Liverpool Crown Court, to be sentenced, on a date yet to be determined.

A splashing start to 2017 at 'The Fernley'

Photographs by Patrick Trollope.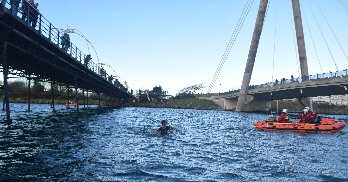 THE Fernley has been held yet again... 2016 might have been a cold, but 2017 felt colder still for those taking part and for spectators alike! That did not put hundreds of people from watching this amazing New Years Day challenge taking place. Even more shocking was that Jonathan Cunningham MBE, from Storm Consultancy, told us that:- "With less than 24 hours to go, even more people signed up to do this unique New Years Event!" Sadly not all the people did the full course, only doing the run, but some of those taking part even did the swim, in the icy cold water and braved the bitter wind! Just before the event set off, from the Marine Café, on the lakeside, locals also got a chance to see Southport Lifeboat's brand new called:- "RESCUE..."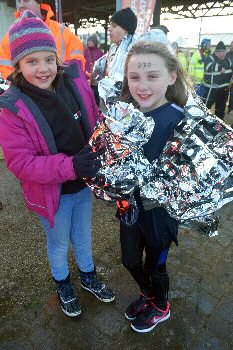 The Fernley is the latest Southport event which will take place on New Year's Day 2016. This New Year event 'oddity' aims to commemorate one of the largest lifeboat disasters ever; the tragic loss of 27 lifeboat men, 14 from Southport and 13 from St Annes, Lytham who launched to save the stricken 'Mexico' boat on 9 December 1886.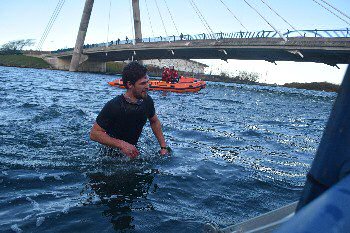 This year The Fernley proudly supported both the Southport Lifeboat (SORT) and the Community Link Foundation (CLF).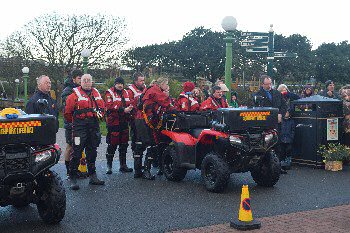 To find out more about this event visit:- TheFernley.Co.UK and if you are willing to help 'celebrate the brave' and start 2018 on a fresh, log on to see how you can sign up!

PAGE
1 OF 2
We hope you liked the photos, but please, don't copy them. Please help us to keep our copyright intact and to keep this site online. Click on here to find out how you can get you copy of these photos.