Hundreds of School children try rugby in Southport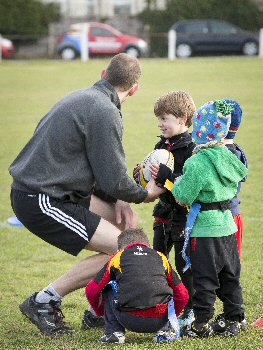 HUNDREDS of local youngsters are being given the chance to become rising rugby stars thanks to an initiative by Southport Rugby Club, which is aimed at getting more young people into the sport.

With the help of funding from Fletcher's Solicitors, Sport England and Southport RFC, Primary and Secondary School children in Southport and Formby are getting the opportunity to train with professional coaches over the course of a number of weeks.

Pupils have the chance to take part in rugby skills sessions as part of their School's Curriculum and also in extracurricular clubs. Schools from around the local area can then compete against each other and put their training to the test at the Rugby Festival, which is held at Southport Rugby Club.

The community coaching scheme, launched in November, now employs 3 community coaches who are working with schools across Southport and Formby.
Coaching is taking place at:- Bishop David Sheppard, Kew Woods, Birkdale High, St Johns Ainsdale and Holy Trinity. In 2017, girls coaching will begin at:- Formby High, Greenbank and Meols Cop.

Organisers hope to grow the scheme in 2017, to work with more schools, recruit new coaches and encourage more young people to give rugby a try.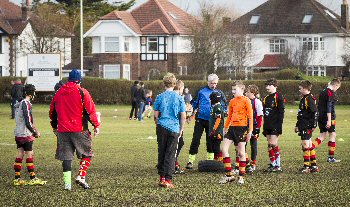 1 of the community coaches involved with the scheme is James Bailey. He said:- "It's been a real privilege to be part of this scheme and I'm proud to see how many children have thrown themselves into the sport. A key focus for us is to attract more girls into rugby and this has been really successful so far. Our girl's rugby festival, which took place earlier this year, saw 100 players competing at the club. It was brilliant to see so many girls getting involved and we're hoping to recruit even more young people next year, while also hiring more community coaches to keep expanding the scheme. We're looking forward to hosting another big festival in the spring time."

Ed Fletcher, CEO of Fletchers Solicitors, said:- "We're really proud to support Southport RFC's community coaching initiative. We know how beneficial sport can be for health, wellbeing and community spirit, so to see how successful the scheme has been so far is fantastic. We look forward to cheering the teams on in next year's rugby festivals, which are set to be bigger and better than ever."

Marble Place, Southport, Hotel Development Proposal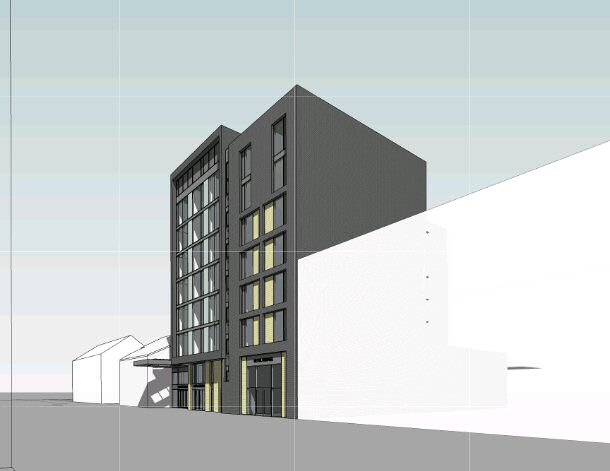 HUMBER Investments Ltd, the owners of the Marble Place shopping centre, have submitted a Planning application to Sefton Council for a major proposal to build a new 96 bedroom hotel on part of the shopping centre complex.

The hotel proposal would represent a massive investment in Marble Place and will create a major boost to the centre in terms of footfall, vitality and viability. It is part of Humber Investments' ongoing strategy to manage, invest in and improve the centre.

The proposal has been designed to ensure minimal disruption to the operation of the centre during construction. The centre will continue to trade during the construction phases and only the units within the development site itself will be affected. These units are currently on short term occupation arrangements or are vacant.

The scheme would contribute to the wider regeneration and performance of Southport town centre. It will strengthen the links through the centre and its connection with attractions such as the new Sports Direct complex.

The scheme has been the subject of extensive pre-application discussions with Sefton Council and has been warmly supported in principle. It is also considered that the proposal could act as major catalyst for further investment and regeneration in this part of the Town Centre.

Philip Staddon, Director of PJS Development Solutions Ltd, which has submitted the application, said:- "This is a major and important regeneration scheme that represents a significant vote of investor confidence in Southport. We hope that the application will be supported and that it will lead to further investment in the Town Centre, which we consider has great potential."

Full details of the planning application are available on Sefton Council's website, just enter the following reference:- 'DC/2016/02438', into the search box, once your logged onto the page.
Appeal following robbery in Southport
MERSEYSIDE Police Detectives, in Sefton, are appealing for information following a robbery in Southport, on Saturday, 10 December 2016. At around 10.30pm, on that Saturday, a woman was walking alone along Lord Street West when she was approached by a man. He put his arm around the victim, pulling her backwards to the ground while grabbing her handbag. The offender then made off on foot in the direction of Lord Street holding the bag. The victim was not injured, but left extremely shaken. The offender is described as being about 5ft 5in tall and is of average build. He was wearing a light grey or cream hooded top. The handbag has since been recovered. Enquiries are on going CCTV is being examined from the shop and surrounding areas and the scene was forensically examined. Detective Constable Jason Ennis said:- "This must have been a very frightening experience for the victim. Thankfully incidents such as this are rare and we are working hard to trace the offenders responsible. I would urge anyone who has any information about this incident, especially anyone who was in the area at the time, who may have seen a man fitting this description, to come forward. I'd ask anyone who was in the area at the time of the incident to get in contact; maybe you saw a man in the area acting suspiciously or running away from the scene holding a handbag? Any information could assist with our enquiries."

Detectives are appealing for anyone who has any information about this incident to contact Sefton CID on:- 0151 777 3807 or Crimestoppers anonymously on:- 0800 555 111.