Local disability organisations secure £10,000 to hold Wirral's 1st ever Inclusion Festival - 'One Wirral'
3 local disability organisations, Wirral Mencap, Options for Supported Living and Wirral Evolutions have jointly secured £10,000 from the National Lottery to hold an inclusive community festival in Birkenhead Park, on Saturday, 19 August 2017. 'One Wirral' will be a festival for the whole community, celebrating the diversity of Wirral and all the peninsula has to offer. It will bring together community groups from across the borough to showcase talents and activities such as dance, drama and music, and will encourage people to find a new hobby or join a new group in their area.

The three disability organisations will work closely with partners to ensure that the festival reaches all parts of the community and is inclusive to all, regardless of age, gender, race, religion, cultural views, sexuality or disability.

As well as being a great day out for the whole community, the event aims to highlight the achievements and positive contributions made to society by local people with a learning disability. Each organisation is recruiting a number of representatives who will be at the centre of planning, promotion and delivery.

1 of the representatives, Jim Williams, said:- "I think it will be lovely for the community and for all the clubs and groups to come together." Another of the reps, Graham Trivett said:- "With getting all of us together, it'll be interesting to see what we can achieve."

Lee Van Chaplin, who receives support from Options for Supported Living said:- "This festival will be great. I'm working towards being more independent so this will give me a chance to meet people and let people in the community see that I want the same things as everyone else, I would like to see if there are things I can get involved in - I'm really interested in music and one day I would like to become a DJ."

If you are interested in finding out more about:- 'One Wirral Fest', please contact Wirral Mencap on:- 0151 666 1829.
Letter to the Editor:- "Prince's Trust and deliver a course at Merseyrail Community Stadium"
"MY name is Ben Duffy and I work with the Prince's Trust and deliver a course in Southport, at the Merseyrail Community Stadium. I am currently recruiting for which is due to start on Monday, 23 January 2017. The course is aimed at 16 to 25 year olds who want to gain and improve their skills or need help getting into employment, further education or training. This is a 12 week development course which includes a fully paid, 4 day residential which happens in week 2 of the course. The Prince's Trust also places young people in a 2 week work environment suitable for them, which will enable them to gain valuable work experience and a suitable reference. They will also gain a qualification at the end along with other certificates. The course is appropriate for a range of people and additional support is offered to those who need it. If you know of anyone who could be interested, please get in touch with Southport Prince's Trust. This course does not cost anything and people will not lose their benefits. We can also offer a Free Bus Pass for those who need it. The course starts on Monday, 23 January 2016. Contact me, for more information, by calling:- 07500 606740 or sending me an email." Kind regards, Ben Duffy, Southport Prince's Trust Team Leader.
Southport twins enjoy 'PAWSOME' start to the New Year
5 year old twins from Southport had a 'PAWSOME' start to the New Year after seeing Chase and Marshall from PAW Patrol.

Isabella Rose and Amelia Grace Hicks, who are identical, travelled with their dad to see Chase, the German Shepherd police pup, and Marshall, the Dalmatian fire pup, who came all the way from Adventure Bay to see fans at The Mall Blackburn on Monday, 2 January 2016.

Their dad, Matthew, said:- "Our house is full of PAW Patrol characters and presents after Christmas and what better way to start 2017 than to come and see them!"

Loraine Jones, General Manager at The Mall Blackburn, said:- "We were absolutely delighted to welcome Chase and Marshall to The Mall Blackburn and it was wonderful to see so many smiling little faces! The event proved every bit as popular as we expected it to be and we are looking forward to a fantastic year ahead!"

PAW Patrol is produced by Spin Master Entertainment and is broadcast on Nick Jr. The programme is about a boy named Ryder who leads a pack of rescue dogs known as the PAW Patrol.

Working together on missions to protect the Shoreside Community of Adventure Bay they each have skills based on real life professions.

Each has their own pup pack back pack which contains all their tools and they live in doghouses that transform into customised vehicles.

Famous faces offer support to quit smoking
A new public health campaign is being launched; backed by famous Liverpool faces; aimed at encouraging smokers aged 30 to 60 to quit. Research by Public Health Liverpool shows that men and women in this age group want to give up smoking, but lack confidence; so now they are being targeted in an online drive to let them know that support is available to give up. Smoking accounts for almost 1,000 deaths every year in Liverpool and 25% of people in the City smoke. In the new campaign…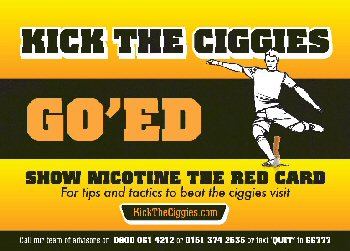 Men are being targeted through the 'Kick the Ciggies' online campaign focused around football which features Everton Football Club, along with Liverpool FC legend Jamie Carragher offering encouragement on the game plan and tactics needed to give up.

Former Liverpool FC star Jamie Carragher said:- "If you pull on the shirt, you play to the final whistle. That's the Liverpool way. You never give up; even in extra time. Last ditch clearances make the difference. It's the same whether you're competing in the Champions League or kicking the ciggies. Never give up giving up. Doing something big; for the sake of your health, your family or your finances; you've got to bring passion and motivation into play. Am I saying it's easy? Never. The Kaiser (Didi Hamann) was a smoker, so I know how hard it is to quit. But if you get the Smoke Free Liverpool team behind, you'll never walk alone."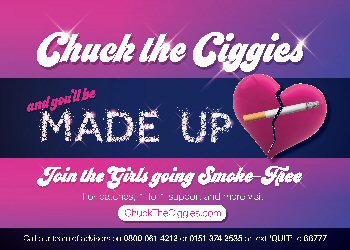 Women will be urged to 'Chuck the Ciggies' online campaign which features local actress and presenter Gemma Brodrick and a series of films with local women Danielle, Amy, Ginny, and Hilary who all quit smoking, sharing their tips and advice and giving encouragement. Hilary McElwee, who as a heavy smoker for years and features in the campaign, said:- "My dad died from lung cancer, aged just 65. I'd been smoking 20 to 25 a day all my adult life. I thought if I wanted to be in with a chance for a longer, healthier life, the ciggies had to go."

Both sites will direct people towards Smokefree Liverpool, a free service in the City which already helps around 250 men and women a month give up smoking through 1 to 1 support and access to medicines that fight cravings. Councillor Paul Brant, Cabinet member for health, said:- "Smoking is one of the biggest killers in Liverpool and all the evidence shows that quitting is the biggest thing you can do to benefit your health. What we are trying to do here is break down a few barriers and show people that they are not alone and there are lots of different types of support out there to help them quit. It is also good for your pocket as well as your health, as people who give up smoking save an average of around £2,000 per year."

Dr Sandra Davies, Liverpool's Director of Public Health, said:- "Signing up to quit smoking is 1 of the best things you can do for your health and this campaign is designed to target those people who, for one reason or another, lack confidence quitting. We know that the vast majority of smokers in Liverpool are keen to quit and our message is that there is lots of support to help you through the process. There is a whole range of advice that we offer ranging from face to face to over the phone and text or email. We'll work with you to come up with a quit plan suited to your needs. Even if you have tried unsuccessfully to stop smoking before, it doesn't matter, sooner or later you will be successful if you have the right support."

People wanting to give up smoking can also get in touch with Smokefree Liverpool in the following ways via calling:- 0800 061 4212 or visiting them online.

Did you know that:- The cost to the City is an estimated £60 million a year to the NHS and in sick days, litter and fires caused by cigarettes?