Theft at jewellers Southport, do you know who this man is?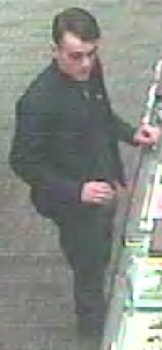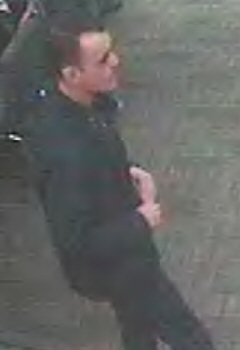 POLICE in Sefton are asking for help following a jewellery theft from Ernest Jones, on Lord Street, Southport, on Sunday, 8 January 2017. Officers from Merseyside Police, in Southport have issued CCTV images of a male, who Officers believe might have vital information following the theft at the well known jewellers.

We are told that Officers were called to Ernest Jones, on Lord Street, at around 2.45pm, following a report that a man had walked into the shop before taking an engagement ring and a wedding ring, without paying. The suspect is said to have 1st stolen a Vera Wang 18ct, white gold, 0.37ct diamond, double row wedding band, with eternity style stone. Then he is said to have taken a Vera Wang, 18ct white gold, 0.95ct diamond, engagement ring, set with a cushion shaped diamond, surrounded by a halo cluster and set on diamond embellished shoulders. Enquiries into the incident are continuing and CCTV from the area has been located and is being reviewed.

Inspector Susan Stribling said:- "Merseyside Police is determined to do everything it can to crack down on business robberies and works with the retail industry to introduce enhanced security measures at business premises across Merseyside. As part of our enquiries into this incident we have now issued CCTV images of a man who we believe may have important information which could help us with our investigation. I would appeal to him, or anyone who recognises him, to get in touch with us as soon as possible."

Anyone with information on the man in the CCTV image, or who has any information, can call Merseyside Police on:- 0151 777 3035, or via the:- 101 number. Alternatively contact Crimestoppers, anonymously, on:- 0800 555 111.
Hillsborough criminal probe has 23 suspects
23 suspects could now face prosecution following the results of the inquest concuding the 98 victims of the FA Cup Semi Final tragedy had been killed "unlawfully." The Independent Police Complaints Commission (IPCC) and Operation Resolve, on 12 January 2017, referred files of evidence relating to 23 suspects they have identified, from their Hillsborough investigations, to the Crown Prosecution Service (CPS). The CPS will now have to decide whether criminal charges should follow. The IPCC probe has been the biggest criminal investigation into alleged Police misconduct ever conducted in England and Wales.
It is not publicly known who the 23 individuals are. Of these, 15 suspects relate to Operation Resolve's investigation into the causes of the disaster. The potential offences for consideration include:- gross negligence manslaughter, perverting the course of justice, misconduct in public office and offences under the Safety of Sports Ground Act 1975 and Health and Safety at Work legislation. A further 8 individuals relate to the IPCC's independent investigation into both South Yorkshire Police and West Midlands Police and the alleged cover up of the disaster. The potential offences for consideration include perverting the course of justice, conspiracy to pervert the course of justice and misconduct in public office.
The CPS will consider any other relevant offences on the evidence presented by both investigation teams. The information the IPCC has provided to the CPS about West Midlands Police and South Yorkshire Police runs to 61,000 pages and nearly 3,000 documents respectively, while the information provided by Operation Resolve runs to approximately 85,000 pages. It's understood that the CPS may now take up to 6 months to consider all the evidence.
Sue Hemming, Head of CPS Special Crime and Counter Terrorism Division, said:- "Having received files from both Hillsborough investigations, we will now assess these in order to determine whether we have sufficient material on which to make charging decisions. Charging decisions will be based on the tests set out in the Code for Crown Prosecutors."
AC Robert Beckley, Office in Overall Command of Operation Resolve said:- "Our task has been to investigate whether any individual or organisation is criminally culpable for their role either in the planning and preparation for the match or on the day of the game itself. The extensive file we have submitted, which contains over 35 million words, reflects four years of intense work from my team. As well as conducting a criminal investigation, for three years we also supported the coronial process in providing the coroner with thousands of documents, witness statements and reports to assist him in conducting the inquests."
IPCC Deputy Chair Rachel Cerfontyne said:- "These criminal investigations into the circumstances surrounding the Hillsborough disaster are the largest investigations into alleged police wrongdoing ever undertaken in England and Wales. Conducting an inquiry of this scale and complexity, while supporting the longest running inquests in British legal history, has been a significant undertaking for the IPCC. Our criminal investigation has now substantially concluded."

North West Ambulance Service Awarded for Outstanding Contribution to Improving A&E Care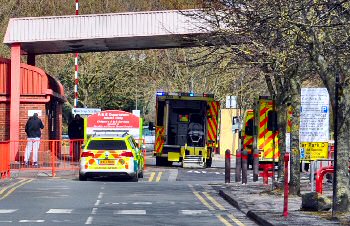 NHS teams from across the North of England have named North West Ambulance Service NHS Trust (NWAS) as 'The Trust We Learned the Most From' after an 8 week 'Action on A&E' project organised by NHS Improvement.

An Outstanding Contribution Award was presented to the Trust, in December 2016, at an event in Leeds, as more than 200 people from the NHS met for an event to mark the end of Phase 1 of the project, which is aimed at tackling issues and improving emergency department care across the North.

Leaders from NWAS, including Chief Executive, Derek Cartwright, contributed to the project across the 8 weeks, by presenting to NHS colleagues.

In Derek's presentation he spoke about how the Trust works together with partners to provide additional care to patients through numerous schemes which also aim to relieve pressure on emergency departments.

This includes a dedicated falls car for the team which helps identify and care for patients who need extra support around the home to help them get around more easily.

David Rigby, Service Delivery Manager, said:- "We received some great feedback from colleagues throughout the project who were impressed with the amount of involvement NWAS has in working to relieve emergency departments and provide care for patients closer to home. It was an honour to be voted as 'The Trust we Learned the Most From' as there were some fantastic contributions from other Trusts and it's great to know that they could take away something useful from us as we did from them."

David Radcliffe, Medical Director for NWAS presented at the closing event in Leeds and spoke about how the Trust's:- 111 and 999 services work to reduce Hospital admissions whilst dealing with a 10% increase in serious or life threatening incidents in 2016 compared to the previous year.

The Trust has various schemes including:- 'Hear and Treat' and the 'Acute Visiting Scheme' which aim to refer people to the most appropriate care where possible, reducing the pressure on A&E departments.

The 'Action on A&E' scheme is now looking forward to launching Phase 2 in the coming months.
Search for stolen property from house in Formby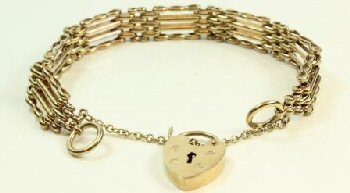 MERSEYSIDE Police Detectives have issued 2 photographs of items of jewellery which have been reported as stolen from a property on Raven Meols Lane, Formby. The theft is thought to have taken place between 12 noon, on Sunday, 4 December and 11am, Monday, 5 December 2016, when the unknown offender or offenders broke in to the family home. We are told that they are thought to have made a search of the house before taking a quantity of jewellery, a mobile phone and a purse.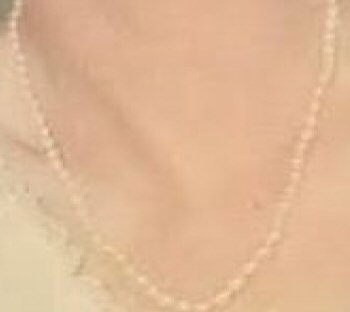 Merseyside Police have since said that the jewellery included a gold gate bracelet and a pearl necklace, as seen on this report. An investigation into the burglary is still underway, with CCTV being checked and house to house enquiries been carried out, within the local area. Anyone who has any information about the burglary or believes they may have been offered this jewellery for sale are asked to contact Merseyside Police on:- 0151 777 3059 or the Crimestoppers line anonymously on:- 0800 555 111.