An illuminating start to the Year of the Roostere
Photographs by Patrick Trollope.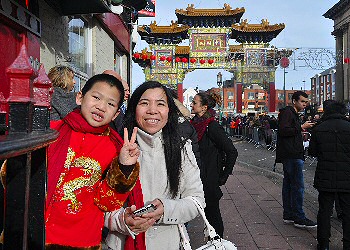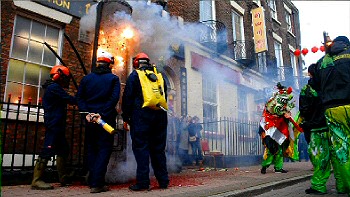 AN Ancient Chinese myth will be brought to life as part of Liverpool's very special Chinese New Year lumiere event.

The City will celebrate the Year of the Rooster, from Friday, 27 January to Sunday, 29 January 2017, with projections in Chinatown telling the story of Jingwei and the Ocean.

Lighting up the Chinese Arch, the Black-E and The Arch (formerly known as the Scandinavian Hotel) for an hour each night, the beautiful lumiere creation will be based on the story of the an emperor's daughter who, after perishing at sea, transformed into a bird and endeavoured to fill the ocean with twigs and stones to prevent anyone else from meeting the same fate.

The story will be adapted to showcase how Chinatowns in Liverpool, and around the world, have developed from the seeds sown and the pebbles laid by the earliest Chinese settlers, and how these small 'islands' have developed into the vibrant and diverse communities we see today.

The twelve minute show will run on a loop for an hour on Friday and Saturday nights, from 7.30pm to 8.30pm and on the Sunday it will be on display, from 5om to 6pm.

Digital experts Illuminos are behind the lumiere creations, having previously worked in the City on the hugely successful projections which lit up Liverpool's Central Library when it reopened in 2013.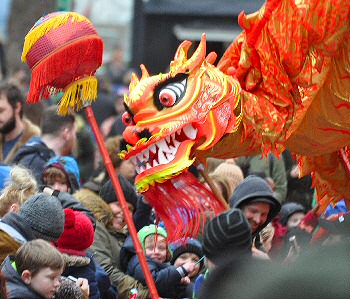 Illuminos artist, Rob Vale, said:- "We're thrilled to be providing the video projection element of this year's celebrations. It's already been a fascinating project, working closely with Pagoda Arts, 1st Take and others to weave together many celebratory elements of the Chinese community in Liverpool into a light and sound spectacle. There's a real passion from them in sharing their stories and traditions with Liverpool as a whole, and the projections will hopefully make this happen in a way that is totally new. The piece will be a really exciting mix of elements, playing with aspects of traditional Chinese shadow puppetry, mixed with specially filmed characters from the Chinese community, and blended with wonderful music from the Pagoda Youth Orchestra. It's a beautiful story about determination, new beginnings and nurture."

The soundtrack to the show is a specially commissioned piece by Jah Wobble with members of the Pagoda Youth Orchestra performing on the track.

Director of Pagoda Arts, Zi Lan Liao, said:- "The Pagoda Chinese Youth Orchestra is privileged to be working with Jah Wobble on the soundtrack for this project. We are also delighted that MC Jin is recording with us, he is a Miami born rapper recognized as the first Asian-American rapper to be signed by a major record label. So many of our older members and ex-members are his fans, and we know he is an icon to Chinese youngsters across the world. I'm also proud of the fact that one of the members of our orchestra, Chi Chi who is 18, has composed the track for MC Jin to record, so undoubtedly this show will be yet another unforgettable legacy for the Youth Orchestra."

Across the weekend, people can also take part in a specially created augmented reality trail which will take people on a tour through some amazing moments in Chinese cultural history in Liverpool and beyond. These include the story of football player and manager Frank Soo who was brought up in Liverpool, the role of Chinese sailors who replaced British sailors called up to the Navy and the origins of the game Mahjong which is played at the City's Seeyap Centre.

The traditional Chinese New Year celebrations will also take place, on Sunday, 29 January 2017, with a series of street performances, family workshops, art installations, parades and of course the popular Chinese market on George Street selling gifts, souvenirs and mouth watering food.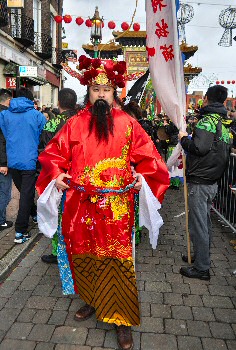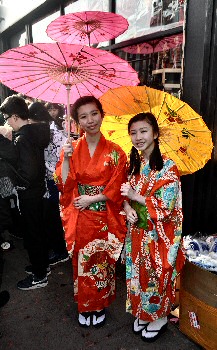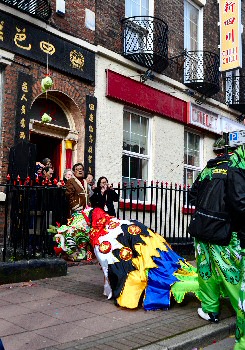 Assistant Mayor and Cabinet Member for culture, tourism and events, Councillor Wendy Simon, said:- "Chinese New Year is always a fantastic way to kick off our events calendar and this year will be extra special as not only are we trying something new, the celebrations are also extended. We are always looking to do things a bit differently with our events and working in partnership with Illuminos gives us the opportunity to tell the story of our Chinese community in an incredibly special way. Whenever we incorporate light projections in any of our activities they are hugely popular, and the combination of these special Chinatown landmarks being lit up as well as the usual mix of street performances, entertainment and markets will make it an unforgettable Chinese New Year for all involved."

The family friendly excitement kicks off from 11am, with the programme which is as follows in Great George Square:-

► 11.00am to 11.30am - Pagoda Arts – Flower Drums and Fan Tai Chi.

► 11.35am to 12.15pm - Kwong Tam School of Tai Chi (in association with See Yep Association)

► 12.20pm to 12.35pm - Wah Sing - Traditional Chinese Dance and Song.

► 12.35pm to 1:00pm - Pagoda Arts – Dance, Tai Chi, Happy Dance!

► 1.00pm to 2:00pm - Firecracker Display – Lucky Man, Dragon and Unicorn Parade arrives.

► 2.05pm to 2.20pm - Hung Gar Kung Fu School – Martial Arts Demonstration.

► 2.30pm to 3.15pm - Kwong Tam School of Tai Chi (in association with See Yep Association)

► 3.20pm to 4.30pm - Liverpool Confucius Institute performing a programme of Beijing Chinese Opera in partnership with the Everyman and Playhouse.

► 5.00pm to 6.00pm - Chinese New Year lumiere – Jingwei and the Ocean

In the run up to the weekend of celebrations, thousands of lanterns will also illuminate Bold Street and Chinatown thanks to the support of the Liverpool BID.

For more information about timings, activities, family workshops or the projections, visit:- CultureLiverpool.Com/CNY.

In Southport, the Empire Restaurant on Nevill Street, will be holding a special Chinese New Year party, that will take place on 1 February 2017. It will feature a Lion Dance, both inside and outside the building. Plus they will offer customers a free raffle ticket! The evening starts at 7:30pm and the display outside, that will be free for public to watch outside the venue, will be around 9pm. please note that a temporary road closure will be in effect during the outside display. To book tickets to see the inside display and to get your place at the banquet, go to the restaurant today or call them on:- 01704 547 718.
Why not see if your lover is a match on the Chinese Zodiac, by using our Chinese Zodiac Compatibility Game.... Click on here now!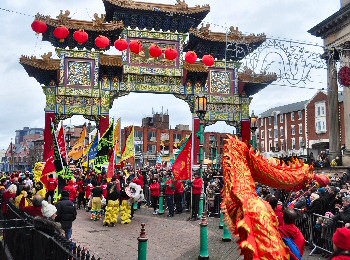 To see our coverage from last years Chinese New Year party in Liverpool, click on here to see our full photographic coverage.