Let's Go Green for The Clatterbridge Cancer Charity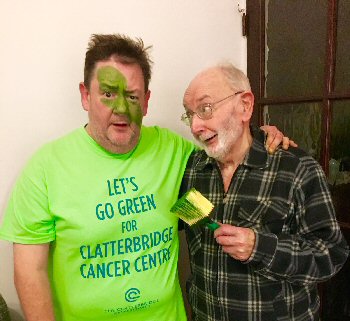 COMEDIAN Johnny Vegas is going green for The Clatterbridge Cancer Centre; and wants as many people as possible to join in the fundraising fun. 'The Still Open All Hours' and 'Benidorm' star is leading the way in turning green as part of a £15 million Appeal to help build Liverpool's 1st specialist cancer Hospital. His dad Lol Pennington was treated at The Clatterbridge Cancer Centre NHS Foundation Trust in Wirral and father and son know how crucial the project is to transform cancer care in the region. Johnny said:- "When you hear the word cancer it takes you to a place you don't want to go to but we are so lucky to have The Clatterbridge Cancer Centre on our doorstep. I'm hoping everyone gets behind this campaign to raise £15million for a brand new cancer hospital in Liverpool and it all starts by Going Green for Clatterbridge from 4 February to 12 February 2017."

The new Hospital in Liverpool is being built as part of a £157million plan to transform cancer care which will also see £8million will be invested in The Clatterbridge Cancer Centre in Wirral. "We are asking people to get involved by going green, in any way they can. Schools might want to hold a green day where pupils pay £1 to dress in the colour for the day or bake green cakes. Businesses can do the same, or workers could also tip green gunge on their boss; for the price of a generous donation of course." said Johnny.

Let's Go Green for Clatterbridge will see dozens of buildings and structures going green in support of the New Hospital Appeal, from 6 February 2017. They include civic landmarks like:- Liverpool Town Hall, The Central Library, The Cunard Building on the banks of the River Mersey, Wallasey Town Hall, Eastgate Clock in Chester, and the Greystone Footbridge over the M62 motorway.

Cancer patients from the Isle of Man travel to The Clatterbridge Cancer Centre for treatment and the island will mark the launch of the appeal in style by lighting up the both the Tower Refuge and Power Station, in Green. "We are inviting many more businesses and local authorities to get involved by turning their buildings green to support the fundraising drive. We will be encouraging people to tweet their support using the hash tag #letsgogreen and posting pictures of themselves wearing green, sporting green wigs or even joining Johnny Vegas in a spot of face painting. They can then also text Lets194 to 70070 to make a donation of £4." commented Johnny.

Katrina Bury, Head of The Clatterbridge Cancer Charity, said:- "1 in 2 of us will develop cancer over our lifetime so this new hospital is vitally important for the people of Merseyside and Cheshire. We are only going to get one chance in our lifetime to build a brand new facility like this, which will transform cancer care for generations to come. We hope everyone will get behind us by going green and help to build a cancer Hospital that we can all be proud of."
CLA calls on MPs to back seasonal workers scheme
RURAL business leaders have called on MPs to back a new seasonal workers scheme which allows migrant workers access to vital jobs across the rural economy. Responding to a government inquiry on immigration, the CLA which represents landowners, farmers and rural businesses said the sector needs certainty. A new scheme should be put in place immediately to avoid reduced productivity and investment and not wait until the UK leaves the EU. CLA President Ross Murray said:- "Farms and other rural businesses need to know that after Brexit there will still be a flexible, skilled and secure workforce so they can plan for the future, invest in their businesses and secure or create jobs. To meet the labour needs of the rural economy we are calling on MPs to back a seasonal agricultural workers scheme which would allow migrants of both EU and non-EU countries to enter the UK for a set period of time and for a specific job, but with no right to remain afterwards. Similar schemes have worked well in the past in agriculture and will help farmers to keep producing the food we eat, to run viable businesses, and to continue creating job opportunities year in and year out. The rural economy is already at risk due to labour shortage so it is vital the Government introduces a scheme immediately rather than after Brexit. Without access to migrant labour, productivity and growth will be affected and it could lead to increased food imports and prices."

The CLA has also called for the Government to confirm the status of EU migrant workers already resident in the UK working in sectors such as food production, horticulture and tourism. In addition, Government must provide a clear framework for allowing skilled workers to enter the UK labour market, with the potential to remain permanently. Skilled workers should be differentiated from seasonal workers, particularly as the former might bridge a skills gap within the rural sector on a longer term basis. Click here to read the CLA's full response to the Home Affairs Select Committee inquiry on immigration.

Planning approval granted for new Maghull North station scheme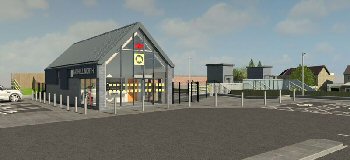 ​THE development of a new Station, in Maghull, has moved a step closer after planning permission was granted for the scheme at a Sefton Council planning committee meeting, on Wednesday, 18 January 2017.
The planning committee approved plans for the new Maghull North Station, which will be located just off School Lane, between the existing Maghull and Town Green Stations, on the Ormskirk branch of Merseyrail's Northern Line.
The Station is a key piece of infrastructure in the Sefton Local Plan, supporting demand from an adjacent new housing development which will include 370 homes, with more homes planned for the area in the near future. It will also offer relief for the existing Station, in the Town.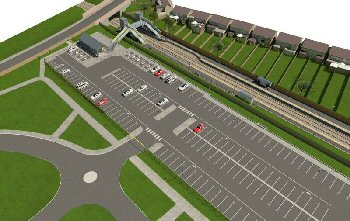 The £13m scheme is being funded through the Government's Local Growth Fund (LGF), Merseytravel and the Homes and Communities Association, which currently owns the land on which the Station will be built.
It will form part of the wider £340m investment by Network Rail and the Liverpool City Region in rail improvements over the next 3 years.
Facilities at the new station will include:-

► Staffed station building and ticket office with passenger toilet.
► Passenger waiting facilities on platform.
► Step free access with lifts and a bridge to, from and between both platforms and the station building.
► 156 space car park with blue badge, motorcycle parking and cycle storage.
► Pedestrian and cycle routes from School Lane and Park Lane to the station and bus stops on School Lane.
► Future provision for electric vehicle charging points.
► Work is due to start on site in August 2017, with the Station due to open in May 2018.

Cllr Gordon Friel, Merseytravel Deputy Chair and Lead Member for Rail said:- "It's great news that the new station development at Maghull North has been given planning approval as it will provide a real boost to the local community. It is another example of our Long Term Rail Strategy being put in to practice and will encourage more people to use public transport for both commuting to work and leisure activities. We look forward to working with our partners in Network Rail, Merseyrail and Sefton Council when the work to build the station gets underway later this year."

Claire Rawson, Network Rail's Project Sponsor said:- "This station part of a £340 million investment in the railway of the Liverpool City Region and it will play a vital part in accommodating the growing number of passengers using the network now and in the future."

Jan Chaudhry-van der Velde, Merseyrail's managing director, said:- "We welcome this decision by Sefton Council and look forward to serving and running the station as part of the Merseyrail network once it is completed. It will bring the benefits of quick, easy to use and good value local rail services to more residents, and provide them with good links into Liverpool and a variety of other destinations by rail."

Cllr Ian Maher, Leader of Sefton Council, said:- "I am delighted that planning permission has been granted for the new Maghull North station. It is vitally important that as our towns and communities grow there is sufficient infrastructure to support them. The new Station is not only fantastic for the local economy but will further improve public transport capacity and connectivity across Sefton and the City Region."

More information on the scheme can be found online.
Man charged following theft from Southport jewellers
MERSEYSIDE Police have confirmed that a man has been charged following a theft, at Ernest Jones jewellers, in Southport, on 8 January 2017. They would like to thank the media and public for helping them. We are told that Lewis Ormesher, 23, from Stockbridge Village, has been charged with theft from a shop and possession of cannabis. We are also told that he has been bailed and is due to appear at South Sefton Magistrates Court, on 22 February 2017.