Large cannabis farm found in Southport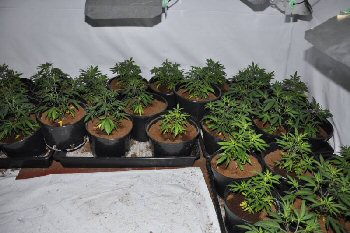 MERSEYSIDE Police Detectives, from Liverpool, discovered a large cannabis farm, in Southport, on Monday, 16 January 2017. Officers received a report shortly before 8.50am that entry had been forced to an industrial unit on Blowick Business Park, Crowland Street. Patrols attended and discovered a cannabis farm containing 480 cannabis plants and growing equipment, which is in the process of being recovered. The cannabis farm had an estimated annual yield of £1.9m. The scene was cordoned off to enable officers to recover the cannabis and forensically examine the scene.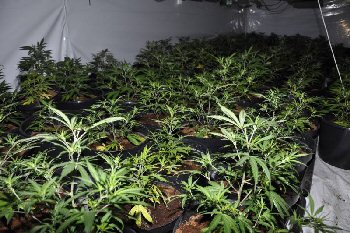 Detective Constable Patrick Kilgannon said:- "These plants would have been destined to be sold on our streets; thankfully these drugs will be taken out of circulation and can no longer be sold on our streets to cause harm and misery. Cannabis cultivation on this large scale is often done by criminal gangs, who don't care about the dangers growing cannabis brings to neighbouring properties and in this case surrounding businesses. The people who set up these farms often tamper with the electricity meters to steal electricity and there will generally be a number of hot lamps and this, accompanied by an overloaded electricity system, can be a serious fire risk. Our communities can help us stop these groups, who are only interested in making money, from turning houses and industrial units into potential death traps. Nobody wants to live or work next door to these farms and we would ask that if you believe someone is using a premises for this purpose, please tell us so we can take action and find those responsible for setting them up."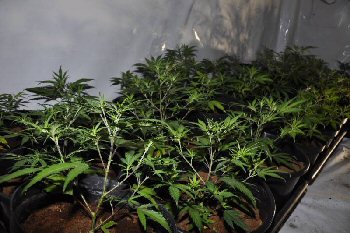 Some of the signs that cannabis is being grown are:-

► Strange smells and sounds.

► Frequent and varied visitors to a property, often at unusual times.

► Gardening equipment being taken into a property, such as plant pots, fertiliser, fans and industrial lighting.

► Windows are sealed and covered or the curtains are permanently closed.

► Heat from an adjoining property.

► Birds gathering on a roof in cold weather.

► Individually these activities may seem commonplace, however, together may indicate something more sinister.

Anyone with any information can call Police on 101, or Crimestoppers, anonymously, on:- 0800 555 111.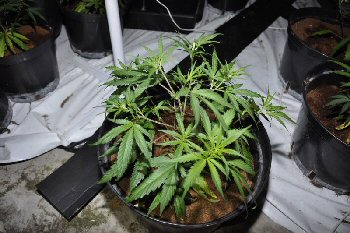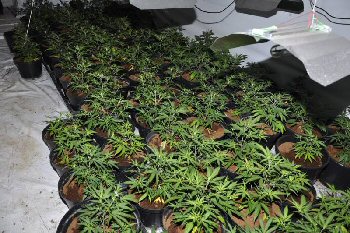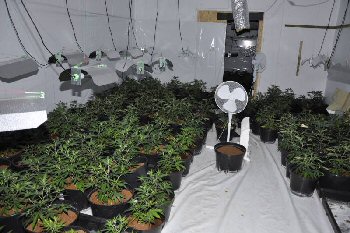 Mini Police enjoyed a special lunch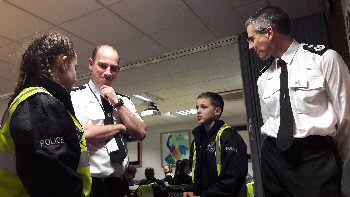 MERSEYSIDE Police's youngest recruits of the Mini Police have enjoyed a special lunch with senior Police Officers, as a reward for all their hard work. The Mini Police dined at Merseyside Police Headquarters with Deputy Chief Constable Carl Foulkes and Assistant Chief Constable Ian Critchley.

The pupils from Hatton Hill Primary School, in Litherland and St Monica's Primary School, in Bootle, have spent the last 4 months helping with speed awareness events, welcoming VIP guests, and even interviewing the Chief Constable. After the 2017 February half term, a new intake from both schools will join up as the new wave of Mini Police recruits.

The Mini Police were introduced in September 2016, at a spectacular launch event, which took place at Hatton Hill, where the children were visited by the National Police Air Support (NPAS) Helicopter and given demonstrations.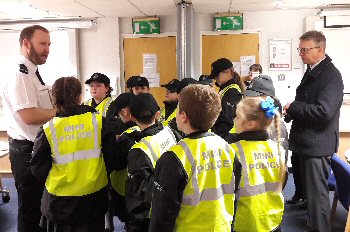 Deputy Chief Constable Carl Foulkes said:- "This lunch was the perfect chance to say thank you to our Mini Police for the brilliant work they have been involved in since September. They have been true ambassadors for both schools and their communities and we sincerely hope that for some of them, this is only the beginning of their journey with Merseyside Police."

Assistant Chief Constable Ian Critchley said:- "We are ever so proud of our Mini Police, and hope to grow this wonderful initiative far and wide in the coming years. They have demonstrated such enthusiasm, imagination and are proving to be a really positive force within our communities."

Mr Kinsella, Head Teacher at St Monica's, said:- "The opportunity to represent St Monica's beyond the school gate and throughout the city has been fabulous. They have achieved a huge amount for young people and the experience will set a culture which they will take into their teenage years."

Mrs James, Head Teacher at Hatton Hill, said:- "We have enjoyed seeing the children engaging with the public and learning that the police are a force for good in society."
Suspected arson in Birkdale
A joint investigation between Merseyside Police and Merseyside Fire and Rescue Service (MFRS) has been launched a after a suspected arson, that has taken place in Birkdale, Southport, on Sunday, 15 January 2017. The icident is said to have taken place at around 7pm, after 2 vehicles were found on fire in Stanley Avenue. We are told that a BMW X5 was found to have been damaged and the fire is reported to have caused damage to a Renault Kangoo van as well. A house to house has taken place and both CCTV and forensic enquiries are ongoing. Local Policing Inspector Graham Fisher said:- "We are keen to speak to anyone who saw anyone acting suspiciously in and around Stanley Avenue at around 7pm last night, or witnessed the incident itself. Enquiries will be ongoing today in the area and extra patrols will be provided for reassurance in the community." Anyone who witnessed the incident is asked to call:- 101 or Crimestoppers anonymously on:- 0800 555 111.
Sefton housing charity boosted by £65,805 Lloyds Bank Foundation grant
MERSEYSIDE charity Light for Life Sefton will help vulnerable people find and sustain homes thanks to a £65,805 3 year grant from Lloyds Bank Foundation. The grant will enable the charity to employ a tenancy support worker who will provide in depth service to those accessing the charity's Light for Life Bond Scheme, enabling them to maintain their accommodation and develop the skills to break the cycle of homelessness.
Greta Fenney, CEO at Light for Life, said:- "We are delighted to have been awarded funds from the Lloyds Bank Foundation to employ a worker for the Light for Life Bond Scheme. The Bond enables disadvantaged people an opportunity to secure local rented accommodation, subject to assessment, in the private sector with landlords with whom we have developed a positive working relationship. This will result in a number of individuals and families securing a home who are otherwise reliant on emergency accommodation and hostels. This scheme complements the services available in the Borough of Sefton."

Paul Streets OBE, Chief Executive of Lloyds Bank Foundation for England and Wales, said:- "Cuts to public funding and changes to commissioning mean specialist local charities are struggling to stay afloat despite increasing demand for their services. Funding from grant makers such as Lloyds Bank Foundation can be a lifeline for many such small charities. We are pleased to get this new year off to a great start by supporting Life for Life Sefton, whose work in the community is invaluable and will be working even more closely with all the charities we support in 2017 to make sure their voices are heard."

Small and medium sized charities play a critical, but often unseen role, offering specialist support to those facing the greatest disadvantage in a way that bigger charities, businesses and the public sector often cannot. Funding from independent grant making organisations, such as Lloyds Bank Foundation, are vital to the survival of many specialist local charities who have previously relied on income from Government and Councils. Research shows that despite 3 in 4 charities reporting a continued increase in demand for their services, 60% say they know of 1 or more local groups that have been forced to close in the last year alone. As well as cuts to public funding, our Commissioning in Crisis report, published in December 2016, reveals a broken public commissioning system which excludes small charities from bidding for and winning contracts. Light for Life Sefton received 1 of 51 new grants made to small and medium sized charities in the 3rd round of Lloyds Bank Foundation's Invest grants for 2016, worth a total of £3,210,588. The Foundation made a total of 281 grants worth £12.3m last year.
Lloyds Bank Foundation for England and Wales is the largest corporate foundation by spend in the UK and an independent charity funded by Lloyds Banking Group as part of its Helping Britain Prosper Plan. Charities interested in applying for grant funding should visit our website.