Dance project Afro Play set to explore identity in African Culture through the theme of Colour Vs Place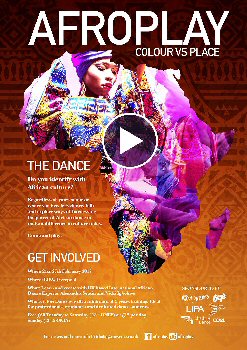 AN exciting new dance project called:- 'Afro Play' is set to spring into life and promises to challenge conceptions of the African diaspora and culture. African dance Trailblazer Champion for 2017 Ithalia Forel is working in partnership with One Dance UK to bring the project to the North West from February onwards. During its debut season Afro Play will explore the issues that arise for individuals identifying with African culture, using the theme of Colour Vs Place. There will be a dance intensive at LIPA, over 21 February to 25 February 2017, leading to a performance piece at The Place, in London. There will also be a panel discussion exploring how people connect with African culture and how it permeates our every day life; from the coffee we drink at our favourite coffee shop to choreography in new music videos.
The project presents an exciting opportunity for professional dancers to apply for a place on a dance intensive with pioneering African dance artist Alesandra Seutin, (from Vocab Dance). You can watch a video for full details on how to apply online. The intensive session at LIPA will provide a safe platform for dancers to explore inequalities that exist around identity and heritage, with the final piece being performed at the prestigious venue:- The Place in London, in May 2017.
Ithalia, who also co-founded the successful world dance company Movema in Liverpool, is keen to build on partnerships with LIPA, Edge Hill and LJMU. African dance Trailblazer Ithalia is also keen to work with dance agencies to ensure dancers across the North west take advantage of this opportunity to showcase their talent, in an often underrepresented genre of dance. Ithalia, 38, said:- "Afro Play is an excellent chance for anybody who connects with African Culture to engage with this project and help us all gain a deeper understanding. You don't need to be of African descent to appreciate and feel inspired by African culture. I'm excited to be in a position to promote the profile of North West dancers in this art form and promote African dance and its many offshoots to a wider audience. Alesandra Seutin is a a pioneer in the art of African dance and this is an inspiring opportunity for up and coming dancers to take a dance intensive with her and become part of our performance at The Place, in London. We are looking for professional dancers from the North West to come and take part in building the Afro Play dance showcase with us. There will also be a panel discussion exploring how people connect with modern African culture and how it permeates our every day life; from the coffee we drink at our favourite coffee shop to influencing choreography in new music videos."

You can buy tickets, submit application for free training, to be part of the London based performance, be part of the conversation, via going to Purple Revolver's Facebook Page.
Showbiz Next Big Thing - "The Mini Beatles"
Photos by Zanto Digital, Dave.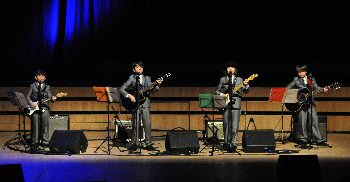 IS this the next big stage act out of Liverpool? Is it John, Paul, George, and Ringo, No it Jay (McDonald) Killian (Kimberly) Louis (Durston; Wyatt) and Harry (Coghlan) who are the 'Mini Beatles.' They met at school, but are now at different schools. They are now aged between 11 and 12 and only started to play guitar 4 years ago! They are currently taught by Cris Vernon, who says they now have some very famous fan, like:- Ricky Tomlinson, who's grandson is in fact Louis. We are also told that Simon Cowel will be keeping his eye on these 4 Scoucers!

Merseytravel seeks feedback on bus network
Report by Airida Balciunaite and Aleksandra Smirnova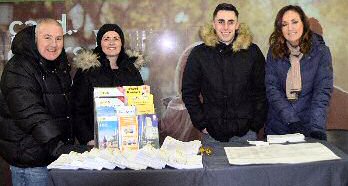 ON Monday, 23 January 2017, Merseytravel held a public survey, within Southport Train Station, to carry out a survey, on a bus review, with the aim of getting more people to use the public transport and create a better experience and atmosphere for the public. Merseytravel wants to increase the use of public transport and make a targeted investment into the business that provides public services, including the bus networks, in and around the Liverpool City Region.

As we are doing our work experience in Southport Reporter, 1 of our tasks was to find out more about the bus services in Southport and surrounding areas. To do this we also did a small survey, which was based on the public transport in the area. We wanted to find out what people think about it and get the views on the bus or other public transport services in Southport area.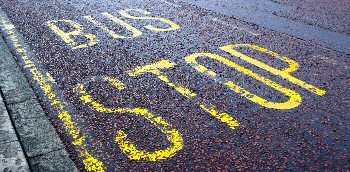 During this we asked a small random section of people a few questions to find out their opinions. It will be interesting to see if they are close to what the results of the Merseytravel survey reveal once they finish the consultation. Incidentally if you would like to find out more information about what Merseytravel are doing, visit:- Merseytravel.Gov.UK and look out for the:- 'Local Bus Service Review.'

In Southport, our findings show that most people who we questioned use, or have used recently, public transport. The bus operator who operate the most bus routes, appears to be Arriva with Stagecoach just behind.

The people that we questioned were all from different age groups, who mostly visited Southport Town Centre, for leisure or shopping purposes. Also, the greater part of questioned people said that they use the public transport at least 5 days in a week but some of them don't use it at all, because they have cars or live in or near the Town Centre. However, mostly these were under the age of 19 and age 36 above. We will stress our survey was very small, so no real conclusions can be obtained, but it is an interesting guide.

Further, we found out that the public finds it easy to collect the information, due to access to bus time tables on the internet or the app that has recently been introduced to public. As well as that, mostly people were satisfied with the service and believed that no improvements should be made and that the pricing is excellent as it's so cheap.

On the other hand, we also received some suggestions as to improvements which could be done to create a better experience for the customers.

1 of the suggested improvements was to keep all the public transport cleaner, but especially the buses. For example, there was a suggestion that people shouldn't be eating in the buses. Another beneficial change which could be made is to make the public transport prices a little bit lower because some of the people said that fares are too high. Also, it would really impact the consumer experience if the buses were more reliable and that they shouldn't be as late as they are usually. The last idea is of Wi-Fi network on the buses because as some people have said, some of the public transport doesn't have any Wi-Fi network at all.

It looks like Merseytravel are doing well overall, but some small tweaks to its services are required, which were suggested to us, via the people we questioned along Lord Street this week. If done well, the improvements Merseytravel hope to bring about could make a huge impact on the demand by customers and to their experience of the public transport. That can and will have a very positive impact on the local community in and around Southport, alongside enhancing facilities for tourists visiting the area. Like the easy to use ticket systems, that will speed up things for those getting on buses and trains.

We did a quick pole on social media and there is no surprise that only 5 people responded, however, we shouldn't forget the fact that the survey was on for 15 hours, so this might impact the amount of response. The pole was based on how many people filled in the Merseytravel online questionnaire, we had 60% people who were not interested and 20% who said that they completed it and 20% who said that they haven't completed it.
Please let us know what your views are on the Bus and Train connections to Southport, via emailing us to:- News24@SouthportReporter.com.