A ton of trouble for irresponsible dog owners
EVEN as the 100th Fixed Penalty Notice was issued for dog fouling in the last few days, Wirral Council continues to ramp up the pressure on the small proportion of dog owners who are irresponsible and don't pick up after their pet.

The council has also reiterated its thanks and praise to the thousands of responsible owners who not only routinely clear up after their dog has done the business, but also act as ambassadors for the Council's approach to tackling this issue.

In May 2016, Wirral Council delegated powers to its enforcement partner, Kingdom, to issue on the spot punishments to people who were observed leaving their dog's mess behind when out in public.

Since then Kingdom officers have been using information reported to the Council website by members of the public to target specific problem locations and have been enforcing the legislation whenever they have seen an offence.

Last week, they chalked up a century of fixed penalties issued within the 1st 8 months, compared to just 13 that were issued during the whole of 2015, when the Council's policy was more about education than enforcement. And as Spring looms, with lighter mornings and evenings, Kingdom will be continuing the zero tolerance approach by deploying earlier and later patrols.

At the same time, feedback from the enforcement officers is also confirming what the Council has always believed; that the vast majority of Wirral dog owners are responsible citizens and contribute greatly to keeping our streets, parks and beauty spots and clean for the benefit of everyone.

Cllr Bernie Mooney, Wirral Council Cabinet member for Environment, said:- "It is not surprising to hear that so many Wirral owners are doing the right thing when it comes to dog fouling. Not only are they setting an example by picking up their mess, they are also coming forward and telling us where they see other owners not doing the same. This just makes us even more determined to crackdown on this small minority who think they can get away with not cleaning up after their dogs. We have made a promise to local people that we will create and maintain an attractive environment for the benefit of residents and we are committed to achieving that by 2020. As well as the enforcement activity, we are backing our approach up with an ongoing marketing campaign to try to highlight to these people what a horrible impact their actions can have on others who might inadvertently come into contact with their mess. We are also piloting the use of bag dispensers in some of our parks so people can obtain a bag to clean up after their dog if they have forgotten to bring one out with them. The list of excuses that people might use for leaving the mess behind is reducing all the time."

Michael Fisher, Environmental Protection Director at Kingdom, added:- "This is a great example of a strategically developed public/private sector partnership, tactically deploying trained and experienced Officers in an intelligence led manner and effectively targeting the areas of dog fouling offending and other environmental crime. I would like to thank the public of the Wirral for their assistance in achieving these results."
Public welcome at Trust board meeting
SOUTHPORT and Ormskirk Hospital NHS Trust will hold its next board meeting, on Wednesday, 1 February 2017, at 9am. The meeting will be held in the Clinical Education Centre at Southport and Formby District General Hospital. Members of the public are welcome to attend and observe the meeting. Anyone with a special requirement should contact the Trust in advance on:- 01704 704783. The agenda will be available on the Trust website in advance of the meeting. Supporting papers will be made available on the day.
17 year old arrested in relation to murder of Blake Brown
MERSEYSIDE Police Detectives investigating the murder of Blake Brown, in Aigburth, on Thursday, 26 January 2017, arrested a 17 year old male, from Wallasey, on suspicion of conspiracy to commit murder. He has since been conditionally bailed pending further enquiries. If anyone has any information about the murder, please call:- 0800 230 0600 or leave information anonymously with Crimestoppers on:- 0800 555 111.

Liverpool Municipal Building to be turned into a 4 Star Hotel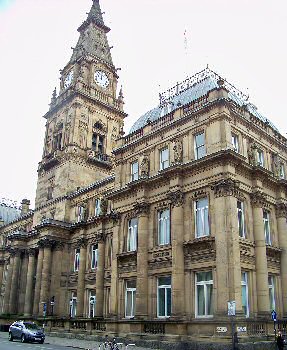 LIVERPOOL City Council's former administrative headquarters is to be turned into a 4 star hotel, by an international property developer. Municipal Building, on Dale Street, was put on the market last October as the City Council seeks to find £90 million of savings over the next 3 years.

A report going to the authority's Cabinet, on Friday, 3 February 2016, will be recommending the sale to Fragrance Group Limited (FGL), a Singapore based property company, be approved.
FGL has a portfolio of more than 80 projects with overseas development properties including Premier Tower, a skyscraper in Melbourne, Australia, but this will be its 1st acquisition in Europe.
The landmark Grade II listed City Centre office, which has unique design features of the Italian and French renaissance, is to be sold on a 250 year lease. The building, which opened in 1866, is expected to be handed over in Spring. The Hotel, subject to planning permission, would also include a restaurant.

Municipal Buildings, which has space for 1,000 staff, currently only has 640 employees accommodated there, due to a significant reduction in the Council's head count in recent years.
The proposal is part of an accommodation strategy which aims to deliver significant ongoing savings and generate funding which can be reinvested in reducing the costs of the City's major infrastructure projects programme.

Councillor Malcolm Kennedy, Cabinet member for regeneration, said: "Municipal Building has been a magnificent home for Liverpool City Council since the 1860's, but we no longer have the staff numbers to justify retaining it. I'm delighted we have a buyer of international repute who is looking to use Liverpool to break into the UK and European hotel market. This will have a great impact in terms of generating jobs and bosting out international appeal. We will work with FGL to ensure that its future use protects the building's unique architectural features, as we have done with the neighbouring Municipal Annexe and Royal Insurance Building which have also recently been brought back into use as 4 star hotels. The sale will bring in much needed money which we can reinvest in reducing the costs of our capital infrastructure programme, as well as delivering ongoing savings by lowering our overheads."

The building is on 3 floors with an extensive basement, and covers 11,494 square metres. Its appeal to the hotel market was boosted by its proximity to the City's retail and cultural sectors and to the waterfront and cruise liner operations. Council workers are being moved to other existing sites across the City, such as Cunard Building, at the Pier Head, Premier Court on Hatton Garden, Venture Place on Sir Thomas Street and Wavertree Customer Focus Centre on Wavertree Road.
The One Stop Shop, based within Municipal Building will be relocated to a self contained unit, in the refurbished St John's Market, ensuring that customers can still access Council services in a central location.
Consideration is also being given to putting other public facing Government services in the facility to generate wider savings.