Merseyrail Tops National Rail Passenger Survey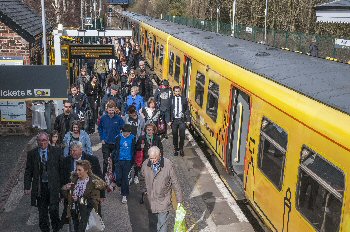 CUSTOMERS have once again given the thumbs up to Merseyrail, as the rail operator scooped the highest score, 95%, among all franchised operators in the National Rail Passenger Survey, in autumn 2016.

This follows the publication of the Which's annual train survey last week, where Merseyrail also came top for overall satisfaction.

It is the 2nd time that Liverpool's Merseyrail has been awarded the highest score in the NRPS poll, our best overall autumn satisfaction score and the second best ever for Merseyrail; with just 1% point less than 96% secured in spring 2012.

The bi-annual survey is conducted by independent consumer watchdog, Transport Focus, and is a respected industry barometer.

Our score is 13% points above the regional average, 2% points above the same period in autumn 2015 and 5% points above the last survey that took place in spring 2016.

We outperformed all other regional operators in 33 of the 37 factors, and all station factors were better than the regional score.

Other highlights:-
► Merseyrail passengers are the most content for value for money of the price of a ticket
► Merseyrail passengers are the happiest with regards to punctuality and reliability
► Merseyrail passengers are the most satisfied in the category, 'sufficient room for all passengers to sit/stand'
► Merseyrail passengers are the most satisfied with the station

This is in comparison with all franchised operators.
Co-op recalls Southern Fried Chicken Wrap because of incorrect allergen labelling
ON 27 January 2017, the Co-op have issued a recall of its 'Southern Fried Chicken Wrap' because it contains milk and fish, which are not correctly declared on the labels. This means the product is a possible health risk for anyone with an allergy or intolerance to these foods. The products affected are marked with a use by date:- 29 January 2017. No other Co-op products are known to be affected. If you have bought the above product and have an allergy to milk and/or fish, and/or an intolerance to milk constituents, do not eat it. Instead return it to the store from where it was bought for a full refund. We are told that:- "The company has issued this recall notice to its stores and have explain to staff why the product is being recalled."
World Tour - Banff Mountain Film Festival heading to Crosby, Merseyside!
THE Banff Mountain Film Festival UK and Ireland part of the BMFF World Tour is returning again this year to the Liverpool, Plaza Community Cinema, on both 17 February and 7 April 2017. This event will be offering 2 different evenings of adventure films and we are told the:- "Viewers can expect incredible cinematography, epic scenery, mind blowing journeys and some hair raising moments in the last wild corners of the planet. Plus there's a free prize draw as well." Further information and to find out about getting tickets, see:- BANFF-UK.Com for more information. A 'spine tingling trailer' can be seen on the BMFF Tour's Facebook Page.

Cross River Service Is A Hit With Commuters
THE launch of Liverpool's 1st 'Bike Bus' has proved a hit with local commuters and Green Party Councillors who pressed Merseytravel for the scheme to be introduced. The scheme, which sees a single decker bus converted to securely take bikes and their riders through the Mersey Tunnel, was introduced after Green Party Metro Mayor candidate, Tom Crone, expressed concerns about cyclists being stranded during rail improvement works. "The rail improvement works are necessary and welcomed but, to begin with I and my colleagues felt the alternative options for cycling commuters were sorely lacking." Said Cllr Crone. "I spoke with local cycle groups, and "cyclemmuters" (cycling commuters) who were worried that they'd be stranded if the ferries broke down. I'm really pleased to see this 'Bike Bus' in action, and I think it should stay. It can provide a long term alternative."

Local cyclists only have praise for the "great service" the scheme has offered, with cycling group, Pedal Away commenting on Twitter that the 'Bike Bus' was a:- "Gr8 experience", and @cyclist13 saying:- "so strange to be on a bus with only 9 seats, but a great drive." Further praise came for the 'Bike Bus' team, at Arriva NW, Green Lane, and the dedicated drivers who are happily assisting cyclists boarding, and alighting the bus.

Councillor Tom Crone is expected to pledge better provisions for cyclists, and commuters when he launches his Metro Mayor manifesto ahead of the election campaign. The bus runs once an hour, between Birkenhead and Liverpool, for the duration of the Loop Line Renewals.
Study reveals ⅕ Brits believe they will never be able to retire
WORKING for a living is something we all expect to do, but, technically, we also have to work for when we don't earn a living anymore; also known as saving a pension for our retirement. Yet when you're just about managing, paying your inflated rent or mortgage, barely getting any interest on your savings, and grappling with the constantly rising costs of living, how, exactly, are you supposed to put aside this mythical retirement money at all?

The harsh reality, unfortunately, is that many of us don't. Peer to peer lending platform Lending Works surveyed 1,500 non retired adults in the UK (YouGov), whose results you can see on their infographic here, and made some worrying discoveries. Firstly, over 1 in 5 of those who aren't yet retired; 22%; gloomily believe that they'll never be financially secure enough to retire. This suggests they have visions of working until they drop, as they won't be able to afford to stop earning money. This pessimistic view is highest in the 35 to 44 year old category, with 25% of them not seeing themselves as ever being financially secure enough to retire, although only 17% of 18 to 24 year olds, who technically have more time to start saving, agree. And countrywide, the outlook is bleakest in the West Midlands, 27%perhaps due to relatively high unemployment, compared to only 19% in London, where there are, theoretically, more jobs.

The main reason, of course, that we can't see ourselves retiring is because we can't afford to. Over a ⅓ of non retired adults; 34%; don't save a single penny towards retirement each month. Let's face it, it could be that when you've got bills and rent to pay, you're trying to feed yourself and your family, you've got to pay for your transport to work and you also want to have a social life, sparing a few pence, or pounds, for the future tends to slip far down the priority list… And women are guiltier of this than men, with 41% of non retired females not saving towards retirement, compared to 26% of men.

So who does manage to put a few pennies away for a rainy day? Interestingly, the survey found a correlation between retirement saving and choice of social media. Over ½ of people who use LinkedIn; which, let's face it, is a career focused network aimed at higher earning professionals; contribute 3% of their salary or more to their pension pot each month. This drops to 32% for those who use Facebook and Twitter; who, perhaps, tend to be younger and not as well established yet in their careers; and 29% for those who use Google+.

"It is clear from this research that many Brits are quite pessimistic when it comes to the future. It is also particularly concerning to see how many people aren't planning adequately for their retirement, although it is perhaps somewhat understandable given the slow economic recovery and poor returns on savings currently available. But with a growing number of alternatives to the established avenues for saving, there are still many ways in which consumers can get on top of things, and thus leave themselves in good shape by the time they reach traditional retirement age." commented Nick Harding, CEO and co-founder of Lending Works.