Wrong Jovi - Live at the Fox and Goose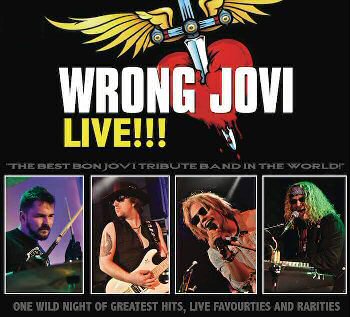 THE amazing Wrong Jovi will be appearing at the Fox and Goose, Cable street, Southport, on Saturday, 28 January 2017 (entry fee £5, pay on the door)

Are you ready for One Wild Night with the hottest tribute band on the planet? Wrong Jovi promise you exactly that. The band have been described as:- "the best Bon Jovi tribute band in the world" by Justin Lee Collins; a man who certainly knows his stuff as far as tribute acts are concerned, having filmed a documentary about some of the world's most esteemed tribute artists.

The praise doesn't stop there! Former Bon Jovi guitarist, Richie Sambora, has personally thanked the band for the work they do in ensuring the Bon Jovi legacy remains fresh and exciting today.

Despite a relatively short history, Wrong Jovi have planted themselves firmly onto the tribute circuit. A series of sell out shows at established and respected circuit venues such as MK11 (Milton Keynes), The Trogg Bar (Hull), Hertford Corn Exchange (Hertfordshire) and Club 85 (Hitchin) to name but a few helped make 2016 a year to remember for the band. News of the bands success soon reached the organisers of Tribfest; the biggest tribute festival in the world; who snapped the band up for a debut performance on the VIP Big Top stage in August 2016. The show was so successful that the band were invited on the October Tribfest Mini Cruise and booked in for a main stage appearance at Tribfest 2017. Venues across the country and beyond have been ensuring that they secure Wrong Jovi for a performance in 2017 as the ultimate tribute machine continues to gain momentum.

Wrong Jovi are fronted by the incredible Ally Ward, whose soaring lead vocals and enigmatic stage presence will transport the audience to the days when Jon Bon Jovi was the greatest frontman on the planet. Mark Harding provides the virtuosic fire and passion of Richie Sambora's superlative guitar and backing vocal skills. The role of David Bryan is taken on by keyboard wizard, Simon Tabert; a classically trained and highly experienced vocalist and pianist. The thunderous rhythm section of Tico Torres and Hugh McDonald is provided by Juan Manzanera (bass guitar and backing vocals) and Alex Sturgeon (drums) who not only sound the part but look it too.

A quick glance at a Wrong Jovi set list will show all of the greatest hits, from Livin' On A Prayer to Wanted Dead Or Alive, Always to You Give Love A Bad Name and Keep The Faith to Bad Medicine. However, not ones to rest on their laurels, the band provide live favourites such as Raise Your Hands, Born To Be My Baby and These Days to name but a few. Still want more??? OK!! To further ensure their glowing reputation remains intact, the band delve even deeper into the Bon Jovi catalogue with rarities such as This Ain't A Love Song, One Wild Night and Dry County ensuring that the die hard Jovi fanatics are pleased in a way that no other act can offer. With catalogue of songs spanning Bon Jovi's 35 year career, Wrong Jovi really do have something for everyone. Wrong Jovi are the youngest, freshest and hottest tribute to Bon Jovi and are constantly ensuring they better themselves with every show. The band transform venues and clubs into stadiums and arenas with the ultimate Bon Jovi live experience. A Wrong Jovi show is rivalled by none so make sure you do not miss out on your dose of the very best Bad Medicine in 2017 and beyond… Wrong Jovi are Wanted…Dead or Alive!

Local community join together to help write new 'Police and Crime Plan'
COMMUNITY members, local Council's, voluntary sector organisations, Police, health professionals and partners, from across the UK criminal justice sector, have all helped to develop the new 'Police and Crime Plan' for Lancashire area. The Police and Crime Commissioner's 2016; 2021 plan shapes the way Policing and Justice Services are delivered by setting out strategic objectives which the Chief Constable and his team, are required to deliver against. It also shapes the work in communities of community safety partners and those delivering Criminal Justice Services.

The 4 priorities in the Lancashire Plan are:-

► Protecting local Policing.
► Tackling crime and reoffending.
► Supporting vulnerable people and victims.
► Developing safe and confident communities.

Mr Grunshaw said:- "Our engagement in developing the new plan was really extensive. I met with literally hundreds of people representing partner organisations and 1,672 Lancashire residents also completed survey to make sure I understand the issues that matter to them most. Despite the huge pressures that our Police and partners are facing, I am confident that by working together we can keep Lancashire safe. We have had some excellent feedback from all those involved and as we plan ahead I am sure that combined with these priorities we will deliver the public's priorities."

Survey findings showed the following results when residents were asked to rank Policing issues as high, medium or low risk priorities.

In total 1672 public survey responses were received and most said tackling major crimes such as:- murder, rape and serious assaults (93.6%) were their highest priority, with protecting children from child sexual exploitation (88.7%) coming second. Counter terrorism/tackling serious organised crime (75%), and patrolling neighbourhoods with high crime rates (72.4%) also ranked highly.

Responding to non-emergency calls (12.5%) and patrolling areas with low levels of crime were only ranked high priority by a small number of people (10%) and were actually seen as more than half of respondents' lowest priorities when it came to crime themes.

Mr Grunshaw added:- "These figures show that residents were actively looking for a response to crime in their area and it's an excellent way of getting to know what they wanted to tackle. As we re-new the priorities I will continue to listen to those involved who are assisting to make a difference to Policing in their area."

Performance against the Police and crime plan is reported to the Police and Crime Panel at quarterly meetings and also feature in an annual report. You can read more about the Police and Crime Plan online.
Moorside quartet put best foot forward for children's charity
A group of running pals from Moorside Park in Crosby have been inspired to tackle the Virgin Money London Marathon in aid of UK wide children's charity, Action Medical Research. Jim Hicks, Elizabeth Van Duyvenbode, Chris Beasley and Sarah Brewster from Moorside Park Run Club will be joining the country's biggest race on Sunday, 23 April 2017, to raise funds to save and change the lives of sick and disabled babies and children. The running quartet is hoping to raise £4,500 with a string of fundraising events including, a race night, in March. "Being parents, and having friends and family with children, means that running and raising money for Action Medical Research was an easy choice for the 4 of us to make. Not only is our aim to raise as much money as possible, but we also want to inspire people to realise that anything is possible!" said a spokesperson for the event. For 65 years Action Medical Research has helped pioneer treatments and ways to prevent disease that have benefited millions of people in the UK and across the world. Research they've funded has helped to beat polio in the UK, develop ultrasound in pregnancy, fight meningitis and prevent stillbirths. Action Medical Research is currently funding research into meningitis, Down syndrome, epilepsy and premature birth, as well as some rare and distressing conditions that severely affect children. If you'd like to run for a reason and raise funds for Action Medical Research, or you're interested in a place in the world's greatest and best known events and races, head to:- Action.Org.UK/Events/Running. To support the team's fundraising, please visit:- Action.Org.UK/Sponsor/Moorside4Action.