The search is on for Wirral's tourism stars
NOMINATIONS are now open for the annual Wirral Tourism Awards, which celebrate all that is great about the borough's visitor attractions. Now in its 11th year, the Wirral Tourism Awards recognise and reward the outstanding contributions made by local individuals, groups and businesses in this important and growing business sector. The industry contributes £385 million a year to the local economy, attracting more than 8 million visitors and supporting more than 5,000 full time jobs. This year's awards culminate with a glittering gala dinner at The Floral Pavilion in New Brighton on Wednesday 12 April 2017. Cllr Tony Jones, Wirral Council's Tourism Champion, said:- "The Tourism Awards are a great way to celebrate the many individuals, groups and businesses that have helped to make Wirral's visitor economy the fastest growing in the Liverpool city region. As a key economic driver for the Wirral 2020 Plan, it is vital that we continue to develop and promote our tourism offer and to shout about its fantastic assets from the rooftops."

Nominations are being invited in the following award categories:-

► Tourism Star.
► Bar of the Year.
► People's Choice.
► Bed and Breakfast of the Year.
► Volunteer Team of the Year.
► Hotel of the Year.
► Taste Wirral.
► Attraction of the Year.
► Event of the Year.
► Independent Business of the Year.
► Sustainable Tourism Award.
► Hidden Gem.

The People's Choice category will be judged on nominations from the public, including customers and visitors.
For all other categories, organisations are invited to nominate themselves or their own staff.

Two further awards will be presented on the night; Young Chef of the Year, which is awarded by Wirral Metropolitan College and Wirral Tourism Ambassador, who is identified by the Tourism sector in recognition of an outstanding contribution to tourism in Wirral by an individual, team or business.

Each category is kindly supported by the region's business community and this year they include:- Contessa Hotels, Ness Botanic Gardens, Printfine Limited, Woods Squared Limited, Wirral Chamber of Commerce and Wirral Metropolitan College.

The deadline for nominations is Monday, 1 March 2017. After that, a panel of judges will review entries and draw up a shortlist, which will usually be no more than 3. Those shortlisted will be considered by an independent expert category judge who will choose the winner.

The Wirral Tourism Ambassador is someone who has shown dedication and commitment to service excellence in the tourism, leisure and hospitality industry over a period of several years. They will have gained industry respect locally and perhaps further afield.

To make a nomination in any of the categories, go to online now! You can also keep up to date by following then on Twitter:- @visit_wirral.

You're never too old to care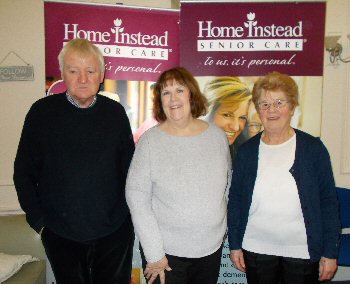 JOYCE Kelly (80) and Peter Dooley (74), caregivers at Home Instead Senior Care in Southport, Formby and Crosby are wonderful examples of 'older' people who say that caregiving is:- "perfect for people our age!" As caregivers for the company, Joyce and Peter visit their elderly clients regularly, helping them with their shopping, cooking, and other daily routines, assisting them to remain living independently in their own homes. They also provide them with the companionship that elderly people so often need. Joyce and Peter are part of a new generation of workers who are starting new careers when they would traditionally be thinking about putting their feet up.

Joyce Kelly from Southport has been a caregiver for 3 years. Previously, Joyce worked in a nursing home, but it closed down and when she saw that Home Instead were looking for caregivers, she applied and was invited for an interview. Since being hired 3 years ago, she has loved every minute of it and has never looked back!

Peter Dooley from Formby has been a caregiver for 10 years and has worked with some amazing clients. His favourite story to tell is when he was supporting a retired footballer. He said:- "I would take this gentleman out to run a few errands and people would assume I was a footballer, too, and ask me for my autograph! I also used to work with a retired professor who was writing a book. I helped him to get it published by typing up the manuscripts for the book. I really enjoyed helping him, not only at home with his daily routines, but also with his work it was very special to be part of his project."

Irene Hough, owner of Home Instead in in Southport, Formby and Crosby also commented. She said:- "We are so lucky to have Joyce and Peter as a caregivers. They are truly an inspiration, and everyone who meets them just loves them! They are both 100% client focused and are proof that the over 50's are a highly effective care resource. We match our caregivers to clients and many of our clients would like to be cared for by someone closer to their own age. They also have the life skills to understand the issues faced by those in need of care. It's why we already employ many people who are over 50's. Much of the work in the sector is part time so is ideal for anyone looking to do a few hours to a few days' work each week."

For more information on working with Home Instead Senior Care, contact the Office on:- 01704 547938 or at:- Homeinstead.Co.UK.