Cirque Du Soleil - Varekai - 'Tales Of The Forest'
Photographs by Jo Forrest.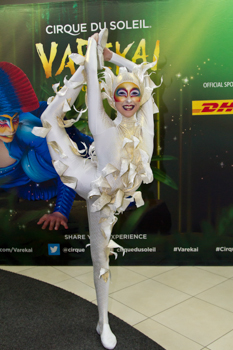 SADLY this show is not stopping this time in either Liverpool or Manchester, but the nearest stop is set to be showing at the First Direct Arena, in Leeds 22 Feb 2017, so make note ladies and gentlemen... This show is not to be missed!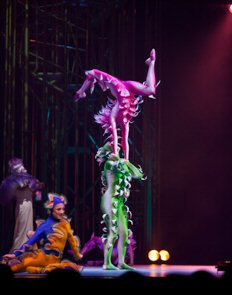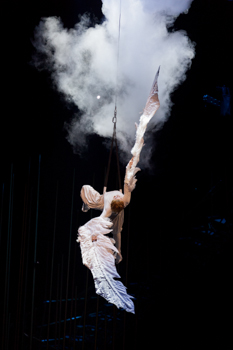 Set in a magical forest this show explores a kaleidoscopic world imbued with fantastical creatures, a young man takes flight in an adventure both absurd and extraordinary. On this day at the edge of time, in this place of pure and undiluted possibility, begins an inspired incantation to a life rediscovered and to a newly found wonder in the mysteries of the world and the mind.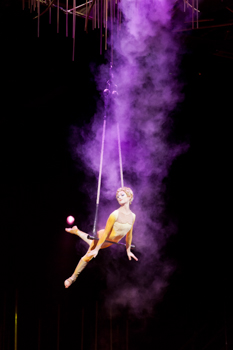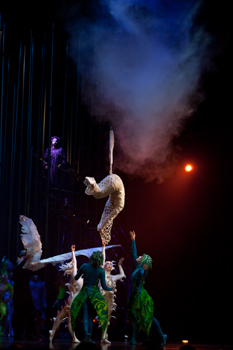 Directed by Dominic Champagne, this production pays tribute to the nomadic soul, to the spirit and art of the circus tradition, and to those who quest with infinite passion along the path that leads to Varekai.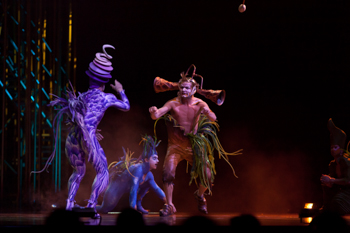 Jo Forrest had the honour of attending the Sheffield Arena, on the 1st night, to see this enchanting show, put on by this world class arena and theatre circus entertainment company, from Canadian. The Cirque du Soleil troupe will be performing at this venue until 5 February 2017. Even if you have to travel to see them, you will not be disappointed. Also check out their official website to see all the venues and dates for 2017...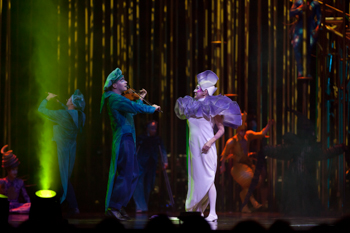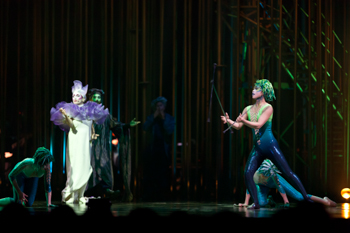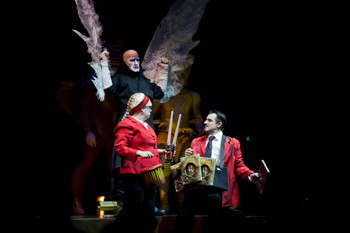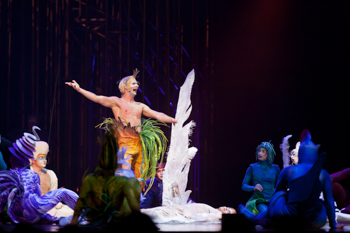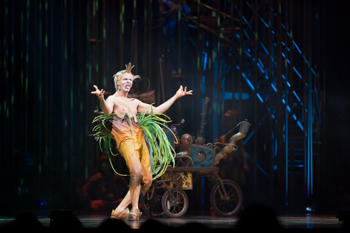 Merseyside Police and its partners are urging the public to join to stop fun crime
MERSEYSIDE Police and its partners are urging the public to join them in taking a united stand against gun crime by sharing information about where firearms are being hidden and who is using them. The force is vowing to act on every piece of information shared by the public as it relentlessly pursues and brings to justice the criminals who are bringing fear and violence to communities where decent, law abiding people live. The call to action is being made in partnership with independent charity Crimestoppers and is supported by the Police and Crime Commissioner Jane Kennedy, political leaders, local authorties and social housing providers. It follows 2 fatal shootings in Liverpool in less than a week, in which 44 year old Thomas Baker was targeted outside the Phoenix Gym, in Old Swan, and a 26 yea old man was shot and killed, in Wavertree. Despite a rise in firearms discharges this year, the force has driven down gun crime in the previous three and senior Officers believe information from the public has been crucial in achieving these reductions.

Assistant Chief Constable Nikki Holland, who leads the force's Matrix Serious Organised Crime unit, said:- "This is the second fatal shooting in a week and the fourth this year meaning that four families have lost a loved one and four communities have seen violence on their streets. This is unacceptable. It must stop and the people of Merseyside have my absolute assurance that the Police and every agency we work with are doing everything possible to tackle the problem of gun and gang crime. Between April 2013 and April last year we achieved significant reductions in firearms discharges and there is no doubt in our minds that this would not have been possible without the information we received from the public about where firearms are being stored and who is involved in them. Much of this information was reported to Crimestoppers, which is an independent charity completely separate from the Police. Information can be given completely anonymously and no one who calls will ever be asked for their name or other personal details. In light of this year's increase in firearm discharges and the two recent murders we are calling on the decent, law-abiding members of our communities to make a stand with us and keep sharing this vital information with Crimestoppers so that we can take action. We can only take guns off our streets, put criminals behind bars and make communities safer if we unite to tackle this problem together."

Wavertree MP Luciana Berger added:- "My 1st thoughts are with the families of the victims. We should always have in the forefront of our minds the reality of the human tragedy caused by fatal incidents of this nature. I am in close communication with Merseyside Police who are working night and day to combat gun crime across our City - but one thing is clear, the Police can't do this alone. We as a community need to work together to help end this violence on our streets. I urge anybody who has any information they think may be useful to call the Police on:- 0800 230 0600 or Crimestoppers anonymously on:- 0800 555 111"

And Liverpool Mayor, Joe Anderson, said:- "Gun crime creates fear in our communities and we are working hard with Merseyside Police and other partners to identify those responsible and help bring them to justice. But we can't act by ourselves and we need the support of local residents in gathering evidence. I would appeal to anyone who has information to let Crimestoppers know and they can be assured that the information they give is in complete confidence. By coming together as a City we can send out a powerful message to the perpetrators that they will be found and they will be punished."

This force has been working with a number of partner agencies to target those involved in serious organised crime. In dawn raids Officers executed 3 warrants at addresses in Speke and arrested a 24 year old woman, on suspicion of possessing cannabis, with intent to supply. Large quantities of cash and drugs were also seized as part of the operation to disrupt and reduce serious organised crime in the area. Throughout the day, other operational activity has been taking place, which included:-

► An open land search in Croxteth Hall Country Park.
► A roadside operation aimed at disrupting criminals using our roads.
► High visibility patrols by Officers and PCSOs from local policing teams who will be on hand to reassure members of the local community and answer any queries they may have.

In Speke Officers, partners and local Councillors worked together to provide reassurance to the public and encourage them to report information about drug dealing and illegal motorbikes to Crimestoppers. More than 25 scrambler bikes have been seized in the in the past few months thanks to community information and Officers will continue to target the illegal use of motorbikes as often offenders involved in serious organised crime are using them as their vehicle of choice. A public space protection order has also been put in place in Speke for three years which allows the Council to deal with:- "a particular nuisance or problem that is detrimental to the local community's quality of life" and failure to comply can result in a fine of £1000. Working alongside partners, including Liverpool City Council, Liverpool Housing Trust (LHT), South Liverpool Homes, Youth Services and local Councillors the force has also co-ordinated a range of supplementary action and initiatives aimed at improving the local area and engaging with the community, whilst targeting those believed to be involved in gun and gang crime. Day to day activity currently taking place has involved partners from Liverpool Council, Sefton Council, Knowsley Council, Liverpool Housing Trust (LHT), South Liverpool Homes (SLH) and One Vision Housing. The registered housing providers in Speke have also been working hard to tackle anti social behaviour and crime perpetrated by tenants. Working jointly with the Police, activity has ranged from visits to tenants, the issuing of warnings to take them to court, and in some cases eviction. In the last year 200 warnings have been issued by South Liverpool Homes (SLH), they have also obtained 13 injunctions, issued seven notices of possession, possessed three properties where tenants were causing misery to neighbouring residents and secured three custodial sentences for residents who have breached injunctions obtained by SLH. The Police also secured gang injunctions, in relation to serious organised crime, on seven men in May last year and those gang injunctions are still in place. If any of these individuals breach the injunction they will be returned to court immediately and could face a custodial sentence.

Following yesterday's activity Mandy Ryan, Neighbourhood Team Leader at LHT, said:- "We were delighted to take part in the walkabout alongside Merseyside Police, Liverpool City Council and other partners. It was a great way of reaching out to some of our local residents, finding out about their concerns and reassuring them that action is being taken. The event was also a great example of how, when partners work together, we can share our knowledge and resources to improve community safety and make our neighbourhoods a better place to live."

Julie Marsh, Head of Neighbourhood Management at SLH said:- "Targeted action like this, which encourages all relevant agencies to get involved, is the most successful way to tackle anti social behaviour in our communities. Only by working together can we make a real stand against this type of behaviour; giving out a strong message to residents that we are doing everything we can to ensure they feel safe in their home and community."

Liverpool Community Chief Inspector Clare Jenkins:- "We are committed to disrupting criminal activity and showing the many decent people, who live in areas where gun and gang crime has been an issue, that we are there for them. Information from our communities is vital in helping us to build up evidence and take robust action against those who are causing misery on our streets through fear and intimidation and the use of firearms. There have been a number of firearms incidents in this area and we are determined to send out a message to those involved in gun crime that we will work hard to build up an evidential picture and we will arrest you and put you before the courts. It may take time to build up that evidence, but we will not rest until those involved in gun crime are brought to justice."

Det Supt Richie Davies, who is leading the force wide gun crime operation, said:- "Sadly, this year we have seen an increase in firearms discharges and to date there have been 79 firearm discharges on Merseyside, which includes the murders of Mark Hillman in April, Blake Brown in October, Tommy Baker last Friday and the 26 year old victim last night. 27 of those discharges resulted in injuries and most of the time the disputes are linked to serious and organised crime and the victims won't co-operate with the Police. As a result of our Policing activity we saw a decrease in firearms incidents year on year between April 2013 and April 2016 and I believe this was down to the fact that through our proactively we had taken a number of firearms out of circulation. What concerns me this year is the re-emergence of the use of firearms and the access of serious organised crime groups to firearms. But my message to those involved in gun crime is clear; Merseyside Police is steadfast in its commitment to tackling gun crime and we will never rest on our laurels, we are relentless in our pursuit of those involved in gun and serious organised crime. Throughout the last decade we have worked hard to reduce gun crime, on Merseyside and in 2016 we saw the result of that hard work with the lowest number of discharges that Merseyside had seen for more than a decade. Merseyside Police is not prepared to see that hard work undone and reducing gun crime on Merseyside is the priority for the force. However, we can't do this alone. The reductions we saw in firearms discharges between 2013 (there were 133 firearms discharged during this financial year) and 2016 would not have been possible without the information we received from members of the public. It is vital that members of our communities come forward with information, so we can make those communities safer for the decent, law abiding people who live in areas affected by gun crime. Where people are willing to support the Police we will ensure that every possible avenue is progressed to protect them. And if you don't feel comfortable coming directly to the Police call the independent, anonymous, Crimestoppers hotline free of charge on:- 0800 555 111, we need to know who is involved in gun crime and where those guns are being stored."

Merseyside Police and Crime Commissioner, Jane Kennedy, said:- "I thank the public for the support they are already giving to the Police investigations. The violence being perpetrated on our streets is completely unacceptable. There is a serious risk to innocent bystanders. Those who take up a gun face the unrelenting resistance of the public and the determined pursuit of Merseyside Police. They will be brought to justice. Anyone who knows anything about violent incidents should give their knowledge to the Police. If you feel intimidated, call Crimestoppers on:- 0800 555 111. They don't want to know who you are, but they will share what you know with the Police."