The 1st Auditions for Miss/Mr Liverpool 2017/18 are starting soon...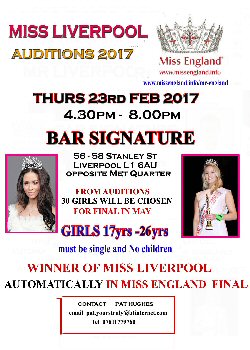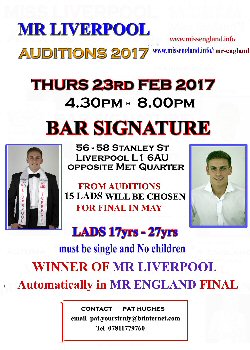 MISS England is not just a beauty contest, we are proud to be different. It has been the pageants objective to move away from the traditional style of a bathing beauty parade from years ago. Contestants who reach the final of Miss England final are invited t o take part in an exciting Eco style fashion show where they source and Make an outfit from recycled material... However to help contestants, in Miss Liverpool, contest with this round the fashion students at Community College work on a 1-2-1 with contestants So together they design, but student makes. The outfits are amazing Miss England contestants also have to participate in a sports round, a talent round and involve themselves in charity fund raising. The Mr contestants do sports and talent and fundraising... Last year contestants raised ₤3286 for Zoes Baby Hospice.

30 girls will be chosen from auditions, to go into Miss Liverpool Final Friday, 19 May 2017. 15 Lads will be chosen from auditions, to go into Mr Liverpool Final, also on Friday, 19 May 2017. It is worth noting that both winners from Miss Liverpool and Mr Liverpool automatically into the Miss and Mr England final, in July 2017. Other audition dates to be announced, in Liverpool and Formby areas. Keep an eye on Southport Reporter for more information.
Our present Mr England, Chris Bramell, who is also the current Mr Liverpool. Chris, after gaining the title Mr England went on to come 4th in Mr World, gaining him the titles of Mr UK and Mr Europe! So the help us fight to retain the title for our area!
Its worth noting that the current Miss England is from Preston, so lets see if we can get the title to stay in the North West, but most importantly, get it to come to Liverpool!
For more information about Mr World and Miss World, as well as Miss England, visit:- MissEngland.Info.

Scores on the doors - nearly 9,000 businesses warned to get ready for new food hygiene legislation
44% of customers could physically turn away from the front doors of nearly 9,000 businesses including restaurants, fast food eateries, cafés and shops in the North West when food businesses in England are legally required to display their food hygiene ratings, according to research by commercial insurer NFU Mutual.

The NFU Mutual Food Hygiene Ratings Report, assesses customer attitudes, public support for new legislation and its potential impact. It reveals that 44% of people would turn away from even their favourite place to eat if a food hygiene rating of less than 4 out of 5 was on display. According to the Food Standards Agency, 8,903 businesses in the North West have a rating of 3 or less, and therefore could be affected.

Commenting on the report, Darren Seward, Hospitality Sector Specialist at NFU Mutual, said:- "Our report shows that when it comes to food safety customers have naturally high standards and that a 'good' score can no longer be seen as an aspiration but a minimum benchmark."

More than 84% of businesses in the North West that serve or sell food have a food hygiene rating of 4 (good) or 5 (very good).

Darren continued:- "It's fantastic to see that 84% of food outlets in the North West have a rating of good or very good and the industry as a whole is taking real pride in food hygiene, but imminent compulsory displays are destined to be a game changer for those businesses struggling to reach the top grades. In advance of legislation changes all business owners should prioritise their food hygiene plans and processes, acting now to ensure that they have considered all hygiene and paperwork aspects rated by their local authority including cleanliness, structure and confidence in management, to ensure a continued rating of 4 or 5 for the day an inspector calls. Our free NFU Mutual Food Hygiene Ratings Report contains advice to help businesses achieve a top rating."

Wales and Northern Ireland have already subscribed to mandatory display of food hygiene ratings schemes, with new legislation set to come into force in England, by 20194, and a comparable Scottish scheme likely to follow suit. Mandatory display means any outlet that serves or sells food must display its score in a prominent place such as the front door or window.

Running in Wales since 2013, a mandatory ratings display scheme has been hailed by its Deputy Health Minister as a big success story, helping to drive up industry standards; so much so that the number of businesses with the highest rating of 5, 'very good', has risen to 60.8%, in November 2016, from 45% prior to the legislation coming into force.

The NFU Mutual report found that a law for compulsory display of rating stickers in England and Scotland has gained the support of consumers, with 88% in favour and 66% strongly so.

To request a free PDF copy of the full report online.