11 arrests as suspected illicit tobacco factory is dismantled

11 men have been arrested as a suspected illicit tobacco factory was dismantled in North West England by HM Revenue and Customs (HMRC). The arrests were made in 17 simultaneous searches across North West of England and Scotland. HMRC found residential premises, farms, self storage sites and a disused public house were being used to store and process tobacco, in a suspected £12 million tobacco tax evasion plot.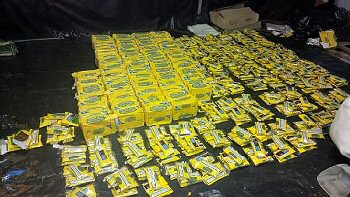 During the operation tobacco was found in various stages of processing. HMRC seized approximately 20 tonnes of tobacco, more than £50,000 in cash, counterfeit packaging, shredding, cutting and drying machinery plus other tobacco making paraphernalia. HMRC used tobacco detection dogs in the searches and were assisted by Police and Home Office Immigration Services.

Tony Capon, Assistant Director, Fraud Investigation Service, HMRC, said:- "Tobacco fraud is a highly organised global crime which costs the UK £2.4 billion a year in lost taxes. In addition to significant revenue loss, illicit tobacco products damage legitimate businesses and the trade is unregulated making cheaper tobacco more readily available to the young and vulnerable. We are determined to disrupt the manufacture and distribution of illicit tobacco across the UK and will continue to work with other enforcement agencies to stamp it out. Anyone with information about the smuggling or illegal sale of tobacco and cigarettes can report it by calling our 24 hour Hotline on:- 0800 59 5000."

Those arrested have been interviewed and bailed until August 2017 and investigations into the seizures is still ongoing.

Arrests in Crosby following crackdown on vehicle crime
ON Thursday, 16 February 2017, Merseyside Police Officers were called to a report of males trying car doors in Alexandra Road before being seen to walk off towards Vermont Road, at around 2am. 2 men were detained nearby and it was found that insecure vehicles had been subject to searches, although nothing was stolen. It lead to a male, aged 21, from Bootle, along with a 21 year old male, of no fixed abode. Both had been arrested on suspicion of theft of a motor vehicle. In a separate incident, at around 1am, on Tuesday, 14 February 2017, Officers carrying out patrols in the Spinney Crescent area stopped 3 males acting suspiciously in the area. Cannabis and a screwdriver was found and the males were detained. As a result a 20 year old of no fixed abode was arrested on suspicion possession of cannabis, handling stolen goods and going equipped for theft. He has been recalled to prison for breach of licence and further enquiries will be carried out into the theft matters. A 16 year old boy and a 17 year old boy, both from Seaforth, were both arrested on suspicion of going equipped for theft and theft. They have been released pending further enquiries. Local Policing Sergeant John Coote said:- "These arrests follow ongoing proactive work targeting such offences in Crosby but they should also serve as a reminder to residents to keep any vehicles secure at all times and to keep any valuables out of sight. Our patrols will continue, but residents can carry out their own checks to make their vehicles as secure as possible. Most vehicle crime is preventable. It can take as little as 10 seconds for a thief to steal your car or something from your car." Anyone with information on vehicle crime can speak to their local Officers, call:- 101 or Crimestoppers, anonymously and for free, on:- 0800 555 111.
Man arrested at airport on suspicion of firearm possession at airport
MERSEYSIDE Police Detectives arrested a man following an investigation into a firearm that had been recovered in 2016, in Huyton. We are told that a 20 year old male was arrested at Liverpool John Lennon Airport, on Tuesday, 14 February 2017, on suspicion of firearm possession. It is believed that this arrest is in relation to an ongoing investigation that was launched following a stop checked in a taxi on Childwall Valley Road, Belle Vale. Tat stop on Monday, 21 November 2016 lead to the arrest of Dean Morgan (38), who found in possession of drugs. That arrest and further enquiries led to warrants being executed at addresses in Topsham Road and Reeds Road in Huyton, and the recovery of further packages of heroin and a hydraulic press from Topsham Road, and a self loading Baikal pistol and ammunition from Reeds Road. On Friday, 10 February 2017, Dean Morgan along with Daniel Kewley (32), were both sentenced at Liverpool Crown Court, in relation to these matters. Daniel Kewley was sentenced to 7 years and 4 months imprisonment for possession of heroin with intent to supply and money laundering. Dean Morgan was sentenced to 13 years imprisonment for possession of heroin with intent to supply, money laundering and possession of a firearm. We now await more information in connection to this latest arrest.