Liverpool's Penny Lane neighbourhood in 1960's looked at in new book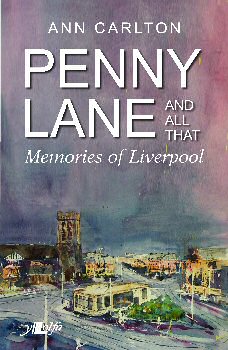 PENNY Lane and All That by Ann Carlton, published this week, is a celebration of growing up in Liverpool's Penny Lane neighbourhood, during the same era as the Beatles and Quarrymen.

Ann grew up at Penny Lane during the 1940's and 1950's. Her father, the late Sir Stanley Holmes, rose from poverty to become Liverpool's Town Clerk and later Chief Executive of the short lived Merseyside County Council. This background gave her unique insights into both poverty and affluence in the City at the time.

From 1st hand experience she describes the Penny Lane area itself, the squalor of the City's slums and attempts to clear them, the treatment of needy children and unmarried mothers, stays in early NHS hospitals including Alder Hey, the glamour of civic events and the cultural diversity of the City. "To be born and grow up in Liverpool is something special. It can provide you with a sense of humour as well as a dogged determination to fight for fairness and justice. I hope this book gives a sense of that and perhaps of the reasons why the City is so special." said Ann.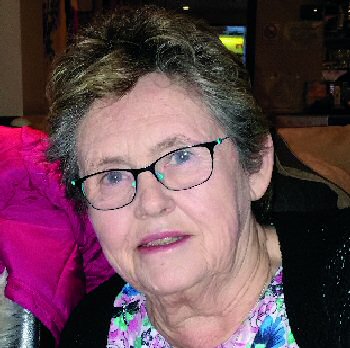 Ann also mentions the redevelopment that took place in central Liverpool during the 60's and her experience of eating in the revolving restaurant which was then at the top of St Johns Beacon.

She points out that:- "Liverpool was multicultural before that term was invented' and describes her own Welsh heritage which included visits to concerts given in the Philharmonic Hall by the Liverpool Welsh Choral and conducted by the great conductor Sir Malcolm Sargent. Another source of the City's strength comes from the local people's awareness of their togetherness. If you belong to Liverpool, you belong to Liverpool with other people' explained Ann, 'Liverpudlians tend to stick together and fight for justice. The Sun newspaper found this out in the wake of the 1989 Hillsborough disaster, when it made false allegations against Liverpool football supporters. Liverpool, as a City, showed what its people thought of that newspaper and its then editor Kelvin MacKenzie when, en masse, they refused to buy the paper."

After studying sociology at the London School of Economics, Ann had a career in politics and journalism. She was one of the 1st UK Government Special Advisers and, for a time, a Western Mail columnist. She lives with her husband, Denzil Davies, in Pembrey, Carmarthenshire; a seaside village in her husband's former constituency.

"It is not by chance that Liverpool Football Club has as its anthem the song:- 'You'll Never Walk Alone.' That song is a reflection of a City's sense of community and Liverpudlians' concern for 1 another. Laughter, compassion, a love for other human beings and a vibrant cultural life unite the City of Liverpool. This book is a reflection of that attitude, as I experienced it while growing up in that very special City, during and soon after the 2nd World War." says Ann.

Penny Lane And All That by Ann Carlton (£9.99, Y Lolfa) is available now.

Text service reminds patients of cost of missed appointments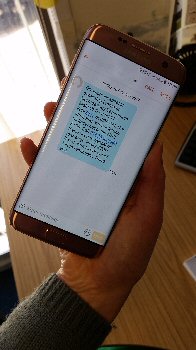 Hospital patients are being told missing a Hospital appointment costs the NHS £100 each time in new text reminder service. Southport and Ormskirk Hospitals have launched the service to help patients get to their appointments on time. Text reminders are sent 1 week ahead of an appointment and again 48 hours before. The text gives the date, time and place of the appointment and a contact number to call if the patient needs to cancel or rearrange.

Therese Patten, Chief Operating Officer, said:- "Text reminders are a proven method of reducing the number of missed appointments, especially when they highlight the cost to the NHS. We know there are many reasons why people cannot attend appointments. All we ask is that patients let us know if they unable to attend."

Patients unable to attend an appointment should let the Hospital know as soon as possible so another patient can be given the slot. Appointments can be rearranged by calling:- 01695 656680.

Mobile telephone numbers will be used by the Trust only. They will not be passed to other parties. All personal information will be kept in line with the Data Protection Act and the Department of Health record retention guidance.
Mental Health Unit knits for charity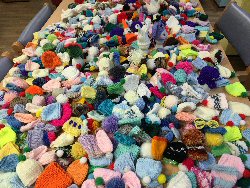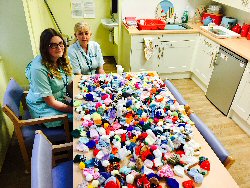 STAFF and patients based at Wirral's NHS Mental Health Unit, Springview, have knitted an astonishing 532 mini hats for an Age UK charity initiative. Led by Cheshire and Wirral Partnership NHS Foundation Trust (CWP) Occupational Therapy Assistant Leah Russell, the Springview team have been knitting since October to achieve their incredible total. All the hats will be sent to soft drink giants Innocent, who will in turn donate 25p per item to Age UK as part of their Big Knit campaign.

Leah said:- "We've had a wonderful response from everyone at Springview in support of this great cause, and it has given our patients a real increase in their self esteem. We have also welcomed involvement from community groups based in libraries and a nearby local café. It has been a great talking point both around the Hospital and in the community."

Sim Viney, Brand Manager at Innocent, said:- "It's the people behind the Big Knit that make it such an amazing campaign. Year after year thousands of people knit us little hats that we sell on our smoothies to help keep older people warm and well in winter. The team at Springview should be really proud."

Springview is CWP's Mental Health Inpatient Unit, based at Clatterbridge Health Park, Wirral. It comprises of 2 acute mental health wards for adults of working age, an older people's mental health ward, an Eating Disorders Ward and a Psychiatric Intensive Care Unit. For more information about CWP visit website.
Can you help find the next of kin of Mr McNally?
THE Liverpool Coroner's Office has issued an appeal to trace the next of kin, of Peter McNally, who was from Bootle. We are told that he was aged 99 and that he had died at home, on Wednesday, 8 February 2017. It's believed Mr McNally may have a sister who lives within the Liverpool area. Anyone who can help the coroner identify and trace his next of kin should call:- 0151 777 3481 or send them an email. We can also confirm that Merseyside Police have reported to us that there are no suspicious circumstances surrounding his death.