Unlicensed landlord fined almost ₤10,000 by a District Judge
LIVERPOOL'S Landlord Licensing Scheme aims to drive up standards in the private rented sector, and action is now being taken against those who are refusing to sign up. Landlords have to meet a variety of conditions around fire, electric and gas safety rectifying disrepair issues, tackling pest infestations, keeping the exterior in a good state of repair and dealing with complaints about anti social behaviour caused by tenants. At Liverpool Magistrates Court on 23 February, Joseph McKeever, from Liverpool, was fined after being convicted of offences relating to 2 properties he was privately renting in the City. Mr McKeever had not attended an earlier hearing on 9 February 2017, when he had been convicted in his absence of failing to licence 2 properties he was privately renting in Redbrook Street, in Anfield and Haven Road, in Fazakerley, which is an offence under the Housing Act 2004. He was also convicted of failing to respond to 2 legal notices sent to him asking for information under the Local Government (Miscellaneous Provisions) Act 1976. Mr McKeever, who failed to attend court for sentencing, was fined ₤2,000 per offence for failing to licence the properties and ₤2,500 per offence for failing to comply with the legal notice. He was also ordered to pay a victim surcharge of ₤170 and pay the City council costs of ₤776.46; a total of ₤9946.46. The prosecution brings to 10 the number of landlords who have been prosecuted so far, with fines totalling ₤27,000.

Cabinet Member for housing, Councillor Frank Hont, said:- "This is the latest in a series of enforcement action we are taking against those landlords who failed to come on board and apply for licences when the scheme was introduced in 2015. A large proportion of landlords have willingly signed up for the scheme and are working positively with us, which is why it is not fair on them that some are wilfully ignoring the law. Mr McKeever's failure to work with us is now costing him dear and a lot more than the few hundred pounds it would have cost him had he applied for the 2 licences in the 1st place. Our message to those landlords that haven't signed up is that you are committing a criminal offence and if you don't engage you will get a big bill in Court."

In sentencing District Judge Shaw commented on the fact that the properties had been rented by McKeever since at least 2013, and that he was in receipt of public funds in the form of housing benefit for the properties. Around 8,000 landlords responsible for more than 44,000 properties are already engaged with the Landlord Licensing scheme. Current and prospective tenants can access a database online to see if their landlord has started the application process. Landlord licensing has the backing of campaign groups including Shelter and Generation Rent.
2 charged following burglary and theft in Formby
MERSEYSIDE Police can confirm 2 males have been charged with burglary, theft, theft shop and common assault following an incident that took place on Thursday, 23 February 2017. We are told that the incident yook place in the early hours of Thursday, 23 February 2017. Merseyside Police Officers received a report of a burglary, at an address in Coniston Road, Formby, whereby camera equipment, and numerous credit cards were stolen. The cards were then used to withdraw cash, from an ATM, within the Formby area. Then at around 9.30am, on 23 February 2017, a theft took place at Pound Lane, The Strand and Officers detained 2 men. Officers discovered the 2 men in possession of the stolen credit cards, from the earlier burglary. Alan Rimmer, 57 years of Kipling Street, Bootle and David Keating, 41 years of Cookson Road, Seaforth appeared at South Sefton Magistrates court, on 24 February 2017. Keating was remanded in custody and Rimmer bailed with conditions, to appear at South Sefton Magistrates Court on 14 April 2017.

Puppy in training to help children with learning disabilities and autism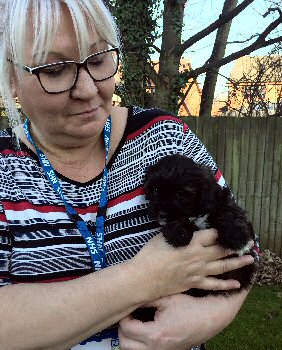 AS part of a novel initiative to provide support to young children with learning disabilities, health professionals at Lancashire Care are welcoming a new member to their team: a Shoodle called Ebony.

Ebony, who is 12 weeks old, is being trained to be a therapy dog by members of the Learning Disability and Complex Needs Team at Lancashire Care NHS Foundation Trust. Therapy dogs are particularly valuable in supporting language and communication, reducing anxiety, and helping with depression, emotional regulation, selective mutism and dog phobias.

Zoe Yurek, Senior Learning Disability and Complex Needs Practitioner at Lancashire Care NHS Foundation Trust, said:- "We are excited by this new addition to our team and we really hope to be creative with how Ebony provides support. A friend and neighbour had a litter of puppies and when I would visit her, I'd always be drawn to the same little puppy. No matter how stressed I was, all my worries would just melt away after stroking Ebony for a few minutes. She was the smallest of the litter, the runt, but to me she was simply adorable and perfect. I have already got a dog, a Westie called Skye, so it wasn't my intention to get another, but Ebony was just too irresistible. Then it suddenly occurred to me that Ebony could be the new Therapy Dog for our team. She will have some big paws to fill and I really hope she has a long career with us."

Tracey Hartley Smith, Team Leader for the Learning Disability and Complex Needs Team, said:- "We all love a little dog and Ebony is just so irresistible. There is an emerging evidence base to indicate that pet therapy is a low tech, low cost therapy that improves mood and is meaningful to Hospital and community patients. It is, therefore, an exciting development for our team which will be implemented with full consideration of health and safety and with established contracts between practitioners, the young people and their families and Ebony herself."

Ebony is a Shoodle, whereby her mum is a Shih Tzu and her dad a Toy Poodle. The team previously had a dog who was PAT (Pets As Therapy) certified and provided valuable support to a young boy with autism to overcome his phobia of dogs, which proved successful in helping him overcome the condition.