Clock in for the 2017 Prescot Festival
FESTIVAL planners in the historic Lancashire Town of Prescot, Merseyside, have announced the line up for their 13th year.

Leyland Brass Band, Chilled Lemons Jazz Quartet, Phoenix Concert Orchestra and Liverpool Metropolitan Cathedral Girl Choristers are among the musical acts on the 10 day programme this June.

The clock turns back 4 decades for a repeat screening of Whiston born playwright Willy Russell's comedy drama 'Our Day Out'. The classic BBC's 'Play for Today' celebrates its 40th Anniversary this year.

In keeping with the theme, the Clock Face pub hosts Clockfest a medley of local musical talent and the theme of this year's Short Story Competition, offering a ₤100 grand prize, is 'Clocking Off.'

Other highlights include a return visit from internationally renowned organist Professor Dr Ian Tracey, a 'Come and Sing' performance of John Rutter's choral 'Magnificat', and a 'Proms' style finale featuring a prestigious musical ensemble to be confirmed soon.

"We're beyond proud to be delivering an unrivalled programme of top quality arts and music for yet another year. As usual, our focus is on making creative, inspiring experiences accessible and affordable to everyone in the community. Whether you like an orchestra or an acoustic band, there'll be something for you and perhaps something a bit different to try out, too." said artistic director Dr Robert Howard.

The 13th Annual Prescot Festival of Music and the Arts runs from Friday, 16 June 2017 to Sunday, 25 June 2017. Full programme information, including information on how to participate in the Come and Sing or enter the Short Story Competition, is at the official website.
Merseyside landmarks 'among the UK's best loved free attractions'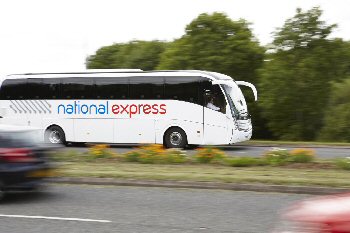 A duo of local landmarks have been voted among the most popular visitor attractions in England. The Museum of Liverpool and 'Another Place' by Anthony Gormley on Crosby beach are counted among the nation's favourite free visitor attractions in a survey of a thousand people undertaken by National Express. The museum is in at number 25 while the stunning sculptures are in at number 28. The list, which was compiled by the UK's largest coach operator was put together to help inspire people to have fun for free ahead of the half-term holidays.

National Express Managing Director Chris Hardy said:- "It can be expensive keeping kids entertained over half term do so we've pulled together a list showing people how they can make the most of the holidays for free. There's no end of incredible sights to soak up in Merseyside for free but we hope our list inspires people to visit somewhere new".

National Express runs coaches all over the UK, including the major airports, allowing people to enjoy Britain and beyond affordably. Ticket prices start at ₤5. To book tickets visit:- online.
The North West's over 55's face a bleak retirement and say it's too late to make things better
HALEbased property crowd funding platform, The House Crowd, has found that 78% of the North West's over 55's report that they are financially unprepared for their retirement. A 'lost generation' of those nearing the end of their working lives are facing a bleak retirement, with new data from The House Crowd showing:-

► 34% say their hopes for a financially secure retirement are no longer possible.

► 37% say their lifestyle will be worse once they retire; just 13% think it will improve.

► 22% say it's too late to change their plans and save more for their retirement.

The survey of Baby Boomers across the UK revealed that over 55's know that their plans for retirement are inadequate, yet feel they are powerless to change their fate:-

► 20% blame the Government for not being able to save for retirement.

► On average, those surveyed said they'd like their annual income to be ₤18,235 once retired; but think in reality they will only receive ₤14,180.

► 51% do not have a personal pension, and do not plan to put 1 in place.

► 28% do not have a workplace pension, and do not plan to put 1 in place.

► This indicates a significant number of today's over 55's are planning to rely on their state pension.

Women in the UK feel even less positive about their retirement than men and just 17% of women said they are prepared financially for retirement. Also it was discovered that 28% of men reported being on track. Women were also more likely to blame the Government for being unable to save for their retirement (23%, versus 18% of male respondents).

Frazer Fearnhead, founder and CEO of The House Crowd, one of the UK's leading property crowdfunding platforms, said:- "These results paint such a miserable picture that we call these people Baby Doomers; but it's not too late for those approaching retirement to improve their situation. By exploring newer investment options, like property crowdfunding, over 55's can benefit from solid rates of return to help make retirement more comfortable."

The House Crowd was launched in 2012, and to date has successfully raised over ₤38M from retail investors, has funded over 285 projects and paid out ₤6M to investors.
For more information, visit:- TheHouseCrowd.Com.
Please email your views on this to:- News24@SouthportReporter.com.

Brits welcome penalty increase for using a mobile while driving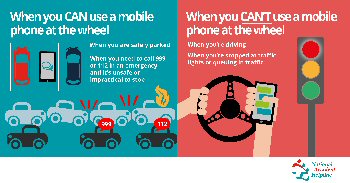 NEW legislation doubling penalties for using a mobile phone while driving, due to come into force on March 1, will be welcomed by people in the UK, according to a new poll.

A Twitter poll of 2,149 people in the UK, carried out in February 2017 by National Accident Helpline, showed that 78% were in favour of an increase in penalties, while only 14% were against an increase. The remaining 8% said they weren't sure.

However, in response to the survey, many voiced their concerns that the new penalties were still not high enough. 32% of those polled said the revised penalties, at ₤200 and 6 licence points, ought to be even higher.

Meanwhile, the company's Google Survey of 2,000 drivers in the UK, also conducted in February 2017, revealed that 23% admit to having used a hand held phone while driving in the last 12 months.

The survey revealed that using a phone while driving is still a widespread problem, in spite of recent police crackdowns and campaigning by organisations such as Brake and the RAC.

The National Accident Helpline survey also revealed that people under 35 were 50% more likely to have used a phone while driving (30%), compared to those 35 and over (19%).

The survey asked what people were using their phones for when driving. The most common reason was adjusting a maps app (10% of all respondents), followed by making or receiving a call (9%), texting (8%), browsing social media (5%) and checking or sending a work email (4%).

Respondents aged 18 to 24 were twice as likely to have checked or sent a work email while driving (8%), compared to the average (4%).

Almost 50% more men (27%) than women (19%) admitted to having used a phone while driving. In particular, men were twice as likely to have browsed social media (6%) than women (3%), or to have made or received a call while driving (11%) compared to women (7%).

The group most likely to have used a phone while driving were men aged between 25 and 34, over a ⅓ of whom (37%) admitted to having used their mobile while driving in the last 12 months. They were 3 times more likely to have done so than women aged 55 to 64, only one in ten of whom (10%) had committed the offence.

It is illegal to use a hand held phone while driving, even when stuck in traffic. Drivers may only use a phone to call 999 or 112 in an emergency if it's unsafe or impractical to stop, or if safely parked.

From March 1 2017, penalties for using a mobile phone while driving will increase from a ₤100 fine to ₤200, and from 3 licence points to 6.

The National Accident Helpline studies were carried out to build on research from their Accident Awareness Week campaign in November, which highlighted the dangers of being distracted while out and about.

According the Accident Awareness Week research, 46% of Brits have put themselves in danger because they've been distracted whilst walking or driving.

The awareness campaign also uncovered the top tech-related reasons for people being distracted, including texting, talking on the phone and using a maps app.

Simon Trott, Managing Director of National Accident Helpline, said:- "Our Accident Awareness Week campaign highlighted just how much we're being distracted by technology when out and about. With the new legislation about to increase penalties for using a hand held phone while driving, we wanted to highlight how much people in the UK are being distracted by technology while driving. We know that this is one of the main causes of accidents on the road, and we welcome any change in the law that improves road safety. We hope the increase in penalties will help to deter drivers from being tempted to use their phones at the wheel."

To read more about National Accident Helpline's research on the dangers of being distracted while out and about, visit the Accident Awareness website.

For information about road accidents, including the main causes of road accidents and what you should do immediately after an accident happens, visit National Accident Helpline's road accident advice page.

In October 2016, National Accident Helpline commissioned a survey of more than 2,000 people in the UK to learn more about the modern day distractions that can put our safety at risk when out and about.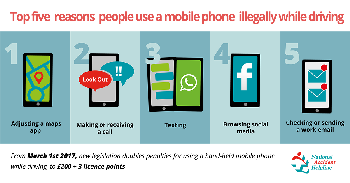 Everyday tech dangers driving Brits to distraction....
► 46% of Brits have put themselves in danger because they've been distracted whilst walking or driving.

► 25% of 16 to 24 year olds say having a smart phone has made them less careful on the streets.

► 1 in 8 Brits think they are more easily distracted as an adult than they were as a child.

► 20% of 16 to 24 year olds say they are more easily distracted.

► 20% of Brits have walked into someone or something because they were looking at their phone while walking.

► 25% of Brits said texting and using WhatsApp was the most likely cause of distraction.

► 49% of 16 to 24 year olds said texting and using WhatsApp was the most likely cause of distraction.