Save the date and get ready to party as Brazilica hits 10th year!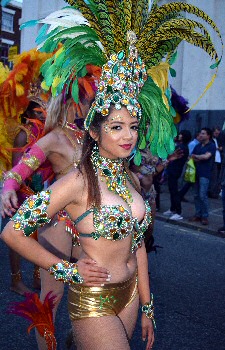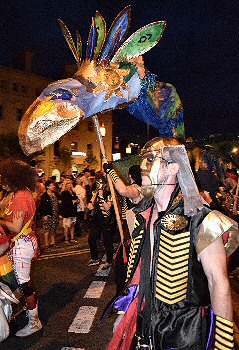 LIVERPOOL Carnival Company are delighted to announce that 1 of Liverpool's favourite events, Brazilica Festival will return for 2017 and will be celebrating a 10th consecutive year, this year's dates are confirmed, as Friday, 14 July 2017 to Sunday, 16 July 2017.

Last year's festival included a packed programme of events leading up to the main Carnival Day on the Saturday,and this year promises to be even bigger, bursting with colour and with plenty of sights, sounds and tastes of Brazil to get you into the carnival atmosphere.

Organisers have revealed that the Brazilian Film Festival will also return for a third year running and a Fringe Festival packed with exhibitions and workshops, with many artists and bands already confirmed from around the world to take part. Events will take place in venues across the City.

The spectacular night time Carnival Parade which features Samba bands from across the UK and overseas will remain the main festival highlight on the Saturday night, thousands of people line the route which makes its way from Abercrombie Square through the City Centre streets, with this year's parade ending at a new location, to be announced.

Maeve Morris of Liverpool Carnival Company said:- "I am continually delighted with the support we receive from the Liverpool people towards the festival, last year's parade was without doubt our biggest and best. This year is going to be just as spectacular with the City coming alive with the sound of the Brazilian beat. Music, dance and costumes create the overall atmosphere of this event and we are already in full preparation mode to ensure we deliver a special festival for our tenth anniversary year."

Full programme details to be announced soon.
To get involved in Brazilica Festival 2017 as a media partner, sponsor or volunteer please visit the website. You can also keep up to date with all Brazilica Festival activity on the events Facebook Page.

'Rigged' house building system means 85% of families cannot afford new home in the region
NEW Shelter report reveals 'rigged' system favours big developers and land traders rather than families, as it sets out a new model for building homes. The current system of house building in England is failing families by producing high priced and poor quality homes, according to new report from housing charity Shelter.

Its new report shows that typical new homes built today are out of reach for 83% working private renting families across the country; even if they used the government's Help to Buy scheme. In the North West, 85% of families are not able to afford to buy an average priced new home.

Alongside being unaffordable, many new build homes are also poor quality. In research by Shelter and YouGov, 51% of new home owners in England say they have experienced major problems with their properties including issues with construction, unfinished fittings and faults with utilities.

Today's report warns the current system will never work for ordinary families because it rewards developers and land owners more interested in trading land at high prices than in building homes. To put an end to this, the charity has unveiled New Civic House building a new model of house building designed to deliver genuinely affordable, high quality homes.

The report comes shortly after the government described the housing market as 'broken' and was critical of 'fat cat developers' during the launch of its housing White Paper. Graeme Brown, Shelter's interim chief executive, said:- "Big developers and land traders are making millions from a rigged system while families struggle with huge renting costs and have to give up on owning a home of their own, which has become nothing more than a pipe dream. For decades we've relied on this broken system and, despite the sweeteners offered to developers to build the homes we need, it simply hasn't worked. The current way of building homes has had its day and it has failed the nation. The only way to fix our ever growing housing crisis is for the government to champion a bold new approach which responds to communities to build the genuinely affordable, beautiful homes they want; as we have done as a country in the past. Until this happens, millions of ordinary families across the country will continue to pay the price."
Outdated street lights earmarked for investment
WIRRAL Council is proposing to spend half a million pounds replacing defective street lighting columns and cabling in 2018. This additional investment is part of a package of measures aimed at addressing long standing issues with older street lighting across the borough and is essential not just in the short term, but also for the future if the council looks to upgrade the whole network with LED lighting. The £500,000 capital injection has been proposed as part of the Highway Structural Maintenance Programme and was discussed by Cabinet, on 27 February 2017. The need to replace these columns is essential as many are beyond repair and have left residents without necessary street lighting for far too long a period. The average capital investment in street lighting in Wirral has been around £60,000 in recent years, so an injection of £500,000, for 2017 to 2018 represents a significant commitment and will make a big difference to neighbourhoods. Cllr Stuart Whittingham, Cabinet member for Highways and Infrastructure, said:- "We know residents get frustrated when they report a defective street light near their home, but don't see it repaired as quickly as they would like. In many cases this is because the repair is not as straightforward as just changing a lamp or a fuse. Often there are issues with the power supplied to the column, which is beyond the Council's control, but equally as often it is that the whole column itself is old, out of date and needs to be replaced. We recognise that the capital budget for street lighting has not enabled us to keep on top of the demand for this work, which is why for 2017 to 2018 we are proposing to invest more than 8 times as much in bringing the network of columns up to date. This is at a time when we are also carrying out a detailed value for money assessment of the whole network to investigate whether we want to replace the remaining 28,500 street lights with LED units. Modernising the lighting network will, of course, mean that fewer routine repairs and maintenance will be needed in years to come and shows that we are committed to meeting our pledge to have a transport infrastructure that is fit for the future."