Maggie's Merseyside celebrates Maggie's Kitchen Table Day For people living with cancer this May
CANCER charity Maggie's Merseyside is encouraging friends, families and colleagues to create events around their kitchen table; be it at work or home; on 5 May 2017. The event will be held in celebration of Maggie's Kitchen Table Day 2017 with events held nationwide to gather and give for people living with cancer.

Dina Charmley, a volunteer at Maggie's Merseyside said:- "I've been a supporter of Maggies for just over 2 years since my husband lost his battle with a serious brain tumour. Unfortunately for us Maggies wasn't built at that time, but I now know first-hand what a great place it is and how much it would have meant to me and my family to have had a place where we could have escaped the hospital environment for a cup of tea, friendly faces and vital emotional support. I am proud to be hosting my own kitchen table event at home, a vintage tea party in the garden, something my husband would have loved to have been a part of. The prosecco is already chilling and I'm rallying around my friends to help with the catering and provide prizes for a raffle in a bid to raise as much as I can for such a great cause as Maggies."

Every Maggie's Centre follows the ideas about cancer care originally laid out by Maggie Keswick Jencks. Maggie lived with advanced cancer for 2 years and was determined that she should not "lose the joy of living in the fear of dying".

New visitors to Maggie's Merseyside often head first for the kitchen table. Here they can relax with a cup of tea, perhaps join in the conversation and meet a member of Maggie's professional staff. For all Centre visitors, Maggie's kitchen table is a place where they can talk to people who really understand what it means to be living with cancer.

Kathy Wright, Centre Head at Maggie's Merseyside said:- "I can't wait to see the wonderful events that people across Merseyside and Cheshire come up with to help make Maggie's Kitchen Table Day 2017 a success. Maggie's Merseyside relies entirely on voluntary donations to allow us to keep on developing our unique programme of free support for all those living with cancer in the area."

Maggie's Kitchen Table Day 2017 is kindly sponsored by Tunnock's Biscuits who will be getting the celebrations off to a great start by offering the first 500 people to sign up a free limited edition tea towel within their Kitchen Table Day packs.
Boyd Tunnock CBE explains why they're getting involved with the event this year: "We've supported our local Centre in Lanarkshire, Scotland, for many years now and regularly see how people living with cancer in our community really benefit from the fantastic, professional support Maggie's offers. When we heard that Maggie's was launching a nationwide event to gather friends and family around a table to raise money for the charity we thought it was the perfect opportunity to take our support further across the UK - and of course what better treat then a Tunnock's tea cake whilst you're celebrating and raising much needed money with your nearest and dearest!"

Gather your family, friends and colleagues around the kitchen table, on Friday, 5 May 2017 and give to raise money for Maggie's. Register now for your free pack online.

Share photos of your event on social media using the hashtag #maggieskitchentable.

To find out more about Maggie's and to see how the Centre supports people with cancer across Merseyside please visit the Centre at Clatterbridge Cancer Centre, Bebington, CH63 4JY, or call them on:- 0151 334 4301. You can also send an email!

For further information about the Maggie's to Maggie's challenge please go to:- MaggiesCentres.Org.

Hospice launches £3,000 draw for Emerald Anniversary

ST. JOSEPH'S Hospice in Thornton has launched a special £3,000 bumper draw to mark 55 years since Father Frances O'Leary founded the St. Joseph's Hospice Association.

In 1962, while working as a young priest of the Mill Hill Mission in Rawalpindi, Pakistan, Fr O'Leary decided that some kind of care facility for terminally ill people was urgently needed so he began to raise money to build a Hospice.

The Hospice in Rawalpindi was opened just 2 years later, in 1964. In 1972, the charity bought its UK site in Thornton, Merseyside, which opened on 19 March 1974. It was christened San Jose to reflect the charity's Latin American links. The Merseyside Hospice was later extended, in 1984 and 1988, to provide even more rooms for patients.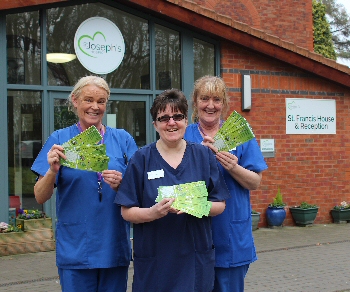 Penny Hamer, Director of Income Generation at the Hospice, said;- "During our Emerald Anniversary year, we want to celebrate the achievements of Fr O'Leary and create a legacy to make sure that we can continue helping patients and families from across our community for the next 55 years. To celebrate, we have launched a 55th Anniversary Bumper Draw with a massive £3,000 jackpot, plus £1,000 and £500 prizes. You can buy Bumper Draw tickets for just £1 from any of our charity shops or from the Hospice in Thornton. Why not get a supply of Bumper Draw tickets from our Lottery Office and sell them to all your family and friends? Your £1 will go directly to supporting the work of the Hospice, providing long term, specialised end of life care for patients with a wide range of life limiting conditions. Better still, why not join our weekly St. Joseph's Hospice Lottery. For just £1 a week you will be in with a chance of winning our weekly jackpot of £1,000!"

To join our weekly lottery, simply fill in the lottery form online or contact the Lottery Office on 0151 932 6025, alternatively send an email. To find out how you can support St. Joseph's Hospice, please call:- 0151 932 6044 or email them.
Please note:- All players must be aged 16 or over. All weekly lottery players will be automatically entered in to our 55th Anniversary Bumper Draw.