Brexit on the table at FSB Business Forum with Sefton Central MP Bill Esterson
THE Sefton and Ormskirk branch of the Federation of Small Businesses welcomed Bill Esterson, Sefton Central MP and Shadow Business Minister, at a business forum to discuss the implications of Brexit. The event took place, on Thursday, 23 February 2017, at Formby Hall Golf Resort and Spa. Bill and members of the branch were joined by business owners from across the constituency and beyond to discuss the implications of Brexit and what they want to see from the imminent negotiations. The forum was chaired by Southport based Michael Sandys, partner at Guy Williams Layton, in Liverpool and new Chairman of the Sefton and Ormskirk branch. FSB Sefton and Ormskirk branch Chairman Michael Sandys said:- "FSB provides a platform for business owners and it is important that their ideas, opinions and concerns on Brexit are listened to and acted on when Article 50 is triggered and talks to leave the EU begin in earnest. We were delighted to do this with Sefton Central MP Bill Esterson, who is in a prominent position to influence negotiations as Shadow Minister for Business, Energy and Industrial Strategy, and now International Trade. FSB wants a bold and ambitious free trade agreement so our members can continue to operate within European markets, and transitional arrangements that steer the UK well clear of a Brexit cliff edge. We are also calling for certainty over post Brexit business support funding, more support to boost exporting and help firms trade with the world's fastest growing markets and guarantees to maintain the vital skills of existing EU workers in the UK, as part of a commitment to ensuring small firms will in the future be able to easily recruit the right person, for the right job, at the right time. Regulatory reform is a major priority for UK small business owners but we must get it right and not miss opportunities provided by Brexit by maintaining the regulatory framework in the medium term. After that, FSB will push Government and Parliament for the radical reform of the regulatory burden for small businesses."

Sefton Central MP and Shadow Business Minister Bill Esterson said:- "Thank you to all the business people who attended the Brexit breakfast meeting and thanks to Phil McCabe and Michael Sandys from the Federation of Small Business for organising. We had a very lively debate about Brexit and about the challenges which smaller businesses face as we leave the European Union. No one was under any illusions about the scale of those challenges or the impact that uncertainty has on business and on the economy. However, we also spoke about the changes in the Liverpool City Region, not least with the election of the new mayor in a few months time. There are significant opportunities for business and for good, well paid jobs as a result of us taking greater control of decisions in the City Region. I want to see Labour in government in the Liverpool City Region working closely with businesses to make the most of the investment in wind and tidal energy that is part of the deal which sets up the office of mayor. The mayor will also have the chance to transform the prospects of younger people by working with employers to dramatically improve the skills of especially younger people, through more quality apprenticeships. There are opportunities through the building of housing, especially affordable housing for rent and to buy for local businesses. It was clear from listening to the businesses who attended the event that we have to make the most of what is available now and after we leave the EU. It was also clear that there are many businesses across the city region who are up for the challenge and I look forward to working with them."

The Forum was the first of regular round table meetings FSB is to hold with MPs across the Merseyside, West Cheshire and Wigan region to give small businesses a real dialogue with their elected political representatives. 'What small firms want from Brexit' – FSB research. Discussions were shaped by the preliminary findings of FSB research:- 'What small firms want from Brexit: A preview of FSB's Brexit research series,' which has included 4 surveys, sent to every FSB member in the UK, focus groups and 1-to-1 interviews with members. The priorities identified are:-

1. Access to EU single market and non-EU markets.
2. Access to skills, labour and ease of 'doing business within the EU'
3. EU funding and what happens next, particularly for business support.
4. Regulatory framework post exiting the EU in the short, medium and longer term.

In the next few months FSB will separately publish all 4 individual reports. These in depth reports will include policy recommendations to ensure the small business voice is heard during the EU exit negotiations.

Key Findings...

► 29% of current small business exporters, regardless of destination, expect their level of exporting, overall, to decline as a result of Brexit. However, 1 in 5 small firms expect their level of exporting to increase and 42% of small exporters expect no change.

► 53% of small firms state that non tariff barriers play a role, to some degree, on where they decide to export and 34% state that non tariff barriers play no role in where they decide to export. With the UK set to leave the EU single market, any new Free Trade Agreement must maintain the current ease of trade with the EU and not lead to additional administrative or financial burdens. For a truly global Britain, we also need the Government to enhance support for small exporters to reach new customers in new markets.

► 21% of our members who currently employ staff employ EU citizens. 47% of these predominantly employ mid skilled workers to address certain acute existing skills shortages. FSB members need simple, straightforward access to people and skills to grow in the future, so any new system must ensure demand can be met, while ensuring a supply-side focus on improving UK education and skills.

► 30% of small business owners have benefited from free movement rights in the last 12 months to undertake short term contracts in the EEA. Any restrictions could hamper their ability to accept these contracts.

► EU funding currently supports a range of activities which support growth and regional economic development. Our research shows that 22% of small businesses are targeting growth of between 10% to 19%. Although these firms may not meet the OECD's definition of high growth firms that are scaling up; they still have a distinct set of support needs to enhance their productivity and their ability to grow. Brexit provides an opportunity for a total review of business support and access to finance schemes.

► 53% of FSB members believe 'reducing the regulatory burden' should be the top policy priority for Parliament. This statistic applies to all regulation and is not distinct to EU derived regulation but the UK's exit from the EU provides an opportunity to re-examine the UK's regulatory regime to reduce the cost of regulation and optimise conditions for productivity and competitiveness.

Firefighters urge spring clean to eliminate hazards of hoarding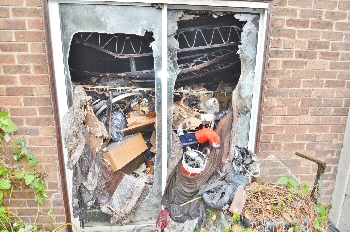 THE 1st day of the meteorological spring and Merseyside Fire and Rescue Service is urging householders to take the opportunity to spring clean to help make their homes hazard free.

High levels of clutter make it much easier for a fire to start and can increase the chances of a fire spreading throughout the home.

Clutter can also make it very difficult to escape a fire, especially if items are piled high and blocking exit routes.

As well as potentially trapping people in their homes in the event of fire, hoarded combustible materials such as newspapers, magazines, wood, books and flammable liquids would make it easy for a fire to spread quickly.

Since 2012, Merseyside Fire and Rescue Service has been called to 26 fires across Merseyside where hoarding hindered rescue attempts by fire crews.

In 2016, a fire caused by a fan heater saw 2 elderly people tragically lose their lives after fire spread quickly through their Liverpool home due to extensive hoarding of items.

Ian Mullen, Incident Investigator for Merseyside Fire and Rescue Service, said:- "Hoarders are at very high risk of fires in the home. Not only can hoarding make it difficult, or impossible, to escape in the event of a fire but it also makes it more difficult for firefighters to access a property and extinguish the fire inside. Hoarding is a problem that can develop in households over years and by the time people recognise there is a problem they may feel they are out of their depth or unable to make their homes safer. If anyone is concerned they may be at higher risk of fire due to hoarding, or know of someone who is, they should contact Merseyside Fire and Rescue Service on:- 0800 731 5958 for free home fire safety advice."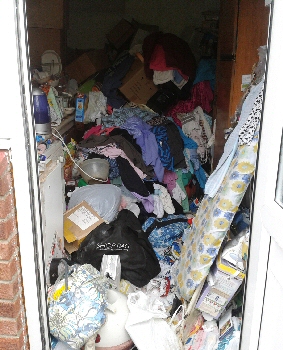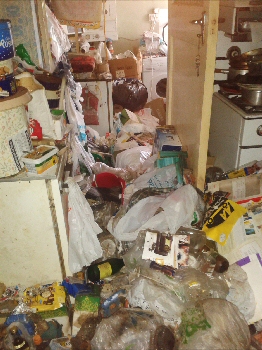 Follow the tips below to help keep your home clutter free and fire safe:-

► Whether you use a traditional oven and hob or other methods of cooking like a portable stove, make it a priority to keep the cooking area clear.

► Do not place items on, or near to, heaters, lamps or other electrical equipment.

► Do not store gas cylinders in your home as they are a serious hazard during a fire. If you have medical oxygen, follow the instructions and guidance given by your registered supplier. Do not store cylinders in basements, under stairs or in cupboards with electric meters / equipment.

► If you smoke, use a proper ashtray that won't burn and put it on a flat, stable surface so that it can't fall over easily. Do not leave your lit cigarettes unattended.

► Put candles or tea lights in heat resistant holders that hold the candle or tea light firmly. Ensure the holder is placed on a flat, stable, heat resistant surface. Keep candles and tea lights away from anything that can catch fire and never leave them unattended.

► Make sure you have at least 1 working smoke alarm per floor and test it as part of your regular clearance sessions.

► Plan and practise how to escape from your home if there were a fire. Choose an escape route and keep it clear of possessions; in the event of a fire this will help you to escape quickly or allow firefighters to reach you if you are unable to escape.

► Ensure possessions are stored on stable surfaces and do not stack items to a height that they become unstable; they could fall over and block your escape.

► Newspapers and mail stored in bulk are highly combustible and will cause fire to spread rapidly. Sort mail and newspapers on the day you receive them and recycle them on a regular basis.

► In the event of fire, do not attempt to put it out yourself; leave your home straight away and call:- 999 once you are safely outside. Do not stop on your way out to collect possessions and do not go back inside once you have escaped.

► If you feel you need help or assistance with hoarding there are many organisations that will support you through the process free of charge. For more information visit:- HelpForHoarders.Co.UK.

► For free home fire safety advice call Merseyside Fire and Rescue Service on:- 0800 731 5958.