Student urges young women to recognise the symptoms of ovarian cancer at the start of awareness month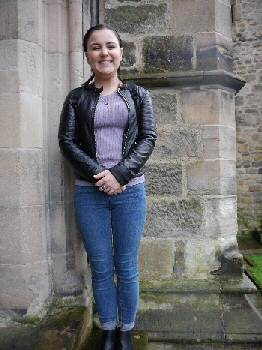 A student has warned young women to be aware of the symptoms of ovarian cancer after she developed the disease as a teenager. Becky Brothwood, originally from Fazakerley in Liverpool, spoke out at the start of Ovarian Cancer Awareness Month.

The 20 year old was diagnosed 2 years ago and received chemotherapy treatment at The Clatterbridge Cancer Centre NHS Foundation Trust, Merseyside.

Becky 1st sought medical advice after developing a swollen tummy and needing to urinate frequently. She initially suspected she might be pregnant and a test was positive due to the hormones present in her body. She was also suffering bouts of severe pain and bleeding.

A scan identified a mass in her left ovary and it was removed during surgery. The tumour was grade 1 ovarian cancer. Becky said:- "When I was told I had cancer I felt numb and my ears were ringing. You don't think you will ever get that news or have to tell people you have cancer."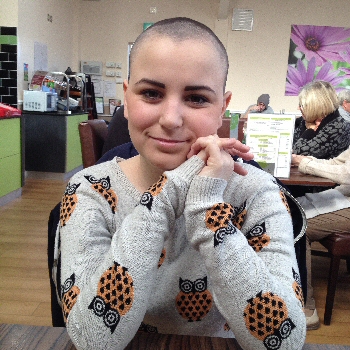 Becky was 18 at the time and a student at St Helen's College. She returned to her studies 2 weeks after surgery and during her treatment at The Clatterbridge Cancer Centre continued to work towards her exams.

She was treated in The Teenage and Young Adults Unit at the specialist cancer hospital in Wirral. Becky said:- "The staff at Clatterbridge couldn't have been nicer. Before my treatment started I came to look round and everyone was so positive. Everyone will be affected by cancer, either themselves or a family member or friend. Clatterbridge is the most amazing Hospital."

Becky had her chemotherapy administered by specialist staff over nine weeks and remained upbeat throughout. She said:- "When they told me I was going to lose my hair I knew I had to take control. So I shaved it off and sent it away to be made into wigs for other people who lose their hair."

She is now a student at Bangor University in North Wales and keen to pursue a career in the charity sector when she graduates. For now she is determined to raise awareness of ovarian cancer, particularly among young women, and is planning to go back to her old school to talk to pupils about the disease. She said:- "I want to spread the word, make people aware of the symptoms and the fact you can get ovarian cancer when you are young."

John Green, Consultant in Medical Oncology at The Clatterbridge Cancer Centre, said:- "Cancer can strike at any age, although rarer in young women. It is important to report any change in body image, in particular swelling or bloating of the tummy, to your Doctor. While unusual urgency to pass water or pain may be due to something quite simple, if these persist or recur you should seek medical advice."

Cyclists voted the worst for turning the heating down
HOT blooded cyclists have been found to be top of the list of thrifty home owners most likely to turn down their heating at home and make their families suffer in the cold. That's the finding of Warm.co.uk which has linked people's hobbies and interests to whether they like the heating up high in their houses, or whether they turn the thermostat right down in an attempt to save money. And according to Warm.co.uk who surveyed 2,733 customers, cyclists have the highest tolerance to low temperatures in their homes. "It seems people with indoor hobbies who are pampered with toasty warm places to workout also like to be pampered with warm houses. That's what the survey is suggesting." says Warm.co.uk spokesperson Jonathan Ratcliffe.

According to Warm.co.uk, the people with interests most likely to have their domestic thermostats dialled down to a lower temperature are:-
Cyclists
Triathletes
Fishermen
Runners
Swimmers
Ramblers
Athletes
"You'll notice that most of these hobbies are largely based out-of-doors... They've become so attuned to colder temperatures that they don't want to come home to a house that is; to them; boiling hot... But I expect their families think differently." says Ratcliffe.

With cyclists topping the poll, Ratcliffe recognises the irony that one of the UK's coldest winter pursuits are also the one that seems happy to live in the cold. "Cycling is perhaps one of the coldest winter sports in the UK, aside from maybe deep sea fishing and open water swimming..."

People with hobbies most likely to have their heating up high at the end of a busy day are largely those who are either indoors or in an enclosed space:
Gym and weight training
Tennis
Volleyball
Golf
Boxing
"Golfers tend to buck the trend when it comes to heating. It turns out they love nothing more that roasting their bones when they get home from a round with the heating turned up as far as it goes. And who can blame them; maybe too much time in the rough." says Ratcliffe.

However, while these findings show a split on who prefers a warm house to a colder 1, it doesn't take 1 important factor into account; their families. As the wife of a keen cyclist told Warm.co.uk:- "He comes home after a ride, says 'It's a bit warm in here', and turns the thermostat right down until you can see the steam coming off our breath. I wait until he goes for a shower, and turn it back up again. The fight for the thermostat is a battle as old as time. Even Neolithic Man coming home from a long day's mammoth hunting probably got into an argument over the number of logs on the cave fire, I should think. And it's not going to stop now." says Ratcliffe.
Tickets for Sam Bailey's next UK tour Sing My Heart Out are on sale now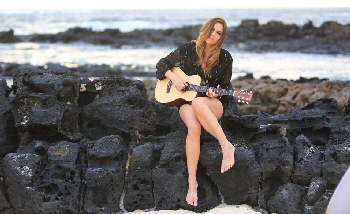 THE gutsy girl Nikki Loy turned her back on heartache and a life that didn't fulfill, and now lives on the road authentically living her dream. Snapping up a van she spotted on the way to the studio as a self build camper van project, Nikki now ranges the UK pursuing an incredible musical journey with a new view from the window every night. While her songs are shaped by both pain and joy; as well as hopefulness and inspiration pervading these tracks which will move and motivate every listener to follow their dreams and take hold of their future happiness. Nikki's 2nd single 'Hold Me Now' will be released, on 3 March 2017, to coincide with the start of her 33 date, UK support tour, with Sam Bailey. We will also see the release of a deluxe edition of her latest album 'Pivotal' on the same date. The album, produced by George Shilling (Stornaway, Primal Scream) and Andy Baker (Philippa Hanna, Daughter Of Davis) was released in October 2016 and has propelled Nikki into the mainstream spotlight with tours supporting Shane Filan and Sam Bailey. Nikki will also be carrying out her own headline UK tour in November 2017. the tour starts, on Thursday, 2 March 2017, at Derngate, Northampton and ends on Saturday, 20 May 2017, at Cliffs Pavilion, Southend. Along the way, she will stop off at Liverpool's Empire, on Thursday, 23 March 2017. to book tickets for the Liverpool show click on here and for lots more information on Sam and also her tour, go to her official website. Also for gutsy girl, Nikki Loy, visit her website and her Facebook Page.