'Stop the silence campaign'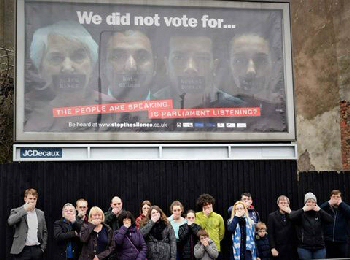 LIVERPOOL City Region Mayoral candidate, Carl Cashman, joined citizens in the Walton area of the city on 12 March to show their support for the national 'Stop the Silence' campaign. 3 billboards in Merseyside promote the message that Government and Parliament are not listening to the people of the UK. Whether they voted to remain or leave the EU in the referendum, they did not vote for price hikes, hate crimes or leaving the single market. At both local and national level, concerned groups have worked together to provide both information and platforms of discussion about the EU and the political developments around Brexit.

Carl Cashman said:- "Democracy is Parliament listening to the concerns of the people it represents. Liverpool and the rest of the UK are not playing-chips in a game of poker to be won or lost. We want to know what the Government has planned and how our futures will be affected. Silencing us on the premise of giving Prime Minister May maximum ability to negotiate a Brexit deal with Europe is destructive to our democracy and to our British traditions."

Liverpool and the City Region are beneficiaries of large amounts of EU funding. This has been used to diversify its economy to provide jobs, fund major projects and increase the standard of living for its residents. The current Conservative Government is disingenuous in its intentions to create a "Northern Powerhouse." Disregard for the needs of the region is demonstrated by its favouritism towards Tory voting areas in the South of England through attempted diversion of EU funding from Northern cities and private agreements with the Surrey Council.

'Stop the Silence' is a national campaign with almost a hundred locations across the country that will ensure that the message can be seen by over ten million people. In addition to the billboards, powerful artwork and an emotive video are available on the 'Stop the Silence' campaign's website, YouTube and Facebook sites. 'Stop the Silence' was crowdfunded by over 3,500 donors, raising ₤70,000 in just 2 weeks.

The key messages of the campaign are:-

► Ordinary people, regardless of how they voted in the Referendum, are being excluded from the ongoing Brexit debate.

► Many feel intimidated by the tone and manner of the debate and are afraid to speak out.

► Those that are brave enough to speak out feel that no 1 is listening.

Discussions about Brexit, its practicalities and consequences will not stop with the Article 50 notification. They are now more important than ever. Refusing to be silenced, many people from all over Merseyside and the Wirral will be going all the way to Parliament, joining the 'Unite for Europe' National March, on the Saturday, 25 March 2017, in London.
Ainsdale man imprisonment for making hoax calls
ALAN Spencer, aged 56, from Ainsdale, Merseyside, was sentenced to 16 weeks imprisonment at South Sefton Magistrates Court, on Friday, 11 March 2017, after pleading guilty to making hoax calls to Merseyside Fire and Rescue Service. His sentence has since been welcomed by both Merseyside Police and Merseyside Fire and Rescue Service, who had to deal with 6 calls, to the Fire Service, in February and March 2017. We are told that Alen Spencer had been found to have report false fires, bombs and even a shooting to them.

Local Community Inspector Graham Fisher said:- "Hoax calls put lives at risk and are a costly and wasteful use of resources. We follow up every hoax call made to the force and make efforts to trace those responsible. Not only do these calls show a lack of respect for the emergency services, but responding to false calls can divert our staff from genuine emergencies, where people need us most. The Courts take incidents such as this very seriously and I hope this result is reminder to those who make such hoaxes that they will be caught and dealt with robustly by the Police and the Courts."

Local pubs staging 12 day Real Ale Festival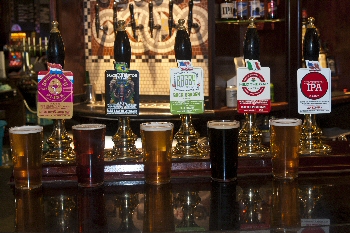 AWARD winning beers from award winning breweries across the UK and overseas will be available at 2 pubs in Southport during a 12 day beer festival. Sir Henry Segrave and The Willow Grove, both in Lord Street, will each be serving up to 30 beers from Italy, Brazil, Holland and the USA, as well as the UK, during a festival, which runs from Wednesday, 22 March until Sunday, 2 April inclusive. The overseas beers are:- Back Garden (Bagby Brewing, USA), Mild the Gap (Birrificio MC-77, Italy), Flink (Brouwerij 'T IJ, Holland), Burton Pale Ale (Bodebrown Brewery, Brazil) and Continental IPA (St Louis Brewery, USA).

Each of the overseas brewers has won awards for its beer in its respective country.

The UK beers include:- Salopian Lemon Dream (named The Society of Independent Brewers (SIBA) National Champion Speciality Beer in 2012), Mauldons Blackberry Porter (winner of SIBA East's Champion Speciality Beer in 2016), Harviestoun Bitter and Twisted (voted Campaign for Real Ale (CAMRA) Champion Beer of Britain 2003) and Acorn Darkness (winner of a bronze medal at the 2016 CAMRA Great British Beer Festival).

Several unusual flavours will be present in some of the beers, including blackberries, coffee, lemon and lemongrass.

Customers will be able to sample any three of the real ales in special third-of a pint glasses for the price of a pint.

Sir Henry Segrave manager, Ian Radford, said:- "We are promising our customers a superb range of award winning ales, including some great beers from overseas and many others from brewers across the UK. The festival will be the perfect way for real ale enthusiasts to enjoy a range of excellent beers over 12 days."

Tasting notes on all of the beers will be available in each of the pubs.
₤1.2 million investment planned to improve Council Customer Services
₤1.2 MILLION is set to be invested in improving Customer Services at Wirral Council, making it easier and quicker to contact the organisation and access services. The investment; part of the Council's 'Access Wirral' programme; will see the Council put in place a new, state of the art system to help process residents' enquiries, making things like applying for benefits, reporting faults with streetlights and potholes, and paying Council Tax much easier and more efficient.

Councillor Matthew Patrick, cabinet member for community engagement and communications, said:- "Contacting the Council needs to be as easy as possible; it should be efficient, quick and help resident get the support they need. Access Wirral will help us do just that. Access Wirral will deliver a quick, seamless and efficient route for residents to contact the Council. By removing the duplication of systems, it will help staff provide much needed support in the most efficient way. By investing ₤1.2million in a state of the art system, we will improve our Customer Services, by enabling people to be self sufficient, by accessing services quickly, digitally and easily. With these improvements, we will be able to drastically reduce the waiting time for low risk claims for Housing Benefit. This would see those claims paid sooner, protecting vulnerable residents from turning to expensive pay day lenders. The investment allows us to make savings in the near future; once the system is embedded and working to specification, and it will enable us to direct our skilled staff resources into making sure residents get more 1 to 1, personal support to successfully and confidently access the services they need. Access Wirral is a major step forward in how the Council supports residents."

The 1st Phase of the project would see the Council invest in a new system which would simplify processes associated with Council Tax and Housing Benefits, before it is rolled out across other areas such as Street Scene. The system would enable residents to log and track their requests, removing the need for repeat calls to the call centre. This would in turn free up staff time to concentrate on more complex requests for services, and to focus on providing more personal support to more vulnerable residents.

A decision on the investment and wider project plan will be made by the Council's Cabinet, on 27 March 2017.