West Lancashire pupils make a splash at Disability Swim Gala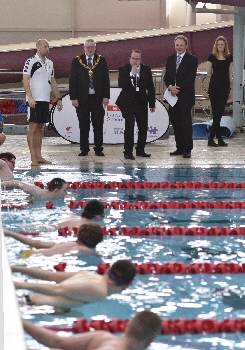 YOUNGSTERS from schools across West Lancashire scored a haul of silverware after swimming their way to success at this year's SPAR Lancashire School Games Disability Swimming Gala. Over 200 children representing schools across the county joined together at Salt Ayre Leisure Centre, in Lancaster, on 15 March 2017, to go head to head in a bid to achieve sporting glory.

Team West Lancashire stormed to success, bringing home an impressive 11 medals including:- 3 gold, 3 silver and 5 bronze.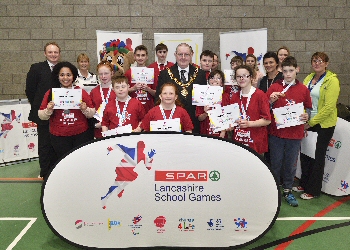 West Lancashire Community High School represented the district at the event, amassing titles in a number of swimming disciplines; races aimed to give each pupil the opportunity to have fun and compete.

Amy Standrell did the school proud, coming first place in the key stage three 50m front crawl race, while Keegan scooped gold in the boys' key stage four 25m breast stroke competition.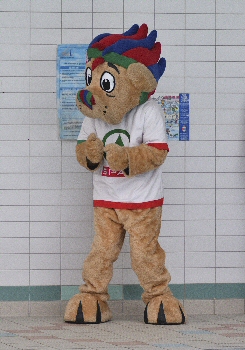 Team West Lancashire's success was also helped by Libby Ledbetter, who impressed spectators after snatching silver in one of the competition's most fought after titles; the key stage 3 25m breast

The gala was kicked off by an energetic dance performance courtesy of students from Our Lady's Catholic College, before the Mayor of Lancaster Robert Redfern delivered an inspiring speech to begin the games. He was joined by Councillor Darren Clifford, Fiona Addison, marketing manager at James Hall and Co Ltd and Rachel Atkinson, management trainee at James Hall and Co Ltd to cheer the competitors on.

Young sports leaders from Lancaster and Morecambe College and Our Lady's Catholic College were on hand to help coordinate the event and encourage the pupils, along with the Lancashire Lion, the official school games mascot.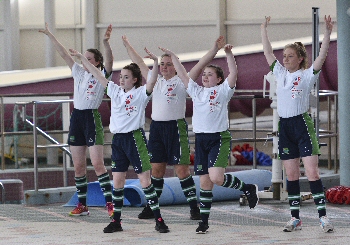 Fiona Addison, marketing manager at James Hall & Company Ltd, said:- "The Disability Swimming Gala is always a highlight of the SPAR Lancashire School Games calendar and a thoroughly enjoyable event which enables children of all abilities to participate in competitive swimming. It demonstrates the legacy of the London 2012 Olympic and Paralympic games and how the fantastic work done by Team GB continues to inspire all children to engage in sport. There were some fantastic performances and excellent sporting spirit on display both in and out of the pool, so well done to everyone involved."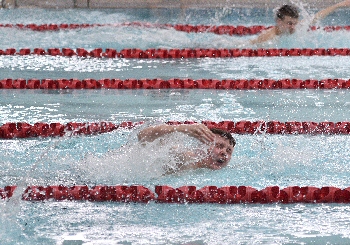 Chris Hart, school games organiser for West Lancashire, added:- "It was brilliant to see such enthusiasm on show at this year's Disability Swimming Gala, with everyone putting in a lot of effort in the hope of securing a medal. Well done to all our competitors, and a special thank you must go to our young sports leaders and volunteers without whom we wouldn't be able to deliver such a successful event."

Organised by the Lancashire Sport Partnership, the SPAR Lancashire School Games is an inclusive scheme providing competitive sporting opportunities for all school children across the county. It is sponsored by James Hall and Company Ltd, SPAR distributors for the North of England.

The Disability Swimming Gala is the 1st of 2 main events in the programme, with schools across Lancashire now competing for a place at the county finals which will be held at Blackpool's Stanley Park, on 4 July 2017, where over 2,000 children are expected to battle it out for glory in a range of sports including gymnastics, football and athletics.

Now in its 11th year, the competition is implemented by the county's school games organisers. Over £128m of National Lottery and Government funding has been invested into the school games programme.

It's a #CrimeNotToCare when it comes to getting rid of your rubbish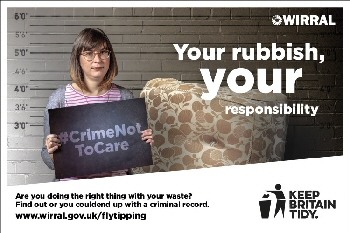 THIS week, Wirral Council is supporting Keep Britain Tidy as it launches a campaign to tackle the epidemic of fly tipping that is affecting communities up and down the country.

Wirral Council receives an average of 250 reports of fly tipping every month; that's around 8 every day. More than 70% of these reports are about fly tipping, on highways and in back alleyways, and most involve household waste.

#CrimeNotToCare aims to educate householders about the right thing to do with their rubbish and to reduce the amount of household waste that is fly tipped by rogue traders who offer to take people's waste away for money and then dump it.

The campaign aims to get the message across that if an individual's waste is fly tipped, even if they gave it to a ⅓ party to dispose of, they can be prosecuted and end up with a fine and a criminal record.

Cllr Bernie Mooney, Wirral Council Cabinet member for Environment, said:- "Fly tipping and alleyway dumping has a really detrimental impact on our neighbourhoods. We understand that people are naturally keen to seek the best possible price when it comes to paying someone to take away unwanted bulky items in their van or truck. However, they need to be aware it could end up proving a really costly mistake to make unless they make the necessary checks on the people they employ. If you are getting rid of any waste, be that garden waste, any old household items such as a sofa, mattress or washing machine or just extra bags of rubbish, you need to check that the company you are using is a registered waste carrier. Unlicensed waste carriers are more likely to cut corners and fly tip, which is why they can offer lower prices unfairly undercutting legitimate businesses who take their environmental responsibilities seriously. Not only are they avoiding their responsibility and charges for the proper disposal of waste, but by fly tipping waste they are leaving an unsightly mess and causing additional costs to the Council or Pprivate Landowners who have to clear up after them."

Keep Britain Tidy Chief Executive Allison Ogden-Newton added:- "#CrimeNotToCare is an important campaign for our country and we are delighted that Wirral is partnering with us on it. There are almost a million fly tipping incidents in England every year and cleaning it all up costs us more than £50 million a year. It blights communities and our countryside and is a menace. We need the public to understand that their rubbish is their responsibility and they must do the right thing with it. Giving it to a 'man with a van' who offers to get rid of it cheaply could prove costly for people and result in them getting a criminal record. They have a duty of care and this campaign will help explain to them exactly what that is and how to protect themselves."
Heaton's Bridge Military Vehicle Group open weekend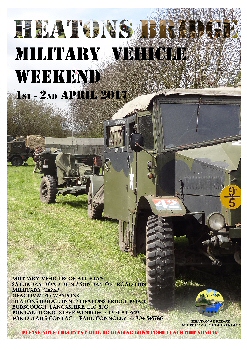 THE Heaton's Bridge Military Vehicle Group is holding another open weekend with military vehicles and displays at the Heaton's Bridge Inn, Burscough, on 1 April 2017 to 2 April 2017. the group say that the public are welcome to come, there are no admission or other charges involved, and there will be a range of military vehicles on show of all eras from WW2 onwards. Anyone with a military vehicle of their own would be more than welcome to join them and to camp over for the weekend. All you need to do, should you wish to being a vehicle is to Paul Connolly, on:- 01704 545 786.

The Military gatherings at Heaton's Bridge Inn Burscough have now become ½ yearly events (courtesy of proprietors Steve and Jacqui Winrow) and this is the first event for 2017 (a 'crank up').

The Heaton's Bridge Inn has a great range of real ales and food all given names to reflect the military theme. The vehicles which attend include Willys, Ford, Hotchkiss and Austin Champ Jeeps, Landrovers, 'Whistling Rio' and Bedford RL 4 ton trucks, a Saracen armoured personnel carrier, military motorbikes, and military staff cars. Kevin Reilly will be bringing some of his range of 'big guns' which includes a mighty Howitzer, an Abbot self propelled gun, and the Mighty Antar tank transporter.
We never know exactly what he will bring along so there's always a surprise waiting! Members' displays include a range of militaria including:- various firearms, bayonets and other weapons, uniforms, radio equipment and field equipment.
A regular part of the display is also a 25 pounder field gun rig belonging to Frank and Angela Brown (our Secretary) comprising a Morris Quad tractor unit, which tows an ammunition limber behind, and the field gun itself behind that! Frank and Angela provide demonstrations of the team operation of the field gun and have been known to take the entire 3 part rig across the off road hill course at Burscough airfield. Quite something!! The rig is featured on this year's event 'flyer' for the crank up.

The Inn itself is located on the canal at Heatons Bridge and the grounds still retain the World War 2 freestanding brick pillbox which formed part of the home guard defence provisions. We hope to set up a small home guard display inside the pillbox again to give some feel for how a guard might have had to 'hole up' there.

Why not come along and share the atmosphere of a Military Display for free with the enthusiasts who would be pleased to answer any questions you may have?
Peter Kay's Car Share at Vue, in support of Comic Relief
ON Friday 31 March 2017, from 19:45 hours, VUE are presenting a very special night of Peter Kay's Car Share... This will be just for 1 night only and will be shown in over 250 cinema screens across Britain, in support of Comic Relief, alongside an exclusive Q&A, with Peter Kay and Sian Gibson answering questions put to them by the public. The night will also feature never before seen footage and outtakes from the BAFTA award winning series as well as the exclusive premiere of 2 brand new episodes of the highly anticipated second series. All net profits from ticket sales will be donated to Comic Relief. Tickets on sale online now! Comic Relief founder, Richard Curtis, said:- "Peter has been a long standing supporter of Red Nose Day, from honing his miming skills for the 'Amarillo' single, to taking on his toughest challenge, 'Sit Down for Comic Relief', and the amazing Phoenix Nights Live which made over 5 million pounds. We're always bowled over by his generosity and the originality of the stuff he does for us. The 1st series of Car Share was genius and so we're completely thrilled that he is offering up a special broadcast of the new series across the UK to help raise cash for Comic Relief this year." Peter Kay said:- "I'm so excited that we're able to premiere some of the new series and raise money for Comic Relief. I really hope people enjoy this very special night."