Golfers raise more than £16,000 for Hospital Children's Unit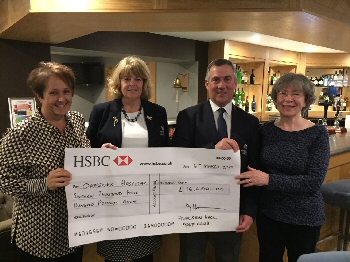 MEMBERS of Hurlston Hall Golf Club have celebrated raising £16,400 for the Children's Unit at Ormskirk and District Hospital over the past 12 months. Will Oldfield, the 2016 Club Captain 2016, said:- "It's a terrific result and I am bursting with pride at the generosity of the club membership."

The key fundraising activity was held when the club arranged a Longest Day Challenge with 23 golfers playing 72 holes in a day, at Hurlston Hall, starting at 4.30am and finishing just before 10pm.
Members and friends supported the event during the day providing refreshments, marshalling and moral support. Other fundraising activities included a novel "virtual nearest the pin" competition on the 7th hole, at Pebble Beach during the Captain's Away Day, in July 2017.

Linda Connolly, Assistant Matron for Paediatrics and Neonates, and Tina Hill, Paediatric Practice Development Nurse, received a cheque on behalf of the Hospital, at a presentation evening, from the club captains, Alison Wood and Will Oldfield. Linda said:- "We were honoured to be chosen as the club's charity for 2016. Members have worked hard at raising an amazing sum of money and we would like to express our greatest appreciation to everyone. Their fundraising and generosity will be put to good use to benefit the patients who attend the unit."
Lost medication in Crosby area
MERSEYSIDE Police are appealing for the public to be cautious after prescription medication was reported to have been lost on Monday, 20 March 2017. Officers received a report at about 4.25pm, on Tuesday, 21 March 2017, that the medication had been lost, at 6.20pm, on Monday. It was reported a Debenhams carrier bag was left on Islington in Crosby containing 28 x 7.5mg of Zimovane tablets after being collected from Boots in Crosby village. Officers are reminding people that taking any medication which has not been prescribed for them can be dangerous and, in some circumstances, can prove fatal. Anyone who finds any of the medication is asked to hand it in to any Pharmacy or Police Station or call Officers on the:- 101 number.

New Brighton - new improved website
A website dedicated to informing residents and visitors about what's happening in 1 of Wirral's most popular tourism destinations has been given a makeover. VisitNewBrighton.com is set to become the online 1 stop shop for those planning a trip to the thriving seaside resort over the spring and summer. With listings of all the top places to eat, sleep and play in New Brighton, a further feature of the site is a regularly updated 'what's on' section, with details of special events which New Brighton is hosting this year, including the Seaside Festival and the launch of the Mermaid Trail.

The website site is now mobile friendly and adaptive to different screen sizes and a variety of different devices. It has been developed by local web design company Farm Factory and overseen by Tony Hurst, who owns and manages local business Arcadia, and who is a member of the New Brighton Coastal Community Team (NBCCT). Tony said:- "It is our intention to keep the website vibrant and up to date and through the involvement of the New Brighton Coastal Community Team we will ensure there is a constant source of live information to give out."

Funding to support the development of the site has been possible due to a Government grant, administered through Wirral Council, to support economic development in seaside communities.

Cllr Tony Jones, Wirral Council Pledge Champion for Building a Vibrant Tourist Economy and Chair of NBCCT, said:- "With New Brighton now attracting around a million plus visitors; and rising; there was a clear need for a dedicated website, endorsed by the businesses and attractions in the resort and with clear, accessible and up to date information."

The website is being supported by a free pocket sized Visitor Guide for New Brighton and North Wirral produced by local publisher LCDP Wirral, with 15,000 copies printed and distributed from April 2017. MERSEYSIDE Police have confirmed that shotgun cartridges have been found in Bootle, on Wednesday, 22 March 2017. Officers discovered a bag containing live shotgun cartridges while searching an area of the old cemetery on Irlam Road and Church Green this morning. Officers from the Matrix Serious and Organised Crime Team found the ammunition, which has been recovered for forensic examination.

Chief Inspector Clare Jenkins said:- "We searched this area following information provided by the community. This recovery means there is less ammunition on our streets that could be used to cause fear, harm or even worse in our communities. The force is relentless in its pursuit of those involved in gun crime and will continue to carry out searches such as these to make our streets safer. Officers searched this area after receiving Information from the community, which again proves how vital the public can be in our fight against gun crime. This discovery has been brought about through continued work with the community as part of our on going pursuit to reduce firearms possession and discharges across Merseyside. The ammunition will be taken away and examined by crime scene investigators. I'd urge anyone who has any information about firearms in their community, to get in contact with officers from the Matrix Serious and Organised Crime gun crime hotline on:- 0800 230 0600 or Crimestoppers anonymously on:- 0800 555 111."

Police are appealing for any members of the public who may have images or footage of the incident to send them via this website.