Regional adoption agency to be set up
A Regional Adoption Agency covering Liverpool, Knowsley, Sefton and Wirral is set to be established. It follows a successful bid to the Government last year by local authorities on Merseyside to create a new organisation to get more children placed successfully as quickly as possible. The new agency; set to be launched in January 2018; will bring together a team of around 50 staff from across the four Councils who will be seconded into the new organisation on their existing terms and conditions. Responsibilities will include recruitment, approval and ongoing support for adopters, tracking, linking and matching of children and the training and development of staff. Although the Regional Adoption Agency will have a centralised hub, staff will continue to have a presence in each of their local authority areas to ensure they retain close links with social work staff. Every year, the 4 local authorities approve around 100 adopters each year and place approximately 140 children for adoption.

Councillor Joan Lilly, Knowsley Council's Cabinet Member for Children's Services, said:- "Adoption really can change a child's life so I'm delighted that the Regional Adoption Agency could offer greater opportunities for children in our region. Having shared resources, expertise and processes will provide enormous benefits to our children and young people, as well as the local authorities taking part."

Councillor Barry Kushner, Cabinet member for children's services in Liverpool, said:- "This proposal will mean we are able to provide a better service for children and adopters. At the moment each local authority is effectively competing with each other for adopters and there is a great deal of duplication of effort. By creating a regional agency, we will be able to widen the net of potential adopters, share expertise and ideas and make sure adopters and children get a consistent level of support, regardless of where they live. This shows the potential of working across authorities and further collaboration on residential care, fostering and leaving care."

Councillor John-Joseph Kelly, Cabinet Member for Children, Schools and Safeguarding at Sefton Council, said:- "In Sefton, we are currently looking for adoptive families for 16 local children and young people. We know that we often receive enquiries from across the Liverpool City Region, so it makes sense that we are collaborating with our neighbours to meet the challenges we face together and increase the potential for our vulnerable children to find a forever family. I'm looking forward to this new regional adoption agency making the process for would be adopters quicker and more effective as both they and children in Sefton and the wider region are matched so they begin their new family life."

Councillor Tony Smith, Cabinet member for children and family services in Wirral, said:- "Finding the right, most appropriate and loving adoptive parents for a child is incredibly important. Wirral is lucky to have hundreds of foster carers and prospective adopters across the borough, all doing a fantastic job in supporting vulnerable children. The proposals in this report help us go even further, and create a regional adoption agency; allowing access to a bigger pool of adopters, quicker and more efficient processes and, crucially, a much better chance of matching a child with the perfect adoptive family."

Consultation has already taken place with staff and trade unions, and adopters are also being kept informed. Reports recommending the approval of the Regional Adoption Agency will be considered by each Council's Cabinet over the next few weeks, with Wirral Council the first to do so, on Monday, 27 March 2017.
Edge Hill University Students injured in Westminster terrorist attack
THE shocking events in London that has that took place at the hart of our nation, on Wednesday, 22 March 2017, has left 5 people died and 50 are injured. Court up in the attack conducted by Khalid Masood where 13 politics students and a lecturer from Edge Hill University, who had been in London, on a 2 day field trip to the Houses of Parliament. 1 of the 13 had to remain in Hospital for treatment and all at the University said that they wished him well. All the others we are told have returned home safely since the incident. The University said:- "Our students, their families and the staff member involved are being supported by the University. Counselling is available to students and staff. Our thoughts are with all those affected by the events." Acting Deputy Commissioner Mark Rowley has since told the press that:- "Whilst there is no evidence of further threats you will understand our determination to find out if he either he acted totally alone inspired by terrorist propaganda, or he was encouraged, supported and/or directed to do this attack. At this point I want to appeal specifically to the public. We remain keen to hear from anyone who knew Khalid Masood well; understands who his associates were; and can provide us with information about places he has recently visited. There might well be people out there who did have concerns about Masood, but weren't sure or didn't feel comfortable for whatever reason in passing information to us. I urge anyone with such information to contact us the Anti Terrorist Hotline, which is:- 0800 789 321." Flags are now flying across the UK at half mast on public buildings, along with most privet buildings flying flags, in respect to the innocent people who died and the unarmed Police Officer, PC Keith Palmer.

Summer of love planned for Knowsley Flower Show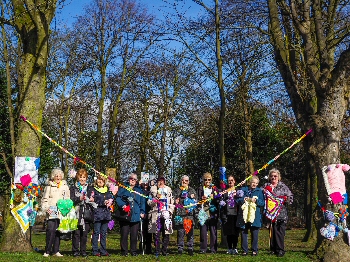 FEELGOOD Festival and Knowsley Flower Show set to draw crowds of thousands to Knowsley with free family fun this August. Summer looks set to hot up in Knowsley, with its 2 best loved annual events, celebrating the 50th Anniversary of the Summer of Love, in 1967.

You can expect lots of colourful fun at the Knowsley Feelgood Festival and Flower Show in August 2017; including some spectacular knitted décor brightening the trees at Court Hey Park thanks to the handiwork of community group Knitwits. Both events take place, as always, at Court Hey Park, just off the M62 in Huyton and are completely free to attend.

The Feelgood Festival, on Saturday, 5 August 2017, from 1pm to 5pm, is growing year on year in popularity since its launch 3 years ago. Packed with activities, performances and experiences to help improve your health and wellbeing, the festival has something for everyone. It's a chance to try mindful yoga, pick up some relaxation techniques, try some fitness and sporting activities, try your hand at drawing and painting, enjoy some complementary therapies and even take part in a family bike ride on the day.

There'll be lots of laughs with the Comedy Trust, who'll be offering hilarious 'Feeling Funny' workshops, exploring the ways in which laughter and comedy has the power to make you feel good.

Lush Spa Liverpool will also be there, with some fantastic complementary taster treatments and a little bit of Lush magic, whilst Boots pharmacy will be on hand with both health advice and a makeup artist offering amazing summer makeovers.

Children are invited to dress up in 60's or 70's fashion and join in the Summer of Love fancy dress parade around the site at 1pm to get the event off to a fantastic start; and there'll be great prizes on offer for the best costumes. Register now through Knowsley's Children's Centres or call:- 0151 443 5749 for an entry form.

Knowsley's Children's Centres will also be at the festival, promoting oral health, giving baby massage demonstrations and offering storytime sessions for the very youngest festival goers.

Then, on Sunday, 6 August 2017, you can expect even more flower power than usual as the renowned Knowsley Flower Show returns, from 11am until 5pm, with crowds expected to flock from all over the North West.

At the show's heart is always the breathtaking floral marquee, bursting with potentially prize winning fruit, vegetables and flowers.
Get growing and you could be entering your pride and joy into one of the 100 categories, suitable for both novices and experienced growers alike.
Download the schedule of classes now from the Flower Show's website and view the special classes themed around 50 Summers of Love.

Certainly, keen gardeners will love the many plant and seed stalls offering great value, and the chance to get expert tips at the Gardener's Question Time event.

As usual there will also be the rich programme of family entertainment, including dog displays in the main arena, live music inspired by Sgt Peppers' Lonely Heart Club album, Geraud's large farmers' market, circus skills, glitter faces and a health and wellbeing zone plus lots of trade stands.

Both events are completely free, and are part of a wider programme of more than 60 Summer of Love events taking place across the City Region this summer.
You can find out more about the other events online. Make sure you take a look at the Knowsley Flower Show website, which gives details of the free shuttle buses in and around Knowsley and 'like' the show on Facebook for all the latest news. So, get the dates in your diary and look forward to the Summer of Love in Knowsley.