Work underway on new £7 million food hub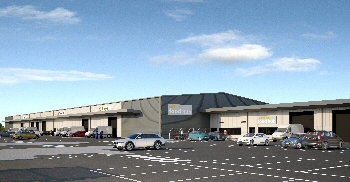 WORK is underway on a new £7 million food hub, to house Liverpool's fruit, vegetable and flower market in Gillmoss.

The new 65,000 square foot market will include parking, a café and public toilets, replacing the existing rundown building off Edge Lane in Old Swan.

It will complement other nearby developments including the £12 million Geopost DPD parcel facility which has created 250 jobs and the building of new industrial units by St Modwen.

There is also potential to expand on the adjacent site owned by the City Council, to facilitate a wider Food Hub as part of the Stonebridge Cross Mayoral Development Zone.

It is the latest phase of a significant investment programme in markets which has already seen a new Great Homer Street; 'Greatie' in Everton and a £2.5 million refurbishment of St Johns Market in the City Centre.

Cabinet member for regeneration, Councillor Malcolm Kennedy, said:- "This is great news for the traders who have been waiting a long time for the creation of an attractive new development with modern facilities. The existing market is in a really poor condition and the number of traders has been dwindling for a very long time and the aim of the move is to put it on a solid footing and enable it to expand in the future. We are also confident that we will be able to transfer the popular Sunday market and car boot sale over to the new location. This is all part of our wider aim of driving up the standard and quality of Liverpool's markets."

The construction work is being carried out by Willmott Dixon, which is behind a number of recent projects in the City including Archbishop Blanch School, Archbishop Beck Sports College, Notre Dame Secondary School and Birtenshaw and New Heights school in Fazakerley.

Anthony Dillon, managing director of Willmott Dixon in the North, said:- "We are delighted to be working with the Council to create the fruit, vegetable and flower market. As ever, our approach will be to ensure the work benefits local companies and sustains jobs; so far 60% of spend on previous projects has been with companies within the City region. This includes Liverpool-based A&B Engineering who we used on all our secondary school projects."

The development will be complete in November 2017 and following a period of fitting out by the traders, will open early in 2018.

The cost of borrowing for the build of the new market will be paid for through rental income from the relocated market traders.

The fruit, vegetable and flower market's existing site is to be redeveloped as a new home for a Merseyside Police patrol hub, while also providing space for the Force's vehicle repair facility, currently based at Smithdown Lane. Some land will also be used to rebuild the neighbouring St Cuthbert's Catholic Primary School, while the remaining nine acres fronting Prescot Road is set to be used for new housing.

Unity Theatre unveils re-opening programme
UNITY Theatre's Artistic Director and CEO Matthew Linley has unveiled the opening season and "new artistic vision" for Liverpool's home of radical and contemporary theatre, which is currently in the process of its £845,000 Build Unity Better redevelopment project.

Unity Theatre will reopen its doors to the public in time for Liverpool's one-night arts and culture festival, LightNight on 19 May 2017, with a 'ritual procession' and ceremonial 'awakening' of the building by artist Aleasha Chaunté of The Handless Project.

The public launch at LightNight Liverpool will take place as part of the summer season for the Liverpool venue, which, for Matthew, gives Unity Theatre the chance to show exactly why Build Unity Better was undertaken.

Matthew Linley said:- "It may sound strange to say this, but Build Unity Better isn't really about the building; it's really about what it enables us to do. About what comes in and what goes out our new front door. Wherever you are from, whoever you are, why ever you are here, this is your place to dream."

The opening season draws on Unity's renewed focus on hosting, producing and championing edgy, political and challenging theatre. Matthew continues:- "The redevelopment for us is not just a matter of bricks and mortar; it will enable us to develop and present work simultaneously across 2 spaces, and use our new bar area for events. By developing our building, we'll also increase the amount we can take work out into the local community and also tour Unity developed shows nationally and internationally."

The opening season reflects Unity Theatre's vision to support and present more new work in development. Red Ladder Theatre Company's new production of The Damned United, adapted by Anders Lustgarten will premiere at the theatre in May and Omnibus is an award winning play by Katie Mulgrew, which will be developed in collaboration with Liverpool's Royal Court. Horny Handed Tonnes of Soil by Lizzie Nunnery is Unity Theatre's contribution to the City's 50 Summers of Love celebrations inspired by the Mersey poets, and links with Hope Street partners, Liverpool Philharmonic Hall and Everyman on their shows; Summer with Monica and The Story Giant, respectively.

The "new artistic vision" for the theatre includes being more open and reaching out to more diverse communities through Unity Theatre's work with festivals and community partners. The opening season including 5 festivals, 3 of which are new partners for Unity Theatre:- LightNight, Physical Fest, Liverpool Fringe Festival, Liverpool Pride and Liverpool Arab Art Festival.

Accessibility and participation has prominence over the season, with Oliver in the Overworld, which features British Sign Language interpretation at the centre of the show, Home, by Frozen Light is a performance for children with Profound and Multiple Learning Disabilities, and Cartoonopolis is a show about living with Autism. Children's workshops, Saturday Splatterdays will return later on in July 2017.

For the 1st time this season, Unity Youth Theatre will perform as part of Liverpool Pride, presenting the show Borned, which looks at issues relating to being transgender. Gypsy Queen is also part of the programme for the weekend.

Theatregoers can also look forward to shows by What We Did Next and OLC Productions and Naughty Corner Productions will re-visit the theatre to present two new shows as well as the sell-out Not the Horse, before presenting their triple bill at Edinburgh Festival.

Tickets for the summer season are now available via Unity Theatre's website and by calling the Box Office, on:- 0151 709 4988.