Successful Liverpool writer flies the flag for indie authors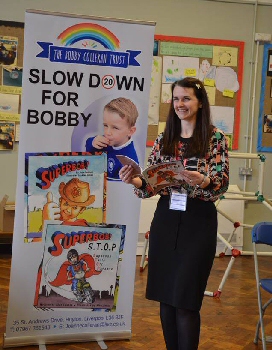 LIVERPOOL writer and storyteller Jude Lennon is flying the flag for indie authors after celebrating her 3rd successful year in business and achieving record book sales. Miss Lennon, who left her job as a Primary Teacher, in 2014, to follow her passion for writing and reading, has since published 8 children's books. Her professional storytelling business Little Lamb Tales is also proving hugely successful across the City and beyond.

The 42 year old's debut book:- 'The Dragon of Allerton Oak' was recently named among the top 10 best Liverpool children's book and last year (2016) another of her books:- 'Astronaut Lamby' became an Amazon Bestseller.

Year on year Miss Lennon, of Allerton, has seen significant growth in books sales and last year she sold more than 2,200 copies of her books throughout the UK and Europe. The average self published author sells in the region of 250 books a year.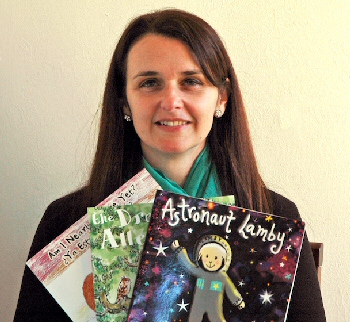 Commenting on this success Miss Lennon said:- "Last year was a record year for me in terms of book sales and I hope to see continued growth throughout this year. I have just published by eighth book and I have plans to publish a further three later this year so it's a really busy time for me right now. The immediate success of my 1st book 'The Dragon of Allerton Oak' really gave me the confidence to continue doing what I love and that is writing books for children and sharing my passion for storytelling. However, it's not easy being an indie author. You don't have the backing of a large publishing company so this means you have to become a jack of all trades and work extremely hard to promote, market, and sell your own books to be successful. You really do have to operate like a small business and use all the same platforms like digital marketing and business networking to reach your target audience. I've learned so much over the last three years but I'm having such a great time. People often ask me if I regret leaving the teaching profession, but I can honestly say I've never looked back. Making that leap to follow your dreams is really important and I'm so excited about what the future holds for Little Lambs Tales."

Miss Lennon regularly holds storytelling events across the City and now has a regular following of parents and children. She also works with Schools across the area hosting author visits and creative writing workshops.

Her latest book:- 'S.T.O.P - Superbob Tells Off Parents', which has been written in conjunction with the parents of 6 year old Schoolboy Bobby Colleran, who was tragically killed outside his School in West Derby, in 2014, is currently being rolled out in Primary Schools, with the aim of promoting safe parking outside Schools.

Other books which feature in Miss Lennon's growing collection include a Spanish bilingual book:- 'Are We Nearly There Yet' and 'Glad to Be Dan', a book for children on mindfulness, co-authored by Happiness coach Jo Howarth.

Miss Lennon, who holds the title of Disney Winnie the Pooh Laureate, also hosts writing workshops and is a member of Team Author UK; a unique collaboration of industry professionals who work with indie authors to help them self publish their own books.

The next writing course to be held by Miss Lennon starts, on 6 June 2017 and runs for 6 weeks, every Thursday, at Lifestyle Collective, on Allerton Road, Liverpool. For more information on Little Lamb Tales and Miss Lennon's latest books visit:- LittleLambPublishing.Co.UK.

WW1 soldiers remembered in poignant art installation
AN Edge Hill University academic has created a multimedia art installation remembering soldiers from the First World War.

Professor Helen Newall's work provides a powerful visual and sensory experience which brings the soldiers depicted in salvaged original photographs back to our attention in the present. Audiences will be able to experience the installation, entitled:- 'Remember' Me, at the University's annual:- 'Festival of Ideas,' in June 2017, and at other North West locations in the coming months, including the Cheshire Military Museum, Chester in July 2017.

After initially collecting original photographs of soldiers to use in projections as part of her acclaimed First World War play:- 'Silent Night,' Helen then embarked on what began as a personal project to create the installation. The constantly evolving piece was recently set up for members of the public to experience at Narberth Museum, Pembrokeshire, where visitors hailed it emotive, powerful and thought provoking.

Helen Newall said:- "I have been collecting original photographs of Great War soldiers from antique shops and auctions for a while. As some commentators on First World War photography have noted, these men often had photographs taken for the first time because they thought it might be the last time they would get the chance. It really bothered me that I didn't know who the people in these photos were, and I sought to change the people in the pictures from valuable collectible 'objects' back into subjects again. The work is a tension between the old technology of glass plate cameras; the chemical processes used to create cardboard photographic objects, and the new digital processes that make virtual images that often exist only in computer pixels and clouds and streams."

As well as visual projections and soundscapes, the installation, described by Professor Newall as a 'miniature museum,' also features physical photographs and relics from the trenches including a German bullet and a Vest Pocket Kodak camera, used by a soldier.
Helen Newall said:- "The installation is still evolving, as I'm still discovering pictures and relics. Just recently I found a cap badge which matches one a soldier is wearing in 1 of the photographs, so that is the latest addition."

The work also has a personal significance to Professor Newall. She said:- "At the time I was making this work in 2014, my father was dying of Alzheimer's disease, and it occurred to me that his gradual separation from his identity paralleled the way in which the subjects of these photographs were being separated from theirs. This work is thus dedicated to my father and to his uncle, James Caldwell, after whom he was named, and who was killed at the Front in 1916. His body was never found, his name appears on the Thiepval Memorial which lists over 72,000 names of those missing on the Somme."
Karen Jackson named interim chief executive for Southport and Ormskirk Hospital NHS Trust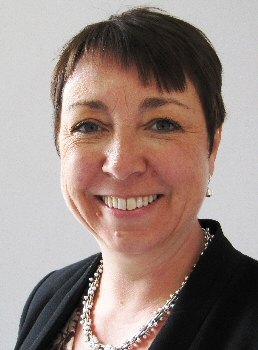 KAREN Jackson has been appointed interim Chief Executive of Southport and Ormskirk Hospital NHS Trust. She succeeds Iain McInnes who has been interim Chief Executive since August. He is returning to a role with NHS Improvement, the national organisation responsible for overseeing NHS provider trusts. Karen has most recently been working with NHS Improvement to lead work on improving urgent care service delivery across England. Before this she was chief executive at North Lincolnshire and Goole NHS Foundation Trust and has a professional background in NHS finance. She is a graduate in genetics from the University of Liverpool.

Karen said:- "I am very happy to be joining the team at Southport and Ormskirk. Even in my short time here I have been impressed with the commitment of staff to providing the very best care for patients. I look forward to supporting that effort and will be here for as long as the Trust needs me."

Iain said:- "I have enjoyed my time working at the Trust. There are a lot of dedicated, hardworking staff and it has been a privilege working with them. The Trust has had many challenges and still has a number to face. It is clear to me that there is a strong commitment to move on and deliver care and a good experience for our patients as we move into a new phase. We now have a substantive executive team in place. They are dedicated and experienced people who will lead the Trust in the months and years ahead. I am confident that, with the addition of Karen, I am leaving the Trust in good hands."

Karen officially starts in her new role on Monday, 17 April 2017.