New polymer ₤5 issues leave people asking about authenticity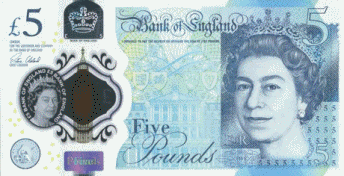 THE new polymer ₤5 notes, which entered circulation during September 2016, are supposed to be almost impossible to destroy. They also have an anti-counterfeit system incorporated. Sadly, since the start of 2017, warnings have started to circulate about counterfeits. Such warnings came from the likes of Dorset Police, in February 2017. Questions have now been raised about the new security features which the Bank of England had boasted would make them incredibly hard to counterfeit. We are told that the Bank of England has since launched an investigation; despite saying it was unaware of any forgeries of the new note. However, it has also been noted that it could be genuine, but damaged banknotes not counterfeits ones, have triggered the rise in warnings. This is down to the fact that, in some cases, extreme use or exposure to high temperatures has resulted in the foil Elizabeth Tower being removed from some of the notes in circulation. Since its release, a few other problems have been found, like when sometimes some details on the ₤5 note disappear when rubbed with a pencil eraser. That serious flaw was exposed by a Scottish print centre manager, on the Scottish ₤5 notes. Now new questions are being asked about the long term durability of these new notes. There are ways in which you can check to see if your note is a fake or not! Don't worry, if you do obtain a damaged ₤5 though, you can apply to the Bank of England to exchange it. However, if it is found to be counterfeit, you will not be reimbursed! It is also worth noting that there are a few misprinted Bank of England ₤5 notes now in circulation as well. This matter came to light at the end of 2016, after a lady on the Wirral discovered one of them, which lead to a fantastic pay out from an online auction.

This is how to check if your Bank of England, polymer ₤5 note is real or fake...
The polymer ₤5 is slightly smaller than the paper ₤5 note. It measures 125mm x 65 mm compared to 135mm x 70 mm for the old paper ₤5 note. Check if the see through window with the portrait of the Queen is correct. Around the edge of the portrait should be the words:- "₤5 Bank of England" printed twice. The ₤ symbol in the window also changes colour from purple to green and the effects can be seen from both the front and back of the note. Also look at the Elizabeth Tower: The edge of the see through window that it is printed over, should feature a border which changes from purple to green whilst tilting the note at an angle. The Tower should be gold on the front of the note and silver on the back. Next, look to at the foil patches.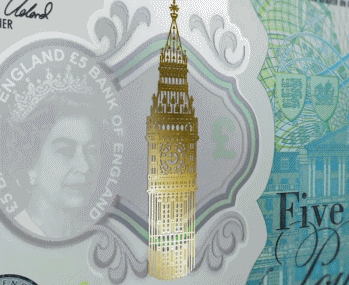 The silver foil patch above the see through window contains the image of the coronation crown which appears in 3D. When tilted the image produces a multi coloured rainbow effect.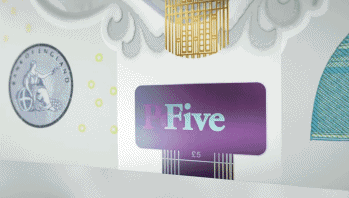 On the front of the note, just below the see through window, there should be a silver foil patch with the word:- "Five." When tilted the patch should change to reads:- "Pounds."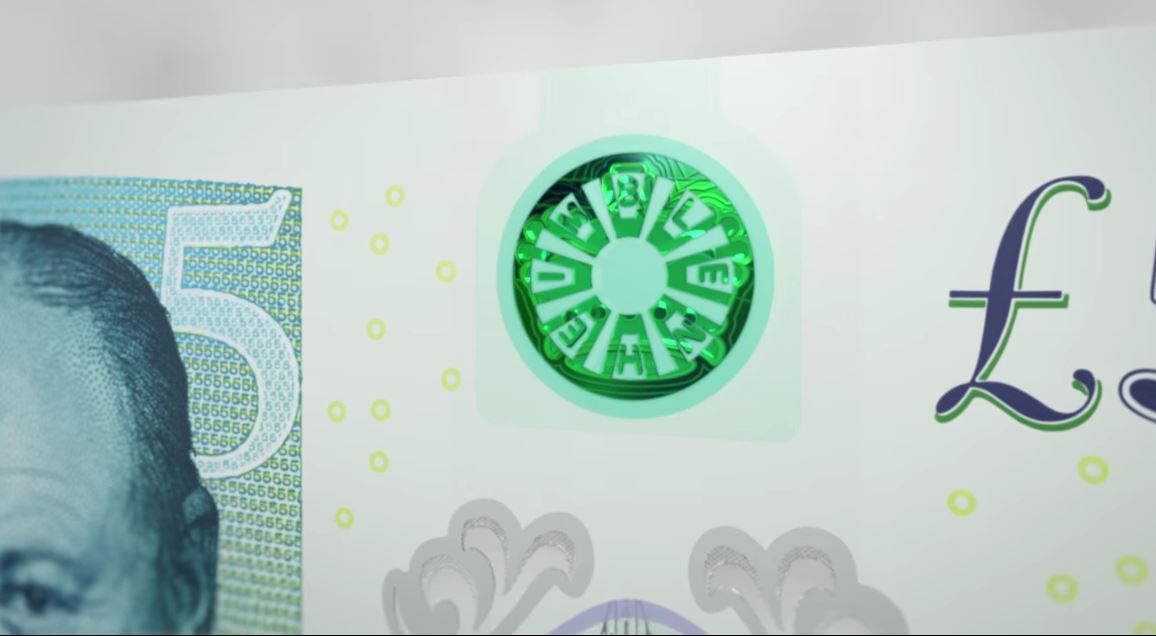 A real ₤5 note should also have a circular green foil patch, located on the back, containing the word:- "BLENHEIM." This should be located directly behind the Crown on the front. Lastly, for normal checks, is the print sharp and clear and free of smudges and blurred edges?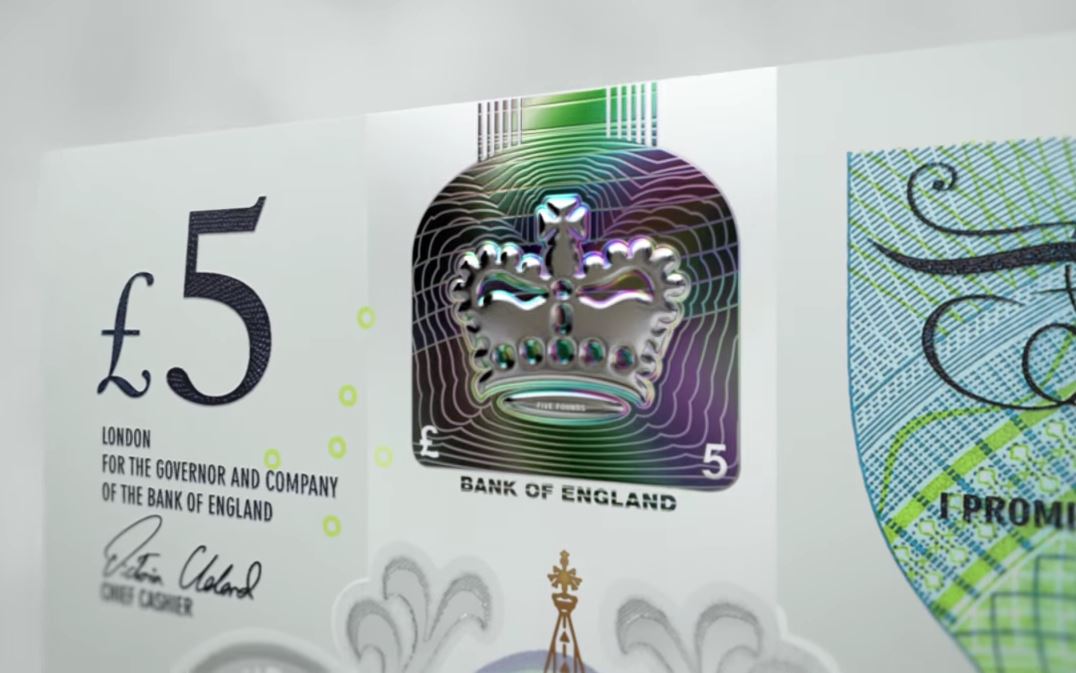 If you find any suspect issues, you can the check beneath the Queen's portrait. You will need a magnifying glass to do this properly. Look to see if there is a cluster of micro lettering with the value of the note in small letters and numbers.
The last check, other than serial numbers, is via ultra violet light. Under it you should see a number 5 appear on the k of Bank and the word:- "of" on the wording:- "Bank of England"; the number should appear in bright red and green, while the background should remain dull in contrast.

Booklet can be downloaded here.
Don't forget as well that British shoppers only have until 5 May 2017 to spend the old paper ₤5 notes, before they lose legal tender status.

It's also worth noting that in September 2017, the Bank will issue the new ₤10 polymer note featuring author:- 'Jane Austen.' Also, the new ₤20 note sporting:- 'JMW Turner', which is due to be released by 2020.

David Wilson Homes Eggcellent Donation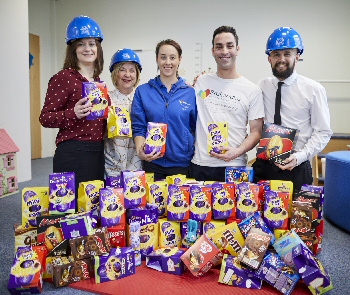 STAFF at Warrington based David Wilson Homes' North West have donated 83 chocolate Easter eggs to local charity Brainwave.

The UK wide children's charity, which has a regional office close to the housebuilder's office in Birchwood, welcomed 3 employees who came to deliver the eggs in time for the Easter weekend.

Steve Jackson, Sales Director for David Wilson Homes North West said:- "We are delighted to be able to provide gifts and support to such a wonderful charity. Staff have really pulled together to collect so many Easter eggs. Easter is a great time to get involved in supporting worthwhile causes in the local area and we would like to thank everyone at the office who has helped us by donating."

Anthony La Mola, Centre Manager at Brainwave North West, said:- "We're thrilled to be receiving 83 chocolate eggs for the children at Brainwave this Easter. We cannot thank David Wilson Homes enough for the support they continue to give us."

Brainwave is a charity which helps children with disabilities and additional needs to achieve greater independence by aiming to improve mobility, communication skills and learning potential through a range of educational and physical therapies. They have branches across the country including in Warrington in Cheshire, Witham in Essex and Bridgewater in Somerset.

The Easter egg donation is alongside a number of other community engagement projects that David Wilson North West is currently involved in. Other charities that have worked with David Wilson Homes include: Liverpool's Alder Hey Children's Charity and The Wingate Special Children's Trust in Nantwich.
Thousands left to cope alone after leaving Mental Health Hospital - putting their lives at risk
FIGURES released on Thursday, 13 April 2017, by the mental health charity Mind, shows that 1 in 10 people discharged from mental health Hospital after being admitted in crisis are not getting follow up within a week of leaving; which is at least 11,000 people every year. Mind sent Freedom of Information (FoI) requests to all 56 mental health trusts in England (54 trusts responded) asking for information about how quickly people are followed up after being discharged from Hospital. Follow up; usually a face to face visit or a phone call; provides continued contact and ensures that the right ongoing support is in place. National Institute for Health and Clinical Excellence (NICE) guidelines currently state that all patients should be followed up within seven days because people are at high risk of post discharge suicide in the 1st week. In fact, more recent evidence from the National Confidential Inquiry into Suicide and Homicide, shows of all patients who died in the 1st week after discharge, the highest number occurred on day 3. There is growing recognition of the urgent need for timelier follow up as a key suicide prevention measure, with both the Inquiry and the House of Commons Health Select Committee recently calling for earlier follow up after discharge. Current NICE guidelines recommend follow up within 48 hours for some patients only. Mind is calling for this 48 hour timeframe to extend to everyone leaving Hospital after a mental health crisis. Mind also sent the FOIs to Welsh Health Boards and found only one board could provide the data. Aneurin Bevan told Mind they were following up face to face with 55% within the timeframe, but couldn't provide a full picture. The charity is calling on the Welsh Government and Local Health Boards to address the lack of recorded data so that there is transparency about follow up and performance against Welsh Government's target. Mind has also conducted a survey of over 850 people about their experiences of the process after they left Hospital. It found that those who weren't followed up appropriately (after 7 days or not at all) were twice as likely to attempt suicide and a 3rd more likely to harm themselves compared to respondents who said they were followed up within 7 days of being discharged. Mind's findings show that the lack of appropriate follow up is also putting significant pressure on the NHS as people are not getting the help they need to recover. Those not followed up within 7 days were more than twice as likely to end up in A&E as a result of their mental health within the 1st week of being discharged. Data from the NHS shows that on average more than 1 in 20 people (6.5%) with mental health problems who are discharged from Hospital are readmitted within 30 days.

Sophie Corlett, Director of External Relations at Mind, said:- "Thousands of people with mental health problems in England and Wales are not getting the appropriate follow up when they are 1st discharged from Hospital. This is not good enough. It is a tragedy that so many people so very recently leaving the care of Hospital are losing their lives. The Government has put suicide prevention as a key patient safety issue for the NHS as a whole and pledged to reduce suicides by 10% in the next 5 years. Timelier follow up for patients after they leave Hospital could help achieve this. If you don't get the right care after you leave, if you're left to cope alone, you can end up in a revolving door going straight back in to Hospital or be at risk of taking your own life. We are calling for NICE to update its guidance and hold local mental health trusts in England and Health Boards in Wales to account so that every person that leaves Hospital after a mental health crisis gets follow up within 48 hours. Whether you've been in Hospital for days or for months, when you come out you need the right care and support to help you stay well. A vital part of this is having someone make early contact with you to make sure you're ok and getting the ongoing support you need. Seven days is simply too long to wait when someone's recovery is still at risk. We need to see a reduction of the follow up time to 48 hours now."

Professor Louis Appleby, Director of National Confidential Inquiry into Suicide and Homicide, said:- "People leaving UK Hospitals can feel unsupported as they return to the problems that may have led to their admission. Those 1st few days are the time of highest suicide risk; follow up within 7 days has helped, but we now need to go further. This is probably the most important single step a service can take to improve patient safety."

Imani is 36. She has been diagnosed with borderline personality disorder and post-traumatic stress disorder. She had 3 voluntary inpatient admissions when she was acutely suicidal. Imani said:- "When I got out, I thought: I've just been in Hospital, I've been suicidal; I'm sure they're going to be giving me 100% support. I remember coming out and thinking I wanted to go back in again. It's like you come out and you're a rabbit in the headlights; you're so vulnerable. Going back out again into the big wide world, with freedom and among other people, it can be overwhelming when you feel you've just had a near death experience. I don't remember being in contact with the Hospital once I'd come out; no phone call, no visit and I needed to see someone. The professional support was just not what I expected given what I've been through. My husband had to take time off work and had to be there to keep me safe."

Natalie, 26, from Somerset was in Hospital after reaching crisis point and attempting to take her own life. Natalie said:- "When I was discharged I didn't get any follow up from the Hospital itself and it was a week until a crisis team came to visit me. When you're that unwell, it's hard getting through each day. Each hour is tough, so just 24 hours can feel like such a long time. I needed someone to talk to, to help me understand my thoughts and feelings. To only see someone after a week, it's not enough."

Mind has a confidential information and support line, Mind Information line, available on:- 0300 123 3393, lines open 9am to 6pm, Monday to Friday. They also offer an out of hours support service on:- 07850 788 514.

You can also call Samaritans from any phone, for free, on:- 116 123, around the clock, 24 hours a day, 365 days a year. You don't have to be suicidal to call them.

Have you had issues regarding mental health care as we would like to know. Please email our newsroom with your comments and views of the UK Mental Health Care System via:- News24@SouthportReporter.com.

Added information:- Data from Trusts and Health Boards in England and Wales here.