Bistrot Pierre Confirms Southport Restaurant Will Open in Autumn 2017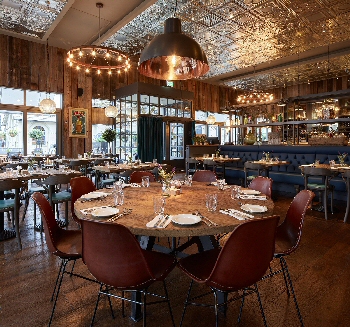 INDEPENDENTLY owned French restaurant group, Bistrot Pierre, which specialises in great value French dining has confirmed it is opening a new restaurant in the former Russell and Bromley store in Southport.

The site will benefit from almost ₤1 million of investment to transform the premises into a bistrot for 140 diners and create up to 50 jobs for local people.

Major renovation work will soon begin in the building on the corner of Lord Street and Neville Street to create Bistrot Pierre's beautiful French styled interiors in readiness to open in Autumn 2017.

Sue Potter from GY Architects, who is designing the layout of the new restaurant, said:- "It is wonderful to be involved with this project that will see a much loved historic shop transformed. We can't wait to unveil the new interior that will create a typically Parisian bistrot experience in the Town."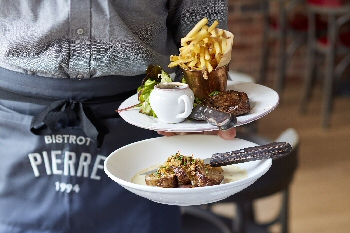 Rob Beacham, co-owner for Bistrot Pierre, who set up the group with school friend, John Whitehead, said:- "We are looking forward to bringing our French bistrot cooking to Southport. I'm confident that we will grow a loyal customer base in the area thanks to our popular seasonal menus including Confit de canard, the bestselling Boeuf bourguignon maison and, of course, steak frites. Southport is a historic and vibrant Town that attracts many visitors to enjoy its culture, scenery, shops and restaurants and we're proud to be involved in the growth of its food and drink scene."

Bistrot Pierre's 'raison d'être' is great value French cooking and seasonal menus; combining French bistrot classics with regional favourites.

The popular lunchtime prix-fixe menu will be available seven days a week with prices from just ₤9.95 / ₤11.95 / ₤13.95 for 1, 2 or 3 courses, as well as the 2 course pre theatre menu which both change monthly. An A la carte menu is also available which changes seasonally.

Hugh Evans, CEO of Southport Business Improvement District, added:- "This is exciting news for Southport. The new restaurant has been eagerly-awaited in the Town and we are pleased that Bistrot Pierre has realised the potential that Southport has to offer. By deciding to invest here, it shows that Bistrot Pierre has great confidence in our Town and has concluded that Southport has the potential to support a French restaurant in the Town Center."

Bistrot Pierre recently launched its loyalty app, Mon Pierre Rewards where customers earn points for every pound spent within each restaurant.

For more information about Bistrot Pierre and view job vacancies can be found on the firm's website.

Cycling brothers receive sponsorship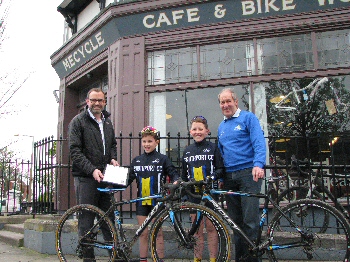 CYCLING brothers Joe and Dan Cosgrove were delighted to receive sponsorship from MeCycle Café and Bike Workshop, following nomination by the Southport Cycling Club.

The boys, ages 11 and 9 respectively, started cycling just a few years ago and have already competed in rides as far afield as Holland and the Isle of Man. The brothers, from Formby, were excited to be selected.

Colin Baldwin, President of the Southport Cycling Club, said:- "We chose them because they are getting better and better and although they've only been riding for a couple of years they have developed beyond measure. They have won all sorts of competitions in the North West in their age groups. If they stick at this, they could go far."

Joe said:- "I 1st started cycling with my mum for fun and it's grown from there."

Autism Ventures, who runs Mecycle café in Ainsdale, support young adults with autism in work placements and employment. They have sponsored young people in the Southport Cycling Club for the last 2 years. Cyclists at the café can buy refurbished bikes, cycle accessories and enjoy homemade cake and barista coffee. Along with a goody bag and certificate, both boys received a ₤150 voucher to spend in store.
Central 12 Shopping Park has hosted an eggciting event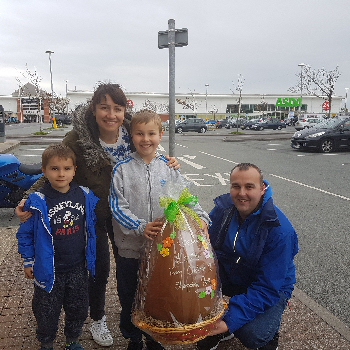 SOUTHPORT'S Central 12 Shopping Park have hosted a low sugar, highly egg citing event over the Easter weekend where shoppers frantically searched for hidden eggs!

Families were invited to Central 12 Shopping Park for an Easter hunt with a twist. Instead of the usual chocolate eggs, children were being asked to locate 6 Easter images hidden in store windows to spell out the word:- 'E-A-S-T-E-R.'

The lucky winner Nickalas Chatten won a GIANT Central 12 chocolate egg! The delightful prize was lovingly handmade by a professional chocolatier and measured an impressive ½ a metre in height! Plus, the 1st 45 children who successfully spelt out:- 'E-A-S-T-E-R.' and returned their form were given a FREE Cadbury Crème Egg, courtesy of ASDA.

For more information about Central 12 Shopping Park visit the location's website.