Mersey singer Marc Almond to make Liverpool Pride debut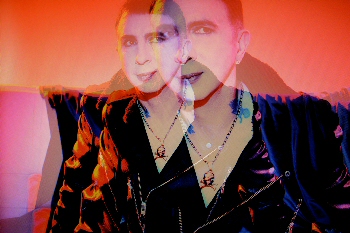 LIVERPOOL Pride Festival has revealed that acclaimed Mersey singer Marc Almond will headline the Summer 2017 event. The former Soft Cell front man is originally from Southport. He has sold over 30 million records worldwide, and is appearing at Liverpool Pride for the 1st time just weeks after he celebrates his 60th Birthday.

This is the 8th consecutive year of Liverpool Pride, a free 2 day event celebrating all things LGBT. This year's festival takes place, on Saturday, 29 July 2017 and Sunday, 30 July 2017, returning to St George's Quarter for the 2nd year. ₤

Liverpool Pride has grown to become one of the City's major annual events. Last year, the festival attracted more than 32,000 festivalgoers to celebrate lesbian, gay, bisexual and transgender communities.

The theme for Liverpool Pride 2017 is International Love, with organisers spreading the Liverpool message far and wide. Liverpool Pride's International Love theme will also complement a City wide season of events and performances to mark the 50th Anniversary of the Summer of Love. The 50 Summers of Love season will run from May to August 2017.

Marc Almond played a vital role in the new wave music movement, scoring an international hit with the song Tainted Love in 1981. The song still remains a huge favourite with many of today's artistes; including:- The Pussy Cat Dolls and Rihanna; sampling the track on new releases.

Tainted Love broke all records as the track that remained the longest in the US Billboard Top 100, the song also received a Brit award for best single. He again hit the top of the charts in 1989 with 60's legend, the late Gene Pitney, with the duet Something's Gotten Hold Of My Heart, which remained at Number 1 for 5 weeks.

Almond continues to record new music and in January he released the single:- 'A Kind Of Love.' 2 months later, he released an album of greatest hits:- 'Hits And Pieces,' 'The Best of Marc Almond' and 'Soft Cell.' It entered the Official UK Album Charts, at Number 7, and was followed by a short sold out UK tour.

The singer is currently working on a new solo album for release in September 2017, coinciding with a 20 date UK tour.

Marc Almond commented:- "I was born near enough to Liverpool for it to feel like a home City for me. It feels very special to be opening and headlining this year's Pride event. Liverpool is famous for being a diverse, friendly, tolerant City so I hope that many people will come and have a good time and support the event."

Liverpool Pride will return to St George's Quarter for a 2nd year. The festival site covers the areas of St George's Hall Plateau, St John's Gardens and William Brown Street, and will feature 3 stages.

The Main Stage will be located on William Brown Street and will feature Marc Almond and additional performers to be announced in the coming months; the Plateau Stage will be in front of St George's Hall showcasing the World On One Stage sponsored by Manchester Airport and supported by The Arts Council, and will feature music linked to the festival theme of International Love; and the Garden Stage with indy music and spoken word will be located at St John's Gardens.

Liverpool Pride Festival Chair Lucy Day commented:- "Last year's Liverpool Pride was absolutely incredible. The new festival location of St George's Quarter proved an extremely popular choice with festivalgoers so we're absolutely thrilled to announce that we will be returning to this stunning setting for 2017. Come and join us for a free, 2 day family friendly celebration of all things LGBT this Summer, with Mersey singer Marc Almond headlining the festival on his Liverpool Pride debut. Watching Marc perform against the backdrop of one of the City's most iconic venues is going to be a huge highlight for 2017; and we cannot wait."

The Liverpool Pride Festival began as a community response to the death of murdered gay teenager Michael Causer, who tragically lost his life on 2 August 2008.

The festival was specifically created in 2010 in Michael's memory as a way to celebrate his life and to empower the LGBT communities. The festival continues to remind the community to stand up for LGBT culture and equality through a City wide celebration where everyone is welcome.

Each year, the Liverpool Pride March is an increasingly popular and poignant part of the special weekend; and again the march will play a major role in the weekend's programme when it makes its way through the City on the Saturday, starting at 12pm, from St George's Hall Plateau. The procession will return to St George's Quarter at 1pm when stage entertainment will run until 9pm.

Sunday sees the return of We Are Family with fun activities, workshops and entertainment throughout the day. Singer and vocal expert Jennifer John returns to work with community choirs, supported by The Arts Council.

New for 2017 is a film and theatre programme to complement the theme of International Love. This includes Queertet 2017, at HUS during the week of Pride, and Gypsy Queen, at The Unity, on Friday, 28 July 2017 and Saturday, 29 July 2017. Further programme announcements will be made in the coming months.

Manchester Airport has come on board this year to support Liverpool Pride Festival 2017 as the Official Airport Sponsor. The airport joins Radio City, who has been named as the Official Media Partner for this year's event. Keep up to date with Liverpool Pride's new announcements at:- LiverpoolPride.Co.UK

Launch of Policing with 'Pride Car'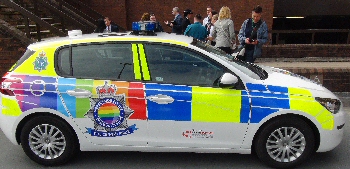 MERSEYSIDE Police has launched a 'Police with Pride' rainbow patrol car to increase awareness and reporting of hate crime. The vehicle will be used as any other operational response car would to attend the full range of incidents across Merseyside, but unlike traditional white, blue and yellow Police cars, the vehicle also features the colours of the Rainbow Flag and will display the Crimestoppers logo and Stop Hate UK website address. The car will also be used at a variety of community events including LGBT events such as Liverpool Pride, International Day Against Homophobia Transphobia and Biphobia (IDAHOT) events and Homotopia to represent the force.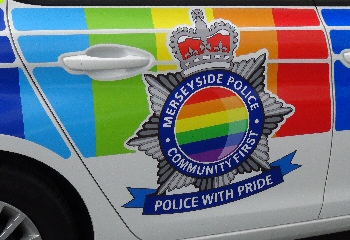 The car was officially launched on Thursday, 20 April 2017, at Merseyside Police HQ, at a ceremony attended by Crimestoppers, Stop Hate UK and the Police and Crime Commissioner, as well as a number of partner agencies and community members.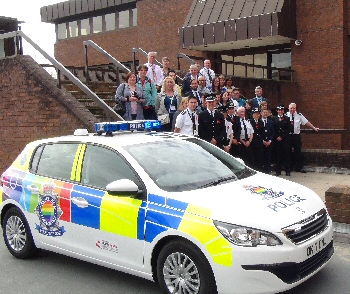 Assistant Chief Constable Julie Cooke said:- "While it's out and about on the roads of Merseyside, it is hoped the car will grab the attention of everyone who sees it. We know hate crime in all its forms is under reported. We believe any step that shows in a visible way that we support those members of our communities most likely to be the victims of hate crime is a positive 1. This car will not just attend hate crime incidents, it will be seen out and about going to all manner of incidents and we hope that it will stimulate conversations with the communities we go into. This is not a 1 off gesture; the car is just 1 of the many ways in which Merseyside Police show our support for victims of hate crime across Merseyside. We hope this will encourage more victims of hate crime to come forward and report incidents to the Police, and also further increase engagement with the public."
Anyone with information about hate crime should contact Merseyside Police on:- 101. Alternatively contact Stop Hate Crime's 24 hour helpline on:- 0800 138 1625. In an emergency always call:- 999.
Open Afternoon at local care home
ON Wednesday, 26 April 2017, from 2pm to 5pm, HC-One Dale Park, in Southport, will be holding an open afternoon. The event is being held to provide an opportunity for professionals and members of the local community to meet the new Home Manager, Malcolm Rugen, have a look round the home and see what improvements have been made and see what the home has to offer.
HC-One, Dale Park Care Home Manager, Malcolm Rugen said:- "Having met with Residents and relatives, getting their views on the home and working with them to make improvements I am keen to meet with the many local professionals and members of the local community to show them what Dale Park has to offer and the kind care Residents receive."
HC-One Managing Director, Glen Mason, said:- "At HC One all our care homes are an important part of the local community. We regularly hold open days, events and activities in our home which we invite local people attend to help them meet new people and make new friends."
The home operates an 'open door' policy, so, if you can't make the open afternoon and are looking for Dementia Residential or Nursing Dementia Care, for a loved 1 drop in at any time. However, if you would like to meet with the Manager during your visit please call to make an appointment by calling:- 0333 999 8507.
Next of kin appeal for Lawrence W Brady
SEFTON Coroner's Office are appealing for the family of a Lawrence W Brady, aged 74, who died in Blundellsands, on 14 April 2017, to contact them. We are told he lived on Drummoyne Court, The Serpentine North, Blundellsands. Anyone who can help should call Sefton Coroner's Office on:- 0151 777 3422.